http://mediumhappy.com/?p=4966
STARTING FIVE
 1. "What's Scented Meat?"
A satisfying conclusion, for me at least, to "True Detective." How did you all feel?
As I wrote in Newsweek ("Oooooh, Mr. Big Shot Writer Guy is name-dropping titles now!") this past weekend, the more and more "True Detective" evolved, the more it became primarily a buddy film. But by no means a standard one. Here were two men with wildly different lives and character, almost a perfect dichotomy, in an arranged marriage. Over time they come to first respect one another and eventually, yes, love one another.
Rust Cohle: "Are we getting married?"
Marty Hart: "If we were getting married, I would've used a nicer ribbon."
One moment that I forgot to include in my piece was from Episode 6: after the brawl which, let's face it, was Rust voluntarily choosing to serve his penance for what had transpired, their relationship is at its nadir. Rust quits the force and walks out, perhaps never to see Marty again, and what's his tagline? "Nice hook, Marty."
Perfect.
And don't you love how 2012 Rust came to respect Marty and how 2012 Marty could tease Rust? In Episode 7, when Rust compliments Marty on finding the maid and Marty retorts, "High praise from a bartender." And last night, when Rust realizes that Marty has made a huge leap with his connection of the painted house, and how jealous he, The Thinker, is that he hadn't thought of it first. "F___ you," he says, but with admiration.
Anyway, I know all the loose ends weren't wrapped up — Did anyone ever explain why Dora Lange was posed that way? — but I'm glad that Nic Pizzolatto was shrewd enough to give us an extended denouement (not a crazy-ass long denouement like in the final film in the "Lord of the Rings" trilogy, which may still be going on at this minute) for the sake of catharsis. Both Marty's scene with his family and Rust's out on the sidewalk brought it all back to Episode 1.
Also, wow, every time you think Matthew McConaughey has an Emmy moment in this series, he takes it up another notch. And, was it just me or did Rust Cohle look a lot like Jesus Christ (or what we think of Him) when they first cut to him in the hospital bed?
It's worth noting that the final scene at Errol's home had strong hints of the final scene from "The Silence of the Lambs", while an earlier scene -the threat of a sniper–was redolent of an early scene from the "Breaking Bad" finale. In Nic Pizzolatto's defense, they'd already written and shot that scene long before the "Breaking Bad" finale aired. And I did love that Rust raised his hand and called in the shots. Rust: "Do I strike you as more of a man of words or action, Steve?" Uh-hunh.
"Form and Void" was the episode's title. From the Book of Genesis, second verse: "The earth (as opposed to the Erath) was without form and void." It was, darkness. "The oldest story," as Rust says. "Light and dark."
And how about how the show never spoon-feeds you? Rust walks behind the house to find the German Shepherd pooch that had just run past him dead. But there had been no gun shot. Foreshadowing. Errol had killed him with the axe so that the dog would not follow him and lead Rust right to him.
Also, loved how Cary Fukunaga took the series back to all of the old haunts, in reverse order, ending with our original oak tree.
Here's Taran Killam, who's having himself a killer 2014 so far, by the way, channeling MM.
Here's what The Daily Beast wrote about the series finale, and here's our friend Mr. Sepinwall.
2. Mendenhall of Fame
This sentence from Arizona Cardinal running back Rashard Mendenhall's thoughtful and, at times, Rust Cohle-parroting, essay on why he is retiring from the NFL at age 26 stands out: "I can't even count how many times I've been called a 'dumb nigger.' There is a bold coarseness you receive from non-supporters that seems to only exist on the Internet."
Anyway, I'm not sure if Mendenhall is going Full Earl Campbell on this, but you know what? Football, playing it, is a GRIND. And playing running back is the biggest grind of all. I'm surprised more guys don't do this. Mendenhall earned $2.5 million from the Cards last season, by the way.
You may recall –and someone might have commented if I hadn't mentioned it–that Mendenhall is the player who posted some controversial tweets after the killing of Osama Bin Laden in May of 2011. So go ahead and judge him solely on that if you want.
As for his retirement, we'll see if he returns in a year or two. Either way, he's earned the sabbatical.
3. Aaron Paul, The King of Pop, and a prince–but not THE Prince
Jesse Pinkman appeared on "Jimmy Kimmel Live" last week and told a tale about doing tequila shots with Michael Jackson. Also, he once slept in the bed of the Prince of Brunei while the Prince and his entourage reclined around him and they all watched Paul's first film. It sounds weird, but then you think to yourself, Who wouldn't want to hang out with Aaron Paul, bitch?
4. Hiccups
The Miami Heat, who have the second-best record in the Eastern Conference, have lost three straight. The Indiana Pacers and OKC Thunder, who are tied for the second-best record in the NBA (46-17), are both 5-5 over their past 10 games. The Pacers are in the midst of their longest losing streak of the season, four straight.
All just bumps in the road.
Most noteworthy momentum-shift of the weekend? The Knicks have won three in a row (at Minnesota, Utah, at Cleveland) and host the Sick Sirs, losers of 16 straight, tonight. NYK remains five games back in the loss column from the final spot in the East, but the way Atlanta is tanking (1-9 in last 10 games), I think Adam Silver (or is it Nate Silver?) may make an executive decision and make sure the Carmelos qualify. The Knicks are such a hot mess–there's no one outside Atlanta, and few inside, who'd prefer to see the Hawks face Miami or Indy and the first round than the Knicks.
5. Wiggins Out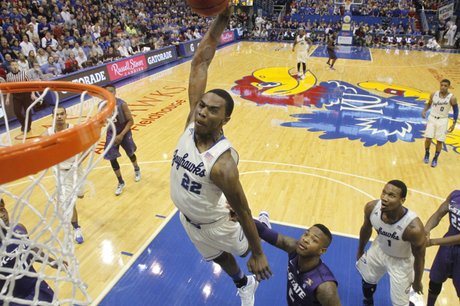 Doug McDermott, senior: 44 points on Saturday, which pushes him above 3,000 for his career and into 8th place all-time.
Andrew Wiggins, freshman: 41 points on Saturday and he's already talking about how his time in Lawrence flew past too quickly.
You know me, I love Dougie McBucketlist, but Wiggins would be my No. 1 overall pick. There was a moment near the end of the West Virginia loss where he silkily buried a three and then, guarding the inbounds pass, stole the ball, and rammed it home as if he was playing Nerf. No, he's NOT Michael Jordan, but he looks and plays like him more than anyone I've seen since MJ arrived.
I know folks love Duke's Jabari Parker, but to me Wiggins seems like a superior athlete. He's a born 3, whereas Parker to me plays more like a 4 but doesn't have the size. I'll admit I haven't seen Parker as much –that would mean I'd have to watch Duke –but I love Wiggins' ceiling more than anyone else's out there.
Reserves
The simplest ideas are usually the funniest ideas. Also, loved how SNL took two memes –a rash of biblical films and the whininess of "Girls"–and merged them into one idea.
The Hall
Charter Inductees: Ty Cobb, Walter Johnson, Christy Mathewson, Babe Ruth, Honus Wagner 1937:  Tris Speaker, CF; Cy Young, P ; 1938: Grover Cleveland Alexander, P; Eddie Collins, 2B;1939:Nap Lajoie, 2B; Joe Jackson, LF; 1940: Billy Hamilton, OF; Cap Anson, 1B; 1941: Wee Willie Keeler, RF; George Sisler, 1B; 1942: Rogers Hornsby, 2B; Pie Traynor, 3B; 1943: Mickey Cochrane, C; Frankie Frisch, 2B 1944: Ed Walsh, P; Old Hoss Radbourn, P 1945: Lou Gehrig, 1B; Kid Nichols, P 1946: Ed Delahanty, LF; Lefty O'Doul 1947: Pud Galvin, P; John McGraw, INF 1948: Carl Hubbell, P; Addie Joss, P 1949: Harry Heilman, OF/1B; Monte Ward, P/SS
1950: Cool Papa Bell, CF; Jimmie Foxx, 1B 1951: Mordecai "Three Finger" Brown, P; Josh Gibson, C 1952: Paul Waner, RF; Charlie Gehringer, 2B 1953: Mel Ott, RF; Hank Greenberg, 1B1954: Eddie Plank, P; Dan Brouthers, 1B 1955: "Wahoo" Sam Crawford, OF; John Clarkson, P1956: Chief Bender, P; Bill Dickey, C 1957: Sam Rice, RF; Joe DiMaggio, CF 1958: Bill Terry, 1B; Heinie Manush, LF 1959: Dizzy Dean, P; Tim Keefe, P 1960: Gabby Hartnett, C; Mickey Welch, P1961: Bob Feller, P; Ducky Medwick, LF 1962: Luke Appling, SS; Jesse Burkett, LF 1963 Jackie Robinson, 2B; Zack Wheat, LF 1964: Jake Beckley, 1B; Rube Waddell, P 1965: Ralph Kiner, 1B; Lefty Grove, P 1966: Ted Williams, LF; Smoky Joe Wood, P/OF 1967: Roy Campanella, C; Max Carey, OF 1968: Goose Goslin, LF; Rabbit Maranville, SS 1969: Stan Musial, 1B/OF 1970: Ferris Fain, 1B; Earle Combs, CF 1971: Warren Spahn, P; Yogi Berra, C 1972 Satchel Paige, P; Sandy Koufax, P 1973: Robin Roberts, P; Whitey Ford, P
Mickey Mantle, CF; 1951-1968, New York Yankees
If any baseball player personified the Eisenhower Era, it was The Mick. A three-time American League MVP and 16-time All-Star, Mantle hit for power and average (he won the 1956 Triple Crown) and may be the greatest switch-hitter of all-time. Mantle played in a dozen World Series and was the primary reason the Bronx Bombers won seven of them.
Eddie Mathews, 3B; 1952-1968, Boston/Milwaukee/Atlanta Braves
A dead-pull hitter, Mathews was amongst the premier power hitters in the National League in the 1950's and '60's and was known to possess a near-perfect swing. A 12-time All-Star and two-time World Series champion, Mathews retired with 512 career home runs which, at the time, was the fourth-highest total in history behind Babe Ruth, Mantle, and Jimmie Foxx.