http://mediumhappy.com/?p=7032
by John Walters
Starting Five
Beverley Spills*
*The judges will also accept "The Beverley Center" and "Steven Hawking Rockets' Guard"
The Thunder only trailed by 5 in the third quarter when Steven Adams laid out Patrick Beverley on a brutal but legal pick. The Rockets went on to win by 31. James Harden simply was not fair, scoring 37.
Wondering….Do NBA players call "pick?" I mean, help a brother out, yo.
2. Is Boston About To Become Rupp Arena?
Later today Galen Rupp could become the first native-born American to win the Boston Marathon since Bill Rodgers did so in 1980. Two other nationalized Americans have done so since then: Rupp's coach, Alberto Salazar, and his teammate, Meb Keflezighi who will also run today. Rupee took bronze in the Olympic marathon last summer.
Lisa Weienbach was the last American female to win Boston, in 1985, and now that Shalane Flangan has withdrawn with an injury, that record won't be seriously challenged.
3. Golf Cart Blanche
As obscene as the $23 or so million that has already been spent on Donald Trump's weekend getaways to south Florida have cost, there's something particularly wicked about the reported $35,000 the Secret Service has had to spend in golf cart rentals at Mar-A-Lago in order to protect POTUS.
This is not a story from The Onion. The Secret Service, in protecting a prez who has now played 18 rounds of golf in fewer than 100 days in office, has to rent golf carts from his company. That's an experienced grifter at work. Not only are you, the American people, going to pay for my weekend trips, but I'm going to profit off you having to protect me.
4.That Question The Reporter Asked Doc Rivers Was NOT The Dumbest Thing I Ever Heard
You're down two and you have the ball. Of course you want to score, but here's the counter-arguments…
If you miss, you may get the offensive rebound for a second opportunity, but you may not, which will likely necessitate a foul and falling behind, after free throws, by three points or even two possessions.
If you make the two very late, you force overtime. If you make the three late, you win the game.
If you take the shot when the Clips did and make it, now you must play defense and there's an excellent chance that the opposing coach will not call timeout and not allow you to put your top defenders on the floor, which is why Joe Johnson was able to blow past 84-year vet Jamal Crawford on the final iso play, which is also why, given those particulars, the question was pertinent.
We've seen Doc Rivers try to belittle reporters before (see: Bill Simmons, 2012, I believe, NBA draft) and we've seen that it's more about his ego than the facts. You can make a strong case for why the Clippers did what they did at the end of Game 1 but, given how the game ended, you can make just as strong a case for asking that question.
By the way, when fellow reporters scold a reporter on Twitter for asking a legitimate question, all they do is move the line toward asking questions everyone already knows the answer to. You know why kids ask such great questions? Because those questions are asked out of genuine curiosity. That's really the only standard for a question.
(Listen to the first question in the presser above. That's not a question. That's a "Talk about…" safe conversation starter.)
(By the way, Joe Johnson is in his 16th season; Jamal Crawford is in his 17th.)
Also, here's a good question for Doc: How did you lose Game 1 at home to a team with no playoff experience as a unit when that team's most productive player, Rudy Gobert, only played 17 seconds?
5. Farewell, 19th Century
The 19th century, which gave us the discovery of men's suits, electricity and anesthesia, is finally over. Last weekend Emma Morano, the last person born before 1900 who was still breathing, died at the age of 117. Morano, an Italian woman who loved cookies, credited her longevity to ending her abusive marriage, which she did 79 years ago.
The world's oldest living man, Israel Kristal, is 113 and is a Holocaust survivor. So take that, Hitler.
Music 101
 Biggest Part of Me
Unapologetic soft rockers Ambrosia scored a No. 3 hit with this tune in the spring of 1980.
Remote Patrol
Better Call Saul
10 p.m. AMC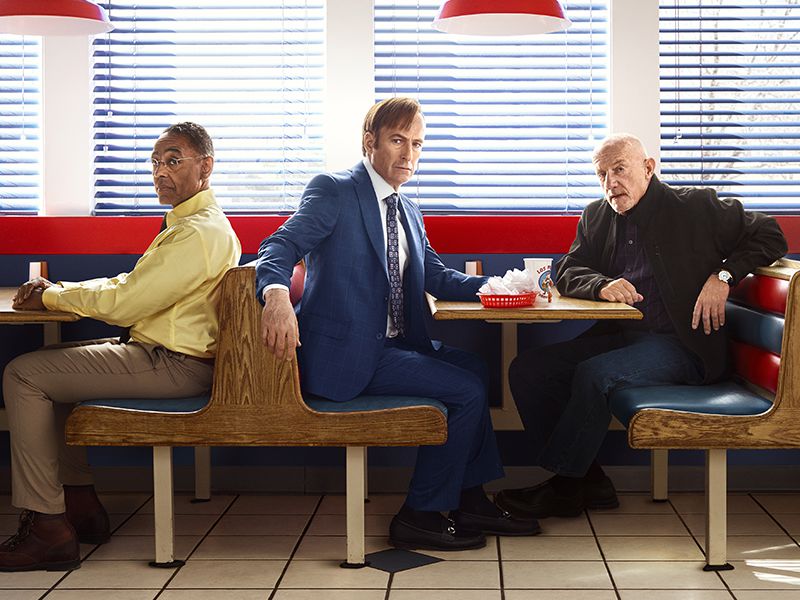 Last week's season premier was all exposition. We got a lot of shots of Mike tinkering with gadgets, which shows how much more meticulous and careful he is than Jimmy. Also, it's going to be his way, I suspect, of showing Gus Fring and his crew that he cannot be outsmarted. Two, we got Chuck hatching a plan to go after Jimmy, with Ernesto in the middles; and we have Jimmy and Kim in an odd place, as she realizes that she has landed her biggest client thanks to Jimmy's skulduggery. Did she self-sabotage as a way to even the score?