http://mediumhappy.com/?p=7108
by John Walters
Just in time for summer (Yay!), the Medium Happy staff finds itself with a little more discretionary time on its hands (though diners and drinkers never cease needing to be served and coddled). Who knows, we may even post more postings…
Starting Five
Farewell, Caped Crusader
Yesterday Adam West, who starred as Batman in the eponymous hit show in the late 1960s, passed away at the age of 88. That show was incredible. One of the best, if not the best, theme songs anywhere; a cast of rogues and villains that as a lad scared me out of my feety pajamas (Cesar Romero as The Joker; Burgess Meredith as Penguin; Frank Gorshin as The Riddler; Julie Newmar as Catwoman); a cool car; and the original TV true detectives, Batman and Robin.
But once you were old enough to make your own lunch, you'd watch Batman and appreciate that it was the funniest satire you'd ever seen (as kids we got Batman and Bugs Bunny, two subversive and multi-layered shows; both genius). Batman was actually more of a template for what David Letterman would later do on Late Night than it was for any super hero show. Example: A scene where the Batmobile has to come to a screeching halt in the midst of a chase and deploys a parachute to stop, like a dragster; the vehicle then screeches away as a white van marked "Batman Parachute Pick-Up Service" rolls into view.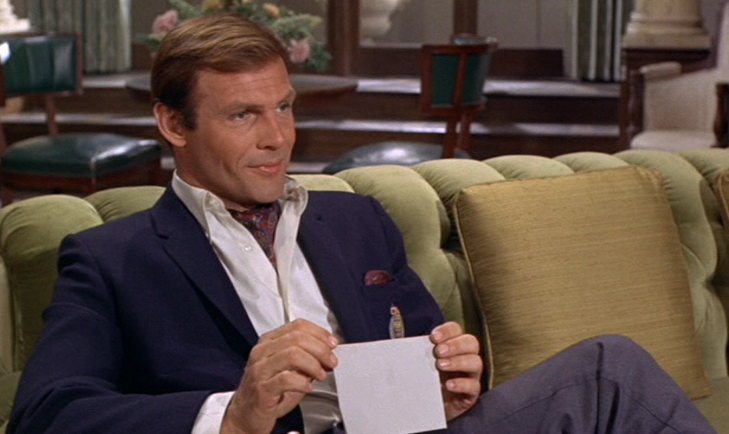 In the midst of it all was the handsome Adam West, who played every line as straight and serious as possible, and even more serious when the lines were funnier (how many current-day sitcom actors could learn a thing or two from him?). If you were too young to get the jokes—which were only intermittently sprinkled in to a real, good guys versus bad guys plot—you simply believed that West WAS Batman; once you were old enough, you appreciated how he could deliver lines such as "Some days, you just can't get rid of a bomb" with all the gravitas of his late Sixties contemporary, William Shatner (as Captain Kirk).
Quick, Robin, to the Batmobile!
2. Deajah's View
Last night's NCAA Track and Field championships in Eugene were filled with the type of drama that would've inspired the late Olympics documentarian Bud Greenspan to make a short film. First, you had Oregon and Georgia vying for the team national championship in the most unique way: Georgia would amass ALL of its points EXCLUSIVELY in field and multi-events (e.g., heptathlon, where it produced the individual NCAA champ) while Oregon would amass ALL its points exclusively on the track.
In the third-to-final event, the 200, Oregon's Deajah Stevens was running neck and neck with Florida's Kyra Jefferson (ESPN announcer Dwight Stones told us that her dad is Thomas Jefferson and then made a ponderous "Father of our country" joke that had me furrowing my brow through the first half of the race) with less than 20 meters to go. Then Stevens, not touched by anyone, seemed to just try to stride too far and face-planted. That Stevens failed to win the race was personally distressing, sure; but that the Duck sprinter simply got off and walked off the track without even crossing the finish line cost her team one point.
And why did that matter. Because heading into the final event, the 4 x 400 relay, Oregon trailed Georgia by a little more than 8 points, and you get 9 points for first. So the Ducks needed to win that event or no national championship (had Stevens crossed, they could have afforded to finish second). It was a magical race—Stevens ran the third leg—, a two-team battle between Oregon and USC, but Oregon's anchor leg took the lead in the last 150 meters and barely held off the Trojans.
Great drama for women's track, and kudos to ESPN for airing it live.
3. Allie is Alright
Meanwhile, Medium Happy favorite Allie Ostrander, the Alaskan pixie who finished second in the NCAA Cross Country championships as a freshman in the autumn of 2015, won the national championship in the 3,000-meter steeplechase (joining other MH faves such as Jenny Simpson, a three-time champ [2006, '08 and '09] and Emma Coburn, 2011).
What made Ostrander's performance so remarkable—her 9:41 put her five seconds ahead of the second-place finisher, Madison Boreman, of Simpson's and Coburn's alma mater, Colorado—is that her first time running this event was just a little over two months ago. Also, Allie's barely 5'4″ and she's clearing those hurdles. She's the tiniest female on the track. But she's a quick study and a fast runner.
4. Yet Another Tribute To a Friend Who Was Given An Unscheduled Journalism Sabbatical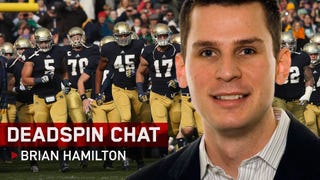 SI laid off my friend Brian Hamilton a few weeks back, but he asked me not to say anything until he tweeted about it. Anyway, he put it out there so I'll just make this relatively short: Brian is one of my favorite peeps. We both share New Jersey as a home state, an unfettered adoration for everything about Almost Famous, a fondness for hair metal bands of the '80s, and custody of Michael Rothstein (it isn't easy raising him on our own).
Despite his unbridled contempt for a lot about Notre Dame (the students, mostly), this Northwestern alum and I forged a solid friendship when we were both covering the Charlie Weis years. I used to ride my bike everywhere then, even to Charlie's Tuesday's pressers (the weather in South Bend in September and early October is heaven). One day as I was locking my bike into the rack Brian walked past with another writer pal of ours and, without breaking stride, quipped, "Tell Winnie Cooper 'Hello' for me."
Brian is a cynical but ultimately very, very good egg. For a game at Michigan State, I was living in South Bend without a car, and was going to have to rent one. Without me even asking, Brian volunteered to swing WAY out of his way on his route from Chicago to East Lansing to pick me up. That's just who he is.
He's a brilliant writer, too. I still remember a line he used in a piece early in ND's 2012 season (my favorite year of his writing) where he used the word "liturgy" in a secular sense and I just stepped back and was, like, "Whoa. Hadn't thought of that."
Brian's great. Highly talented, popular with the writing peeps, versatile. Like Austin Murphy, I don't worry about his future one bit. I just wanted you all to know that SI let two very talented people go in the past month (while likely keeping others who had higher "metabolism" rates).
5. Ostapenko!
How often has this happened? A tennis player's first tournament championship on the WTA or USTA tour happens to be a Grand Slam? Yesterday unseeded Jelena Ostapenko of Latvia overcome a 4-6 first set to defeat third-seeded Simona Halep for the French Open title. Ostapenko became the first Latvian to win a Grand Slam singles title, too.
The 20 year-old became the first unseeded woman to triumph at Roland Garros since Margaret Scriven of England in 1933. Incredible.