http://mediumhappy.com/?p=7135
by John Walters
Starting Five

Whale, Whale, Whale, What Do We Have Here?
On a 4th of July weekend where all New Jersey state parks are closed due to budget measures, Gov. Chris Christie, family and friends had the sands at Island Beach State Park all to themselves. Kudos to the NJ Advance Media for hiring a plane to fly overhead and snap pics of the beached whale.
This has to be the worst season of Jersey Shore yet…
2. Donald Knows GIFs?
#FraudNewsCNN #FNN pic.twitter.com/WYUnHjjUjg

— Donald J. Trump (@realDonaldTrump) July 2, 2017
Most people don't believe Donald Trump has read the GOP-authored health care bill yet, but there he was Sunday morning tweeting out a GIF of an old wrasslin' clip of him in which CNN's logo has been superimposed on to his victim. He claims he's taking down "fake news." Remember, Rule No. 1 of Trump: Whatever he says is exactly the opposite of true, and the more vehemently he says it, the more false it is.
3. Summer of Judge (More…)
If the baseball season ended today—and I have it on good authority that it will not— New York Yankee rookie right fielder would win the American League Triple Crown, as he leads in batting average (.327), home run (27) and RBI (62). Since 1967, or in the past 50 season, only Miguel Cabrera of the Detroit Tigers in 2012 has done so.
Here's what blows my mind: the improved batting average. In 84 plate appearances last summer, do you know what Judge's batting average was? .179. He struck out exactly 50% of his ABs last season (42). This year he is striking out once in every three ABs.
4. Bavarian Bus Tragedy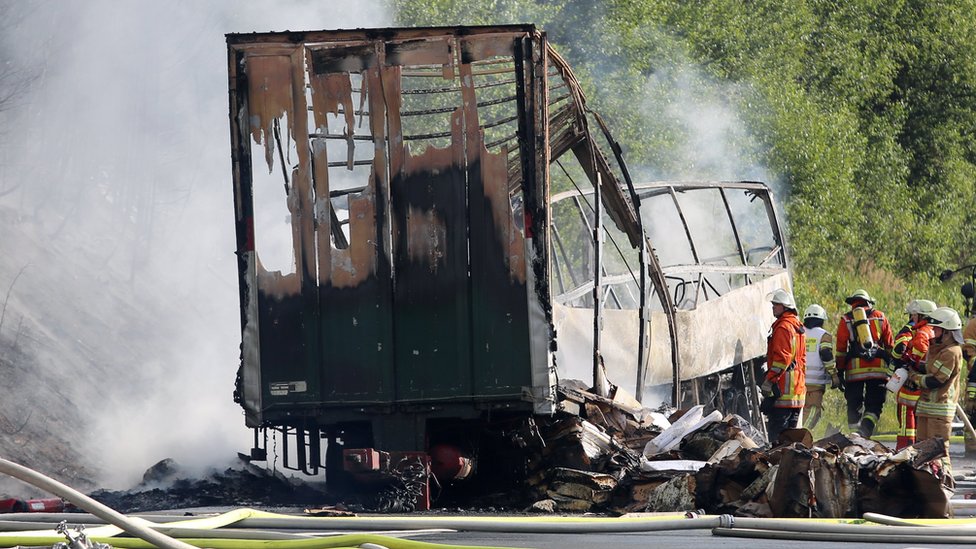 In beautiful southern Germany, a  bus collides with a lorry (truck) and explodes into flames. Nineteen travelers are believed dead.
5. Grid Her
Meet the new head football coach at Nederland (Colo.) High School, located in the Rocky Mountain foothills a few miles west of Boulder: Beth Buglione, 52, who is believed to be the first female high school football coach in the state's history. Buglione is replacing Aaron Jones, a popular coach who was fired after 11 seasons. Expect a little push-back on this hire.
Music 101
Sentimental Lady
Someone was listening to The Bridge this morning on Sirius/XM. This song was written and recorded by Bob Welch, who was a member of Fleetwood Mac from 1971-1974 (or just before they recorded one of the most successful albums of all time). Released in October of 1977, it rose to No. 8 on the charts.
The song was originally on a Fleetwood Mac album in 1972 but got no attention. Here is Welch performing it in 1982 with Christine McVie, and that's Mick Fleetwood on drums.
A Word, Please
Polyglot (noun)
Knowing or using several languages