http://mediumhappy.com/?p=7171
by John Walters
Starting Five
1. Accosting Acosta*
*The judges will not accept "It's Miller Time" but will consider "Spar For the Course"
America's most beloved Nazi, Stephen Miller, went after CNN's Jim Acosta during a White House briefing. On the bright side, at least White House briefings are being televised and live again.
The topic was immigration (or, "illegal immigration," snowflake) and Acosta went a little too Aaron Sorkin in quoting a poem at the base of the Statue of Liberty ("Roses are red/Violets are Blue/Send me your Irish/But please not a Jew"; that's what it says; it's true) and referencing Mein Kampf, but then Miller showed a complete lack of self-awareness, being a Santa Monica native and a Duke grad and yet calling Acosta "too cosmopolitan." Or maybe he was ordering two cosmopolitans.
Meanwhile, MH's editorial board wonders if The Mooch ("MOOOOOCH!") lasted long enough in the job to even merit a caricature on Saturday Night Live come October.
2.  Summer of Mannion and Minions (But, Fortunately, Not Mansons)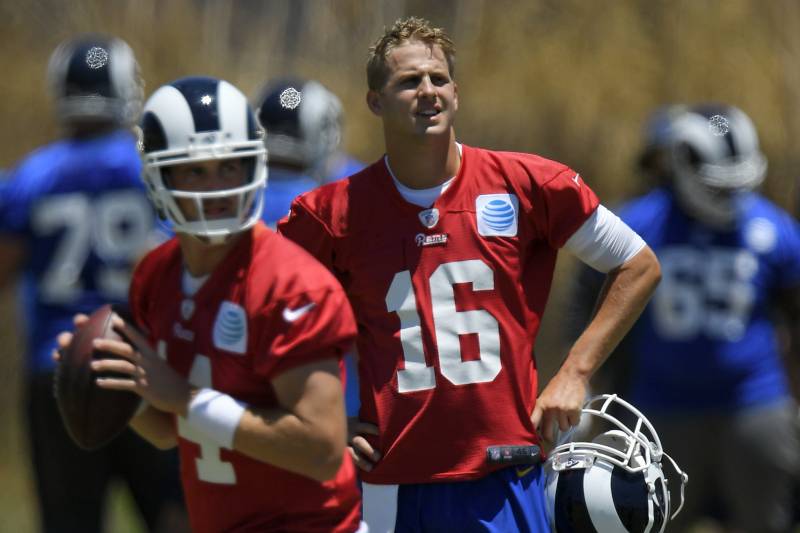 While you were out watching Despicable Me 3, Los Angeles Ram 3nd-year quarterback Sean Mannion (out of Oregon State) was quietly improving and now unseat 2016 No. 1 overall pick Jared Goff as the Male Sheep's starting quarterback. Former Ram and HOF'er Eric Dickerson believes he should start.
Mannion is 6'6″ and started four years in Corvallis. In 2013, his junior year and best season, he tossed for 37 TDs and only 15 picks. He was chosen 89th overall in 2015. Goff was selected No. 1 overall and could soon be a backup. Unless he's Cam Newton or such, NEVER pick a QB No. 1 overall in the draft. And Jared Goff is not Cam Newton.
Head to head, I believe, Mannion went 1-1 versus fellow Pac-12 alum Goff (Cal) in college.
3. What Did Ingersoll Lockwood Know And How Did He Know It?

The web is freaking out because one man's coincidence is another man's prophecy. And vice versa. The internet (which I hear is on the web these days) has unearthed a pair of children's books by 19th-century lawyer/author Ingersoll Lockwood that follow the adventures of a character named…Baron Trump (our future tsar spells it with two "r's"). And our young protagonist is often aided by a man named Don.
Lockwood, a lawyer born in Ossining, New York (Don and Betty Draper's digs) in 1841 wrote a third book in 1900 and its title, and we are not kidding, was The Last President.
And this is not fake news. Just real fiction.
Unless tomorrow we learn that this was a cleverly crafted hoax….
4. Ara
I spoke to Ara Parseghian once or twice (as has every college football writer who spent any time around Notre Dame in the past half-century) but I don't have a wonderful personal anecdote to share about the legendary coach, who led Notre Dame to a pair of national championships (1966 and 1973) and came within a pair of losses to USC to winning two more.
Ara died yesterday at the age of 94, a wonderful man who went 95-17-4 in South Bend and who ushered the Irish into the modern age. When he took over in 1964, I don't believe the team had a black player yet and I'm quite sure the school had not yet admitted its first female. Here's David Haugh's remembrance in the Chicago Tribune.
He said it was ok with him as long as his wife didn't mind. Thankful she said yes! My favorite memory of Ara 😘❤️ pic.twitter.com/YBLciZmocZ

— Allison Hayes (@AlliHayesSports) August 2, 2017
 Ara accepts a smooch from Michiana-based Big Ten/Notre Dame reporter Allison Hayes.
p.s. If you're going to wade in on the 10-10 tie in East Lansing, best not to do so unless you know the whole story.
5. Lawyer Stand-Up Comedy
If you're a lawyer or if you've ever had to deal with a lawyer, here's my good and old friend (whom we all affectionately refer to as "Sorp" or "Lord Sorp" for reasons I don't really know) doing stand-up about law school. Is he ready for Catch A Rising Tort? You tell me.
p.s. That video above was taped years ago (I suspect in Myanmar or Albania or another country in which one of our mutual friends was stationed). This below is our friend current day. He's upped his wardrobe game.
Music 101
You Get What You Give
Perhaps every decade brings them, but the mid- to late Nineties produced a slew of one-hit wonder tunes: "Flagpole Sitta" (Harvey Danger), "Steal My Sunshine" (Len), "My Own Worst Enemy" (Lit) and this 19998 tune by New Radicals. Frontman Gregg Alexander broke up the band before a second album, saying he was tired of fronting a one-hit wonder and had lost enthusiasm for three hours of sleep per night in hotels in exchange for schmoozing with record people. He later won a Grammy for writing a song and was nominated for an Oscar for another tune he wrote in 2015.
A Word, Please
sycophant (noun)
Not the planet's largest land mammal, or even a variation thereof, but rather "a person who acts obsequiously toward someone important in order to gain advantage." Think of the people you see giving White House briefings.