http://mediumhappy.com/?p=7174
by John Walters
Starting Five
Burn Notice*
*The judges will also accept "Pregame Fryover"
Westeros was ushered into the age of air war last night, as Daenerys Tarygaryen, Mother of Dragons, Stormborn yada yada yada unleashed her Dothraki and piloted one of her three children in a raid against the Lannister army. It was glorious, as was the entire episode.
–Sibling reunions: Arya, Sansa and Bran Stark; Jon Snow and Theon Greyjoy.
–Bran subtly letting Littlefinger know that he'd just lied to him about the provenance of the dagger by, after Lord Baelish referenced "chaos," repeating arguably Baelish's most infamous line: "Chaos is a ladder." Brilliant.
–The Arya-Brienne duel was outstanding, though I'm not sure Arya would even be the 700th best swordsman on the men's tour.
–Mostly, though, it was that Dothraki & Dragon vs. Lannister battle at the end. And no, I don't think we've seen the last of Jaime Lannister and Bronn. Something tells me that injured Drogon will pluck them from the depths. Remember, all of this is beyond the books now.
2. Bolt's Blot
In the final individual race of his magnificent career, Jamaican Usain Bolt, the world's fastest man EVER, finishes third. Bolt retires having won an unprecedented three consecutive Olympic golds in the 100 and 200 and with the four fastest times in history in the 100, including the WR 9.58 he ran in Berlin in 2009.
Justin Gatlin beats Usain Bolt in Bolt's final 100m race. #IAAFWorlds pic.twitter.com/tVy4mAsZol

— NBC Olympics (@NBCOlympics) August 5, 2017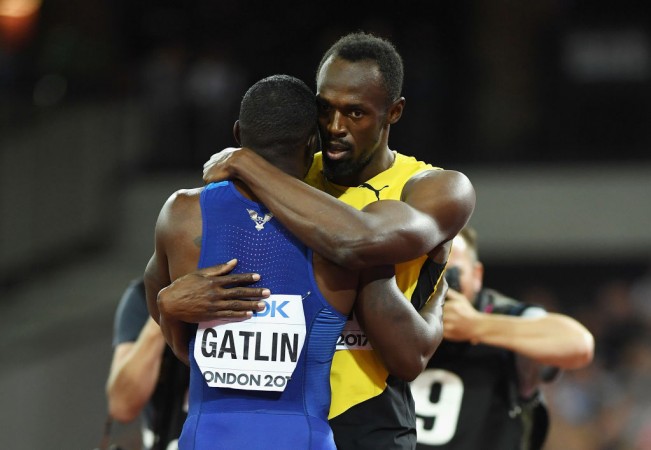 On Saturday night in London Bolt, an 11-time world champion in sprints, was topped by two former Tennessee Vols, Justin Gatlin, who ran a 9.92, and Christian Coleman (9.94), as he took bronze in 9.95. Gatlin, 35, has twice before been suspended for doping offenses and there are no small amount of folks in track and field wondering why he was even allowed to be in the race.
Oh, there was also a streaker before the race. And Bolt partied until 5 a.m. at SoHo Box afterward.
3. Good News, Bad News
The good news at (one of my) former employer(s) is that the wondrously talented Alex Nazaryan penned a fantastic cover story on the president and that said cover is garnering a plethora of attention. On President's Trump' slothful style:
So he sits and stews, like Al Bundy, the shoe-selling protagonist of Married … With Children, the sitcom of roiling white discontent that predicted Trump better than any political scientist or pundit. Unsatisfying job, ungrateful children, all around him a nation in decline. Bundy dreams of the days when he was a high school football star; Trump, of his election-night romp through the Upper Midwest.
The bad news is that the magazine's editor-in-chief, Matt McAllester, has been named in a sexual and age discrimination lawsuit from his days at Time magazine (the good news there is that if someone at Newsweek is able to land an exclusive with McAllester about this suit, it could really drive traffic for the site and help them reach their quotas).
4. Death In A National Park
As I was driving back from Yosemite on Friday with my friend/guide Geoff, somewhat grateful to be safe and yet at the same time loathing myself for being a wuss, I found this story on Twitter: a 38 year-old mom, an ER doctor from Texas, died in the Grand Canyon earlier last week when she took a wrong turn, got lost, and perished of exposure.
The woman, Sarah Beadle, had been hiking with her daughter and another child when they ran low on water. She placed them in a shady spot and went out to search for water for them. She never returned. The children were found by another hiker and are safe.
I was lucky enough to head out with an experienced hiker, someone who brought plenty of water for us, head lamps, hiking sticks, etc. National parks are no joke. That's what you should love about them. It's also what you must remember about them. It's a tragic story, of course, but also a teachable moment. This was an ER doctor, who understood better than most what the perils were. If it could happen to her….
5. "Hey Siri, How Did Your Hitting Streak End?"
Over the weekend Jose Siri, an outfielder with the Class A Dayton Dragons, had his Midwest League-record 39-game hit streak snapped. It was HOW it ended that created a benches-clearing moment. After going 0-fer-3, Siri came to bat in the bottom of the 8th. The first pitch by Great Lakes pitcher Ryan Moseley sailed BEHIND Siri. Then, with a 3-2 count, the pitch sailed way outside.
You don't often see benches-clearing walks, but you don't often see 39-game hit streaks, either.
Music 101
Cosmic Hero
My friend Geoff has the most encyclopedic musical knowledge of anyone I know (with the possible exception of MH contributor Billy H.) and last week he introduced me to the American indie rock band Car Seat Headrest. This song travels through a few different tempos and moods, but it's ambitious and phenomenal.
A Word, Please
masquerade (noun)
a false show or pretense*
*This is a fantastic writer's word, not only because it lends itself to describing many sins, but also because it looks good on the page and sounds cool as you say it.