http://mediumhappy.com/?p=7180
by John Walters
Starting Five
I Knew You Were Trouble
North Korea? Russian meddling in the election with The Worst Wing's collusion? The Bachelorette was boring? Who cares about about any of that? Taylor Swift was allegedly groped and she just can't shake it off, so the case has gone to trial.
In 2013 David Mueller (now 55), a DJ in Denver, allegedly grabbed T-Swizzle's bum under the skirt (some people think of it as a "meat-and-greet," apparently). Oh, that's Mueller's girlfriend on the left. Anyway, T-Swizzle told her mom, "A guy just grabbed my ass at the meet-and-greet."
Swift's security team informed Mueller he'd no longer be welcome at her concerts. Then Mueller lost his job at country-music station KYGO. Then he sued Swift. So now she is countersuing him. "It was not an accident, it was completely intentional, and I have never been so sure of anything in my life," Swift, 27, said in a deposition.
This is all going to make a great song on her next album.
2. Guam Gonna Get You, Sucker!*
**
The judges will also accept the submission of @auburnelvis , which deserves its own bold italics Heading 2 font:
Going, Going, Guam?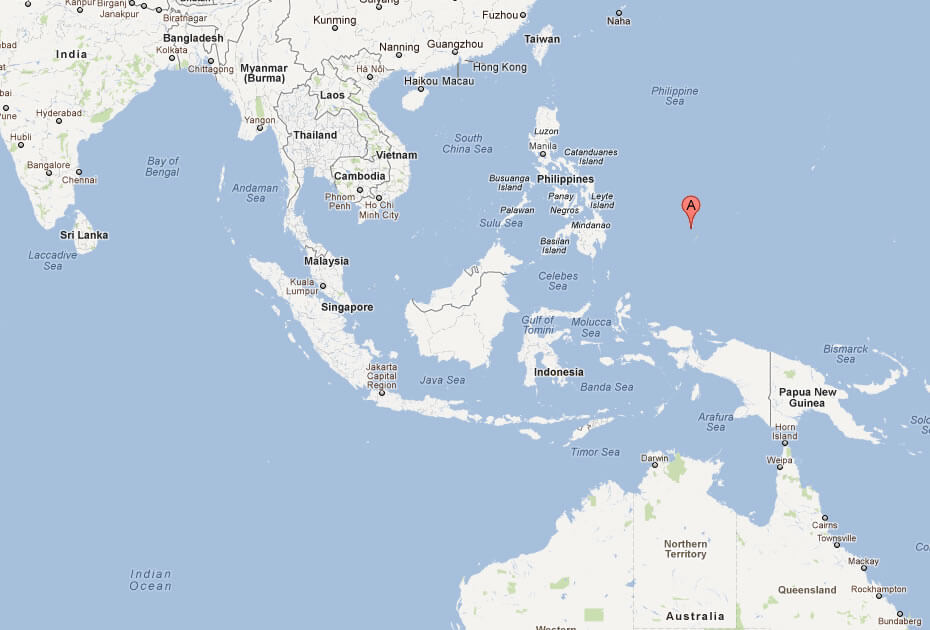 *a.k.a., "NoKo, Oh, No (Cont.)"
Are these North Korean missile threats taking atoll on Gaumians? Where is Guam, anyway? There it is, that Red A in the middle of the Pacific. That certainly makes it a more convenient target for Kim Jong-Un, having a giant Red A ("Atomic?") on your back.
You probably knew that Guam (pop. 167,000) is a U.S. territory, but did you also know that they are all American citizens by birth? Or that Ferdinand Magellan was the first European to set foot there? Or that its indigenous people are known as Chamorros? Or that the Japanese captured Guam on December 7, 1941, and held it for more than 2 years, subjecting citizens to rape, torture and beheadings (sounds like an HBO doc waiting to happen)?
3. Meet Your New Premier League Teams
The Premier League season begins this weekend (summer's over already?), so let's meet the three teams that, due to relegation, have been promoted (you have to love a league that turns over 15% of its membership annually to reward teams that played well at the next division down and punish those who play poorly at the highest level; I know I do. Americans can learn from this: the game doesn't always have to be rigged).
First up, Newcastle United, who spent only one season down in the Championship League (English soccer's AAA ball). The Magpies, who have spent 82 of the past 85 seasons at the highest level of English soccer, are also the Premier League's northernmost club, and it isn't close. The next northernmost squad, Burnley, is 122 miles south.
Next, meet Brighton & Hove Albion. The Seagulls play along the English Channel on the southeastern coast. They last played in the top tier of English football (before it was named Premier League) in 1983. Their stadium, Falmer Stadium, seats 30,700.
Finally, there is Huddersfield Town, located just north of Manchester (and just south of the aforementioned Burnley). This is the Terriers' first season back in the top flight of English football since 1972. They play at John Smith's Stadium (24,500).
Huddersfield visits Crystal Palace on Saturday and Brighton & Hove entertains Manchester City. On Sunday Newcastle hosts Tottenham.
4. Where's Hunter Renfrow?
SI.com released its "Top 100 Players" in college football yesterday (No. 1, Derwin James, FSU), and the list is probably still downloading on your laptop (all the pop-ups and videos, guys, sheesh) (yes, I wrote sheesh). Maybe Clemson's former walk-on wideout, Hunter Renfrow, does not belong in this august group (assembled in August), but he did catch two touchdown passes against a bunch of future NFLers in 2016 and then caught the championship-game winning touchdown pass versus that same Alabama team last January with :01 remaining.
Oh, and Renfrow led all receivers in receptions in that 2016 Alabama-Clemson contest with 7, then followed that effort up in the sequel by leading all receivers with 10 grabs. That's 17 receptions, three TD catches, one championship-winning catch with :01 left in the last two years. But NOT one of the country's top 100 players? Got it.
5. Migrant Mass Murder
You know your life is fraught with hardship when you are fleeing your homeland to be in Yemen, but that's what dozens of migrants from Ethiopia and Somalia paid a smuggler to do. But, as the ship was crossing the Arabian Sea, the smuggler thought he saw officials off the Yemen coast and tossed his human cargo into the sea. At least 50 migrants drowned. Today's "be thankful for where you live" message.
Music 101
Roll With The Changes
So if you're tired of that same old story/Oh, turn some pages. Before Hi Infidelity (nice pun, there, guys) changed everything for REO Speedwagon, Kevin Cronin and the guys wrote some Doobie Brothers-level classic rock tunes. This is one of them, from 1978.
Remote Patrol
Saturday Night Live: Weekend Update
9 p.m. NBC
How will Colin Jost and Michael Che do with an entire half hour in prime time? Okay, if they are able to get Kate McKinnon to join them.
A Word, Please
vestigial (adj.)
forming a very small remnant of something that was once much larger or more noticeable.