http://mediumhappy.com/?p=7208
by John Walters
Starting Five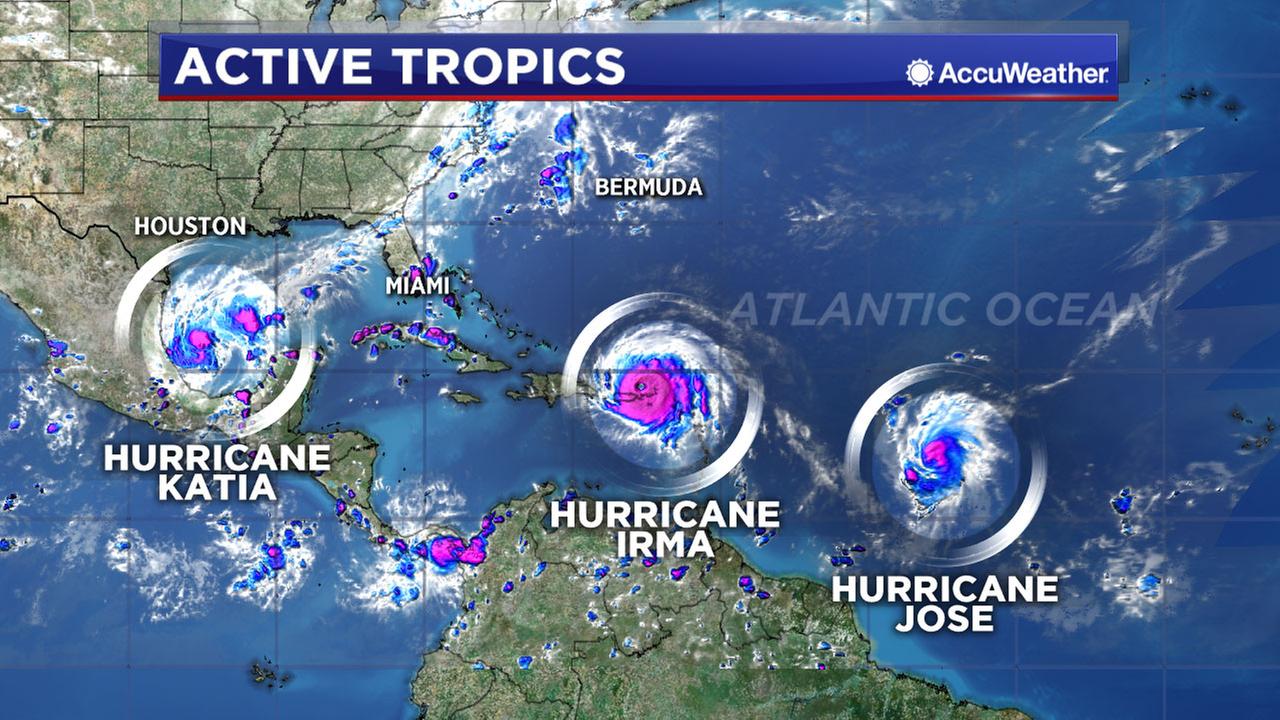 Precipitation Trophy
1492: The Nina, the Pinta and the Santa Maria.
2017: Irma, Katia and Jose.
It's been 525 years since a trio of landscape changers this YUUUGE hit the Caribbean. Irma has maintained a wind intensity of above 180 m.p.h. longer than any Atlantic storm in history, and at this point you have to wonder if either (both) she or Giancarlo Stanton are juicing (the Marlins are scheduled to play in Atlanta this weekend, when the storm should strike south Florida).
Earlier this morning CBS showed am image in which the state of Texas was superimposed over Irma, and the hurricane's diameter is about the same size. Whoa.
One thing we've learned following Irma: there's a Caribbean island named Barbuda. Does anyone ever go there?
2. Charles In Charge?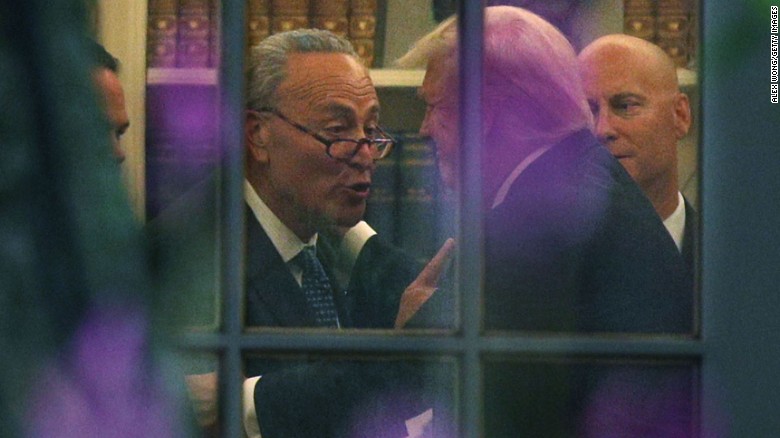 Just a couple of guys from Queens arguing over who makes the best pizza slice. The photo was shot by Getty Images staff photographer Alex Wong from the South Lawn of the White House using a long telephoto lens. That's Senate MajorityLeader Chuck Schumer and 45 at the end of a meeting in which DT agreed to raise the debt ceiling for three months (I really don't know what that means, but it sounds like we're doubling down on owing China money?) to accommodate a Harvey relief package (more of those in the offing).
3. What Happens In Vegas No Longer Stays In Vegas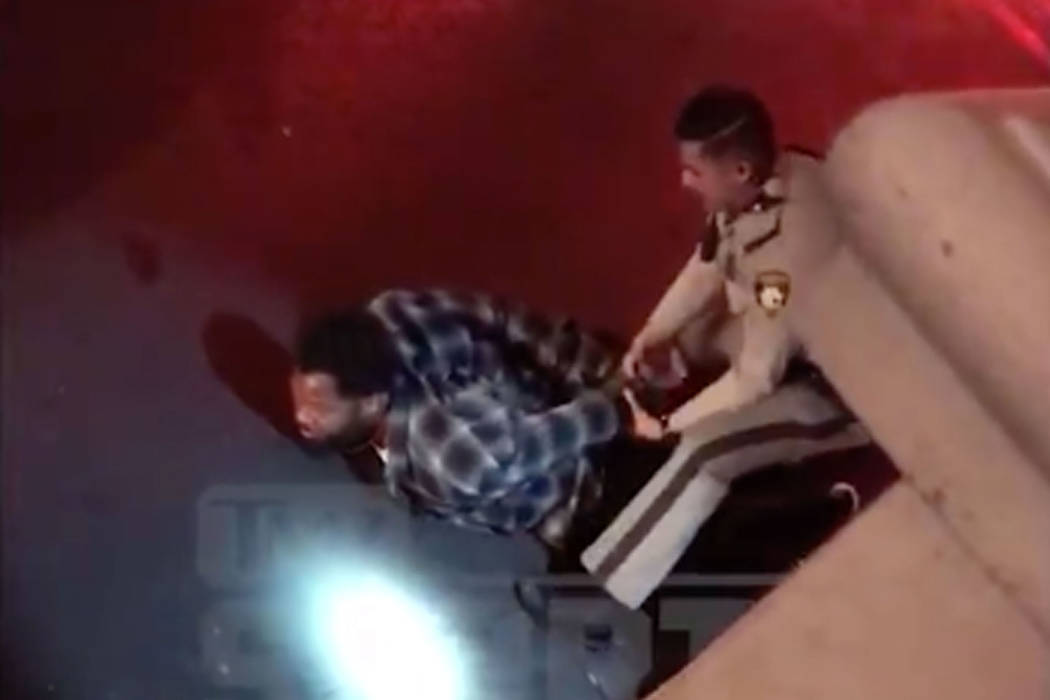 Seattle Seahawk defensive end Michael Bennett fired the first figurative shot, alleging in a Facebook post that he was handcuffed following a shooting incident in Vegas post-Mayweather-McGregor and that an officer threatened to "blow your f*cking head off" if he tried to escape. Hours later, LVPD asserted that they'd spotted Bennett crouching down, hiding behind a gaming machine, and that when they called out to him, he ran, which is why he detained them.
There may be as many as 126 videos from body and security cameras that recorded the incident. Chances are, and this is just an assumption, that Bennett was not entirely forthcoming in his initial post (never explained why he hid or ran) and that also that Vegas cop (who is Hispanic) did threaten him. We'll see.
4. Cleveland Rocks (As Does Arizona)
The Indians silenced the ChiSox last night, bringing their winning streak to 14 games. The Diamondbacks are keeping pace, winning their 13 straight . This is just plain nutty. Cleveland tied its franchise record for consecutive wins (a record it also tied last season) and it should be noted, so we will, that the last time any MLB team won more than 14 games in a row, Aaron Sorkin wrote a screenplay (Moneyball) about it. That was in 2002.
Most impressive? Cleveland's last 10 wins have come away from Progressive Field. Tonight they end their 11-game road trip in Chicago.
Just as, if not more nutty, is that the Los Angeles Dodgers were just swept in a 3-game series by the D-Backs for the second time in the past 10 days. L.A. has lost nine of 10 since appearing on the cover of Sports Illustrated a week and a half ago. The S.I. Jinx lives.
5. Shocked Jock
As hard as it may be to fathom that a New York City sports radio sidekick may not be a pillar of integrity, well, it's true. Meet Craig Carton, 48, co-host of WFAN's popular "Boomer (Esiason) and Carton" morning show. Carton earns $250,000 per year, but that wasn't enough to sate someone of his, er, talent.
Carton gambled prolifically and lost even worse. He was apparently $3 million in the hole to various casinos and less reputable types when he and a friend launched a fraudulent ticket scalping business (they lured investors and treated it like a Ponzi scheme). The Feds arrested him at his home yesterday at 3:45 a.m.
That ain't right, Dawg.
Reserves
–This wonderful piece  by Mike Piellucci on SI.com about Equinameous St. Brown and his family, Orange County's gridiron version of the Balls without all the nausea.
–This tremendous piece in USA Today that used golfer handicaps to show which 1%-ers belong to Trump golf clubs and how they pay memberships for access (we happen to know someone who dates one of them; she has more access to what is happening in the Trump White House than most NYT reporters)
(We have to admit, we feel a little like Richard Deitsch right now; by the way, we worked at SI in the '90s when there was both a Richard Deitsch and a Richard Deutsch in the reporters bullpen; the latter, a great guy with an incredibly dry sense of humor, left and became a lawyer)
—Randy Rainbow returns with "DACA-Shame". Personally, we would have gone with a more contemporary song: "DACA-Con."
Music 101
Livin' On A Prayer
Say what you want about Jon Bon Jovi—say nothing if you want—but the Jersey rocker produced an outstanding debut album in 1986, with a pair of No. 1 hits. This was the second, after "You Give Love A Bad Name." A third single, "Wanted Dead Or Alive," reached No. 7. Bon Jovi never equaled this creative peak, but few artists have.
A Word, Please
obtuse (adj.)*
*"What did you call me?"
Annoyingly insensitive or slow to understand*
Not to be confused with abstruse (adj.), which means "difficult to understand or obscure,"so that one could find a way to say, "I'm not being obtuse, it's just that the subject matter is abstruse."