http://mediumhappy.com/?p=7210
by John Walters
Starting Five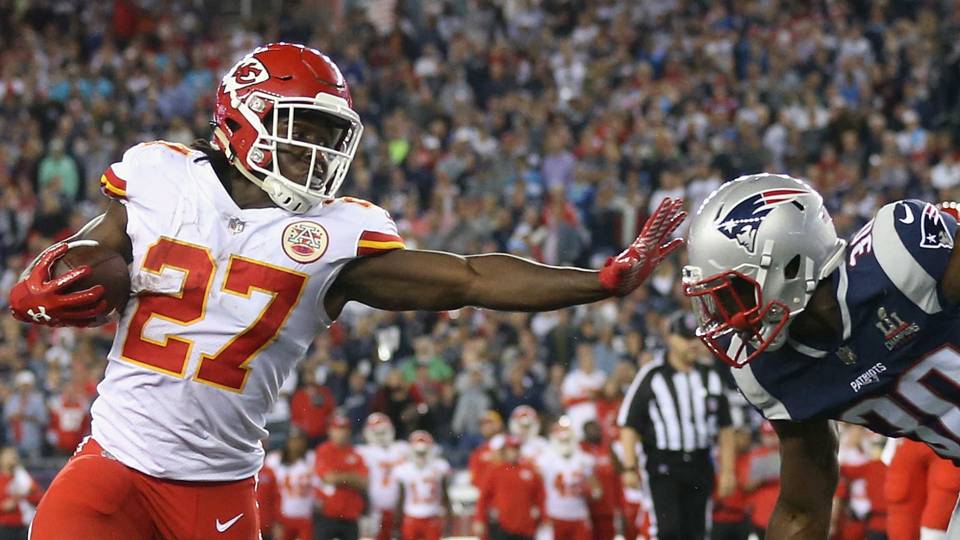 Kansas City Kareems New England
Yesterday at the NFL headquarters on Park Ave. and 51st, the cafeteria, The Huddle, served both New England clam chowder and barbecue ribs. Commissioner Roger Goodell had a salad (he's not a lunch expert, either?). Then he flew up to Foxboro.
Last night he saw the next famous Hunt in the Kansas City Chief line. Lamar Hunt was a patriot who owned the Chiefs. Kareem Hunt is a Chief who owned the Patriots. The rookie out of Toledo fumbled on his first NFL carry, a turnover (Hunt NEVER lost a fumble in his collegiate career). Duly woke, Hunt then ran for 148 yards, gained 98 more receiving, and scored three touchdowns, one of them on a 78-yard reception. Hunt's 246 total yards are the most ever for a running back in his NFL debut.
K.C. wins 42-27. You can stop debating, FS1 bloviators, whether the Pats going 16-0 is a good thing or not.
p.s. New England's defense is porous, they lost Donta Hightower and they also lost WR Danny Amendola (as Al Michaels said, "With a head"). Oh, and their right tackle is a revolving door. It's one game, but I'd say 15-1 is a reach as well.
2. Stephens' Points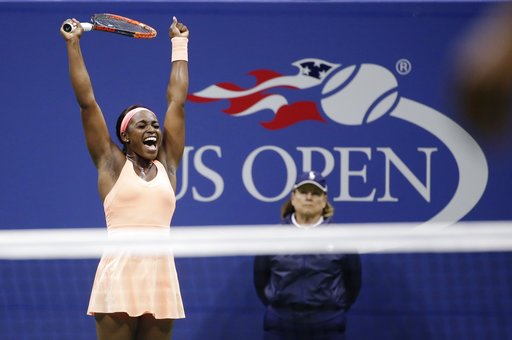 In three sets last night, Sloane Stephens, 24, upended No. 9 seed Venus Williams, 37, in the U.S. Open semis: 6-1, 0-6, 7-5. It was arguably Venus' last great chance to win a grand slam, as her sis was sitting this one out and the other other half of the draw produced 16-seed Madison Keys, from which no one is evacuating.
3. Left Behind
The Coast Guard is evacuating south Florida. What does that tell you? Hurricane Irma is crashing between the Bahamas and Cuba right now, but then it plans to take a serious right turn and head straight up the spine of the Florida peninsula (it's almost as if a higher power has put Florida in Its/His/Her sights). The highest point on the Florida peninsula is 312 feet above sea level.
Before Irma even hits, the storm has Florida resembling the final scenes in Deep Impact. If you're only deciding to evacuate north now, expect I-95 and the Florida Turnpike to be jammed and gasoline stations to be experiencing both long lines and absences of fuel. What are residents to do?
Best wishes (beyond thoughts and prayers) to all of those who remain and who may be unable to depart.
4. Tribe!
I understand that we're all too busy worrying whether the Patriots will go 16-0, if Brian Kelly is on the hot seat, or why LeBron will be leaving for Los Angeles a year from now, but  the Cleveland Indians just completed a road trip with an 11-0 record. The last time anyone did that was 60 years ago (Cincinnati Reds, 12-0 in 1957), which if you work at ESPN or FS1, predates "of all time." The first-place Indians beat the White Sox 11-2 last night to move their win streak to 15 straight, the longest win streak in the majors since the 2002 Moneyball A's.
Who will play Terry Francona in Moneyball 2? And weren't the Indians the franchise in the film from whom Beane whisked away the Jonah Hill character? Time is a flat circle.
5. America, 21st Century, In One Tweet
No sign has ever encapsulated my life more than the one this woman is wearing pic.twitter.com/eWFVita7Dx

— Tim (@Playing_Dad) September 7, 2017
Music 101
Stormy Weather
This American classic was first sung in 1933 by Ethel Waters at The Cotton Club in Harlem. It was located on the corner of 142nd and Lenox Ave., if you're looking for it. Yeah, we have no idea why we chose this tune, either. Dig it: It's going to take a lot more than a Category 4/5 hurricane to get us to play the Scorpions in this space.
A Word, Please
quotidian (adj.)
of or occurring every day; daily