http://mediumhappy.com/?p=7256
by John Walters
Starting Five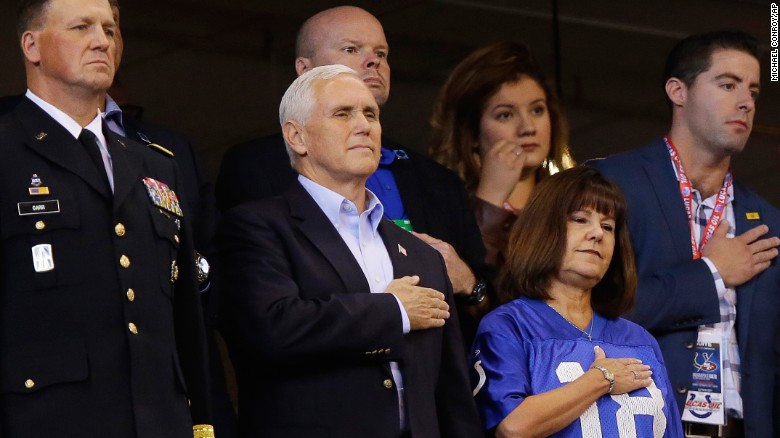 Political Football
Vice president Mike Pence travels from Las Vegas to Indianapolis to pull off a stunt at Lucas Oil Stadium, upstage Peyton Manning's weekend, and continue to promulgate the inaccurate narrative that the anthem protests have anything to do with the military. Then he flies to Los Angeles on your dime.
I understand leaving an NFL game early to beat traffic, but most of us wait until at least the opening kickoff. Great column here by Gregg Doyel of the Indianapolis Star wondering how we got to a place where the president and vice president of the United States so actively attack the First Amendment and reminds readers that such oppressive behavior is precisely why the Pilgrims left England.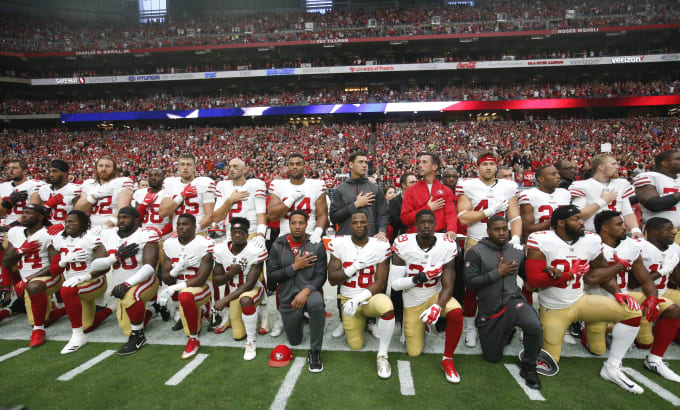 Pence, as everyone has written, knew that he was going to stage this walkout (the Colts were playing the 49ers, the one team that has had at least one player kneel every game since Colin Kaepernick first did so) before he ever arrived back in Indy. This was a coordinated stunt with his boss, an opportunity to rally the base once more at the expense of the NFL and Manning as a ruse to take voters' minds off what spectacular failures they are as leaders. As men.
From Peter King:
But the vice president of the United States slapped Manning and Pence's beloved Colts in the face. Whether he's a puppet for the president or his own man, Pence trumped a day that belonged to the greatest football hero the state of Indiana has ever seen, and he did it for political purposes. He stole Manning's last great day as a Colt. Mike Pence will have to live with himself for that. 
Finally, here's an Indiana native who knew how to pay his respects this weekend…
"Take a look around you here at this city, ladies and gentlemen. When I lived here it was like a minimum-security prison with a racetrack."
2. Touchy Feely
Jay Feely played 14 seasons in the NFL as a placekicker and so he missed a lot of kicks—70, to be exact. But Feely never quite missed one the way he did last Saturday while working as an analyst for Eastern Michigan-Toledo. Going full-bore Pepper Brooks, Feely appears to see EMU kicker Paulie Fricano connect on a long field-goal try ("Off the cross bar!") when he clearly misses it to the right.
To be fair to Feely, he has often been a guest on Fox News' Hannity. He often sees things as being good when in reality they are far right.
An aside from another game: I don't want to hear "Win one for the Josher" ever again, capisce, Bob Wischusen?
3. And That's A Ginsburn!
Yes, the Jason Aldean cold open (playing Tom Petty's "Won't Back Down") generated more headlines, as did Michael Che's second week in a row of strong commentary on Weekend Update. But I just wanted us to pause a moment to appreciate the weekly brilliance that is Kate McKinnon. She's not just the greatest female cast member since Gilda Radner, she's one of the most versatile and talented cast members in the show's history. No one currently in the cast comes close.
At least the SNL writers found a way to repay McKinnon for the last few years of excellence…
This below, by the way, was a great way to tackle something topical…
4. No Wattage
Most of Puerto Rico is still without power, but now Houston is without Watt-age. Secular saint and MH's pick for Sportsman of the Year J.J. Watt suffered a tibial plateau fracture in the Texans' loss to Kansas City on Sunday and is out for the season. Through Watt's efforts, $30 million has been raised to help those in south Texas affected by Hurricane Harvey.
That's two season-ending injuries in as many seasons for the defensive face of the NFL. Bad things happen to good people. All the time.
5. Yankees Win! Thuuuuuuuuuuuuuh Yankees Win!!!!!!!
When is the last time the New York Yankees won a playoff game 1-0? Sixteen years ago, also a Game 3, also trailing 2-0 in a divisional series at the time, also scoring the only run on a home run by a left-handed batter (Jorge Posada) also aided by a tremendous fielding play by the team's most popular player.
Reserves
I Don't Know What Is Going On Here, But It's Not a Backyard Barbecue In Greenwich, I Will Tell You That
Imagine being this black, this successful & this rich… this is what it sounds like pic.twitter.com/ZW1KKlP4no

— Tyriq Harris (@TyriqHarris) October 8, 2017
Submitted Without Comment
Ah, irony. It tastes so sweet yet burns with an aftertaste. pic.twitter.com/0OJwy6afux

— Tom Fehr (@TJFsports) October 7, 2017
Music 101
Fortunate Son
If not the best Vietnam war protest song, this 1969 guitar assault by Creedence Clearwater Revival is the angriest (and most candid). John Fogerty, who wrote the song  after receiving his draft notice, has said that it took him no more than 20 minutes to write the song.
Remote Patrol
Baseball Foupleheader
Astros at Red Sox, Gm. 4
1:08 p.m. FS1
Nationals at Cubs Gm. 3
4:08 p.m. TBS
Indians at Yankees, Gm. 4
7:08 p.m.
FS1
Dodgers at Diamondbacks, Gm. 3
10:08 p.m. TBS