http://mediumhappy.com/?p=7261
by John Walters
Starting Five
The Constant Gardner
Didi Gregorious hit two home runs, but it was the 12-pitch, two-out, ninth-inning at-bat of  Brett Gardner that will resonate for Yankee fans. New York rebounded from a 2-0 deficit against the hottest team in baseball to win the series in five games. Gardner's two-run single in the ninth, after fighting off six two-strike pitches with foul balls, was emblematic of New York's resilience.
Yankees win ("Thuuuuuuuuuuuuuuuuuuuuuh Yankees WIN!"), 5-2
The Yankees have already won four elimination games this month. Oh, and Joe Girardi never had anything to apologize for. He didn't load the bases and he didn't give up the grand salami.
2. Stephen Gets Nats Even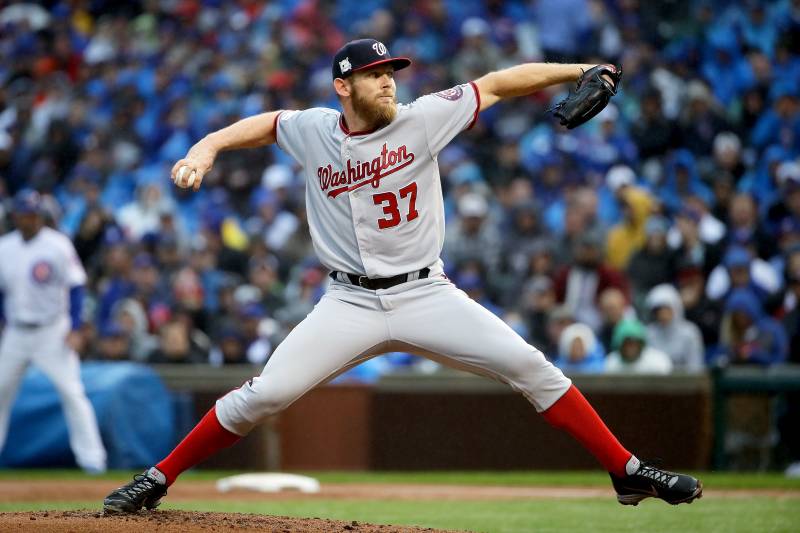 Nat co-ace Stephen Strasburg was too sick to pitch on Tuesday, but fortunately for the Nationals Game 4 was rained out and postponed until last night. And last night Strasburg, still under the weather, which itself was cold and damp and misty (like something you'd see off the coast of Maine) threw seven shutout innings, striking out 12 batters from the world champion Cubs, as Washington won 5-0.
Fly the L, Cubbies.
Weird note: The Nats were kicked out of their hotel because it could not accommodate them for their one-day extension due to the rain. Someone call Costanza! This team needs a new assistant to the traveling secretary.
3. Jon Stewart Explosion
"Calm before the storm? What the ____? How is this not the storm? And what kind of sociopath would use that terminology when people are literally still cleaning up from storms?"
4. The War on 1st Amendment and Women
So yesterday Donald Trump, a man who frequently makes claims on Twitter that are within minutes proven to be false, says this: "It's frankly disgusting the press is able to write whatever they want to write. People should look into it."
Of course, people do look into it every day. And if the press writes something that is false, it can be sued for libel. Happens every day, dumb ass.
Then later, someone posted on Twitter (I assume it's real, but it may be fake) a flier handed out at a Trump hotel recommending that federal buildings no longer air CNN because of their fake news.
Meanwhile, Twitter suspended Rose McGowan's account after she posted this tweet directed at Ben Affleck:
@benaffleck "GODDAMNIT! I TOLD HIM TO STOP DOING THAT" you said that to my face. The press conf I was made to go to after assault. You lie.

— rose mcgowan (@rosemcgowan) October 10, 2017
I really hope that RICH WHITE MEN understand that their day of reckoning is coming, and sooner than they expect. Of course, I'll be swept up with them because I'm 2 of the 3. When I'm burning on a stake, I hope someone remembers I fought the good fight. I'll be too busy screaming to remind you.
5. Meet Patrick Murray
After Nick Folk's 0-fer-3 field-goal quagmire on national TV last Thursday night, the Tampa Bay Buccaneers brought back 5'7″ Patrick Murray (who made the last 25 kicks, 13 PATs and 12 field goals) that he attempted for the Bucs in 2014. Good friend of MH Greg Auman notes that in high school in New York City Murray won a championship playing Gaelic football and that as far as anyone knows, "Murray is the first openly Gaelic player in the NFL."
That was just too good not to use.
Music 101
You've Made Me So Very Happy
The horns and the unmistakable bedroom voice of David Clayton-Thomas is what sets Blood, Sweat & Tears from the pack. The New York City-based band found its Canadian lead singer when Judy Collins (of "Suite: Judy Blue Eyes" renown) saw him singing in a club and encouraged the band to go see him. They signed him immediately. This late 1968 tune was actually written by Motown legend Berry Gordy and Brenda Holloway and it rose to No. 2 on the charts.
Remote Patrol
Game 5
Cubs at Nationals
TBS 8:08 p.m.
A quick turnaround from Chicago and an elimination game. Washington's engine room of Ryan Zimmerman, Bryce Harper and Jayson Werth are batting .188, .133 and .071, respectively. Who pitches for the Nats tonight? I dunno, but I still have them advancing.