http://mediumhappy.com/?p=7287
by John Walters
Two days ago we were blocked on Twitter by Clay Travis (DBAP, dude!), mainly because when I go after him (and admittedly, I've been up his ass for years), his lemmings tweet me back but keep including him in the @'s so he finally got fed up with it. I don't honestly blame him—Twitter protocol: leave people with more followers out of your Twitter spats with someone else—but I sat there yesterday noticing that LeBron James had dressed up as Pennywise for Halloween and wondered if not Clay had suggested that it was politically incorrect for LBJ to dress up in whiteface…
Starting Five
Act Of Cowardice
On a sunny and warm and cloudless Halloween afternoon in New York, a coward (yes, a Muslim immigrant from Uzbekistan) drove a rented Home Depot truck down the popular Hudson River bike path (we've ridden it hundreds of times) and mowed down more than a dozen people, murdering eight.
Call it terror if you want, it's simply cowardice. Calling it "an act of terror" won't do anything more to stop the next such act than sending out "thoughts and prayers" will prevent the next incident of a white loner with a semi-automatic weapon mowing down innocents.
So what do we do? Take the example of Whoville, which is what we New Yorkers did last night. In other words, go on living, as thousands of New Yorkers did by taking part in our annual Halloween Parade, which takes place less than a mile from where this heinous act occurred.
And by the way, to give you an idea of exactly what type of losers we're dealing with, if this nihilist had half a brain he would've waited a few hours and been able to mow down exponentially more people. They're not particularly smart, these people.
Dig: As soon as more (or even a few) Americans are emigrating to Middle Eastern countries than Middle Easterners are yearning to live here, I'll think we have a problem. Until then, don't let the bastards get you down.
2. Georgia On Their Minds
The Playoff Selection Committee opens with Georgia, Alabama, Notre Dame, Clemson, Oklahoma and Ohio State in their top six. Followed by Penn State, TCU, Wisconsin and Miami.
No beef with that. Remember that the Dawgs beat the Irish by one point on September 9th, and the difference may have been this spectacular fourth-down grab by Terry Godwin. Yes, a dude named "Godwin" is keeping Mary's team from being No. 1.
Thoughts: 1) The road to the playoff runs through Auburn, which hosts Georgia and Alabama in November (anyone recall 2013, the most magical month in Auburn football history?); if only the Tigers hadn't blown that 20-0 lead in Baton Rouge 2) Jim Harbaugh REALLY needs a signature win, and Ohio State in Ann Arbor on Nov. 25th would be it, 3) Iowa State may have blown up the Big 12, but I think its best shot is the Sooners beating Oklahoma State and TCU on consecutive weekends, 4) the Pac-12 is out 5) there's an awful lot of football left to be played, but if the Irish are in the Rose Bowl on New Year's Day for a semi, we're there.
Meanwhile, hindsight is 20/20, sure, but SI.com's Top 100 Players of 2017 list failed to include Bryce Love, Josh Adams or even Will Grier.
Finally, this by Faux Pelini is just exquisite.
3. Bitcoin Is Legitcoin
Yesterday the Chicago Mercantile Exchange (i.e, the CME Group), which operates the world's largest options and futures exchange, announced that by year's end it planned to offer bitcoin futures contracts. Basically, because we don't understand all of it but just enough, CME is legitimizing bitcoin (sorry, Jamie Dimon) for institutional investors.
The lesson for you? Dive in! But how? The easiest way (and what the MH staff did two weeks ago), was to purchase shares of Bitcoin Investment Trust (GBTC), which is available if you operate through Ameritrade or E-Trade or Schwab, etc. Yesterday GBTC was up 14% on the news (from $731 to $828) and since October 11th, when it dipped to $625, is up roughly 30%.
Since New Year's Day, when GBTC opened at $130, it is up more than 500%. We don't know all that much about bitcoin except that it is a supranational currency that is able to evade stodgy banks and stuff and that tech geeks use it, and they're going to run the world if they're not already, so you might as well climb aboard as the train leaves the station.
You're welcome.
p.s. MH's stock pick for 2017, Nvidia (NVDA), is up more than 100% since New Year's Day…
4. The Daily Harrumph: I Don't Want Your Civil War
In yesterday's edition of "Mad Deflection Away From Trump Treason," America got its knickers in a bunch after White House Chief of Staff John Kelly suggested on Monday night on Fox News that the Civil War came about due to a "lack of ability to compromise." Geez, these Trump staffers know what they're doing when it comes to changing the subject, don't they?
Kelly's comment provoked a tweet storm from Ta-Nehisi Coates, a simple tweet from America's foremost expert on the Civil War (no, not Clay Travis), Ken Burns…
Many factors contributed to the Civil War. One caused it: slavery.

— Ken Burns (@KenBurns) October 31, 2017
…and the above response from Late Night's Amber.
Historian Barbara Fields ended the film: "the Civil War is still going on. It's still to be fought and regrettably it can still be lost."

— Ken Burns (@KenBurns) October 31, 2017
Here are the facts: behind those four stars and that I'm-Your-Stable-CEO facade, John Kelly has twice in the past week made statements to embolden white supremacists (the first was when he said he'd "never" apologize to Frederica Wilson, even though it was clearly demonstrated that he either got his facts wrong or lied about her). The guy we considered a voice of reason is actually a voice of treason.
Historian Barbara Fields ended the film: "the Civil War is still going on. It's still to be fought and regrettably it can still be lost."

— Ken Burns (@KenBurns) October 31, 2017
And no matter what Robert E. Lee, whom Lincoln offered command of West Point, was considered in the mid-19th century, the incontrovertible fact is that he surrendered his federal status to serve his state based on the ideal that his state, Virginia, wanted to preserve slavery. As commentator Roland Martin noted yesterday, the idea of giving up your country in order to serve a twisted, inhumane ideology sounds a lot like ISIS.
By the way, we've identified Donald Trump's three favorite Guns 'n Roses albums:
Use Your Collusion
Appetite For Obstruction
G 'n R Lies
5. Just Not The Dave You Think
This week on Jimmy Kimmel Live!, the titular host has the week off so friends are taking a spin in his chair. Last night Dave Grohl hosted and, because it was Halloween, appeared as his hero, David Letterman. You'll remember that Foo Fighters was the last band to play on Dave's show and that they have a giant man crush on one another.
Here's the monologue…
…and here's Grohl's interview with Kristen Bell/Magnum P.I…..
Reserves
The Worst Family…
I'm going to take half of Chloe's candy tonight & give it to some kid who sat at home. It's never to early to teach her about socialism. pic.twitter.com/3ie9C0jv2G

— Donald Trump Jr. (@DonaldJTrumpJr) October 31, 2017
Meet Virginia…
Shareblue Media reporter violently arrested while covering GOP nominee for Virginia governorhttps://t.co/HWHapmV0qu pic.twitter.com/vrHBa0lEfD

— Holly O'Reilly (@AynRandPaulRyan) October 31, 2017
****
Joc Pederson home run that ends with an E-10….
Music 101
Take Me Home Tonight
A mid-Eighties classic that received heavy MTV air play (even if we cannot locate that video on YouTube), this was Eddie Money's last major hit (love those crazy eyes). And what a deft touch, adding Ronnie Spector, an all-timer from the doo-wop era, on vocals. This performance does not do the song justice, so here's a link to a more sterile video featuring the mastered version of this tune that reached No. 4 on the Billboard charts this month 31 years ago.
Remote Patrol
Game 7
Astros at Dodgers
8 p.m. Fox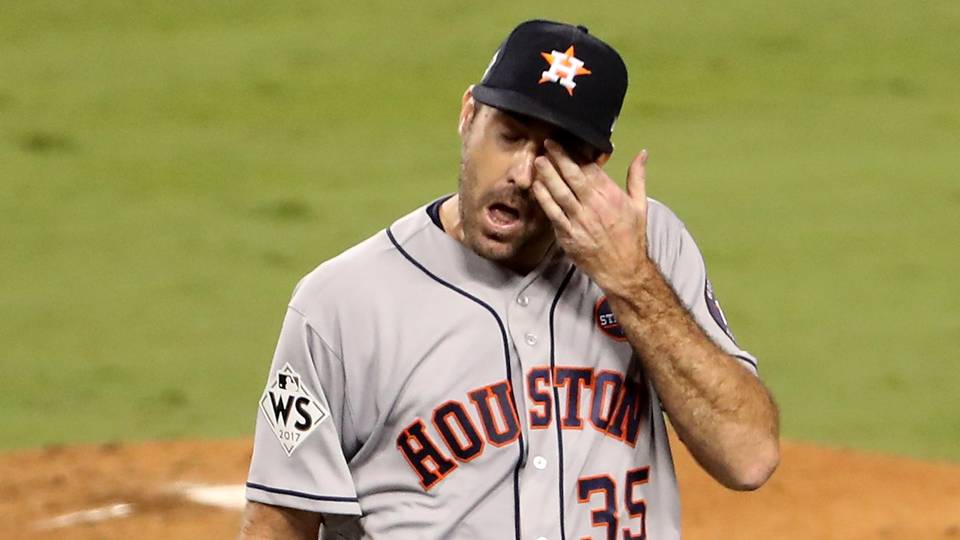 L.A. survived the Justin Verlander and the rain, Joc Pederson hit another home run (what a home run trot), and Larry King did not die. This series deserved a Game 7, this series deserved November, this stadium (third-oldest in MLB) deserves its first ever Game 7, and this series deserved a Yu Darvish-Yuli Gurriel rematch.