http://mediumhappy.com/?p=7299
by John Walters
Our editorial board is mulling adding a second daily, Fox News Channel-styled offering that would be titled "It's Alt-Happening!" It's all about monetizing, after all….
Starting Five
Death Takes A Halladay*
*The judges are already sorry.
Two 20-win seasons. Two Cy Young Awards. One of 21 perfect games in Major League history. One of two postseason no-hitters. Roy Halladay, who has a Hall of Fame resume, passes away at age 40 when his 2018 model ICON A5 amphibious plane crashes into the Gulf of Mexico.
What do clouds feel like? I didn't know either until I got my new Icon A5! I'm getting bruises on my arms from constantly pinching myself! pic.twitter.com/BaObEUj3Xo

— Roy Halladay (@RoyHalladay) October 13, 2017
Halladay, as his Twitter feed attests, loved flying. His father was a retired commercial pilot. He leaves a wife and two children.
2. Big Bailer Brand*  **
*The judges wish to credit Jamie Reidy for this hed, but they don't want it to go to his head, which is bald. 
**The judges will also accept "Shanghai Surprise"
***And "Great Ball of China"
****As well as "Ball in a China Shop
*****But not "Wooden You Know It" or "From Chino to China"
UCLA's study-abroad program needs some work. Three Bruins, including freshman LiAngelo Ball, were arrested for shoplifting during the team's trip to China to play Georgia Tech.
LaVar Ball, his wife Tina, and LaMelo Ball are having breakfast with UCLA at the team hotel in Shanghai. LaVar Ball said he couldn't talk.

— Arash Markazi (@ArashMarkazi) November 8, 2017
 No idea what the penalty is for shoplifting in China, or if there's some sort of "Brokedown Palace-meets-Hoop Dreams" drama in the offing. All I know is that shoplifting before your first game is not in John Wooden's "Pyramid of Success."
3. Yes, Virginia*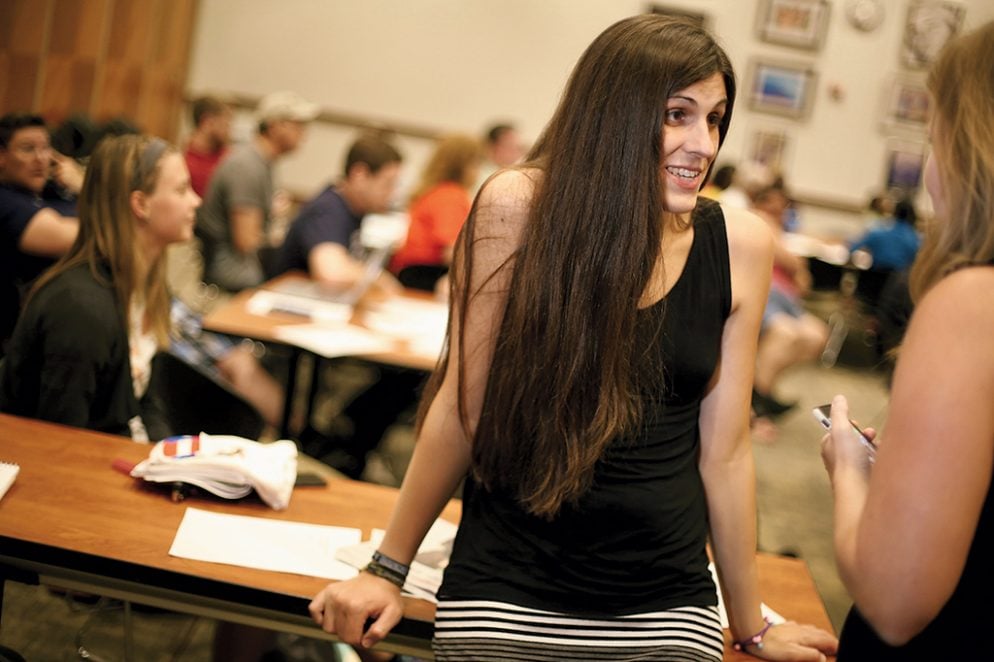 *The judges will also accept, "Roem, If You Want To" as well as "Trans-formation"
The pendulum swings back in Virginia, as Danica Roem, a trans woman (Dem) running for the state's house of delegates, unseats incumbent anti-LBGT extremist Bob Marshall (GOP).
Meanwhile, in both New Jersey and Virginia, Democrats win the gubernatorial races. The Joisey boy is Phil Murphy while the Commonwealth winner is Ralph Northam. As long as this makes Donald Trump, Jr., unhappy, we're happy.
Gillespie polled well with white, non-educated voters (some of whom are very fine people). Northam did better with female voters.
4. The Scenic Route
We often check out bbc.com to steal see what's on their site. In today's Travel section they have a piece on "The World's Most Beautiful Road," on which we were fortunate enough to drive. It's Chapman's Peak Drive, which winds south of Cape Town to the bottom of the peninsula. It really does feel as if you're driving to the end of the planet and yes, you may even see penguins. If you ever get the chance—better yet, make the chance—visit Cape Town.
5. Keepin' It 140
Twitter has doubled amount of characters we are allowed per tweet. Does the word "logorrhea" mean anything to you? Probably not, because we have yet to include it ion "A Word, Please."
3.14159265358979323846264338327950288419716939937510582097494459230781640628620899862803482534211706798214808651328230664709384460955058223172535940812848111745028410270193852110555964462294895493038196442881097566593344612847564823378678316527120190914564856692346034861045432664

— Evan McMurry (@evanmcmurry) November 7, 2017
Music 101
Surrender
Seventies Power Rock, thy name is Cheap Trick! Lead singer Robin Zander, Rockford, Ill.'s answer to Robert Plant; Bun E. Carlos, the drummer who looked like an accountant and always had a cigarette dangling from his mouth; and Rick Nielsen: Did Angus Young steal his schoolboy schtick or is it the other way around? Nobody remembers the fourth guy. Sorry. I really hope Mike Damone was able to find a buyer for those tickets to Friday night's show. This tune peaked at No. 62 in the Summer of '78, which was a damn fine summer for music, by the way. We're all alright! We're all alright! We're all alright!!!!!
Remote Patrol
51st Country Music Awards
8 p.m. ABC
Brad Paisley and Carrie Underwood, as we've noted her before, deserve an Emmy for the work they do each year on this opening. This will be the first CMA's since Yuge-Know-Who was elected president. Should be interesting.