http://mediumhappy.com/?p=7337
by John Walters
Starting Five
The Unforgettable Fire*
*The judges will also accept "La-Lozenge Land" (because if you live there, you're coughing)
How bad is it? Thousand Oaks is now Twin Oaks. Bel Air is now Blech Air. The northbound section of the nation's busiest freeway, the 405, was closed. The inferno consumed nearly 500 acres in Bel Air, the even tonier neighborhood slightly north and to the west of Beverly Hills (and UCLA).
LiAngelo Ball drops out of UCLA, and then this happens. Coincidence?
Sadly, with the Santa Ana winds blowing steadily and no hope for rain in the forecast for at least the next fortnight, the charring shows no signs of stopping.
By the way, sources tell MH staffers that two members of U2—Larry Mullen and The Edge—own lots of property in some of these incinerated areas, hence the second reason for the hed.
2. Al Franken's Stuart Smalley Struggle
You're good enough (welllllllll…..), you're smart enough (okay, mostly), and gosh darn it, people like you (not any more).
Senator Al Franken (D-Minn.) will likely resign today after the latest sexual harassment allegations came forward yesterday, allegations which he disputes. Now the Dems will do the right thing as a means of acting in good faith, but Roy Moore will proceed with the Dec. 12 election for a vacant Senate seat in Alabama because if there's one thing we've learned about being a Republican in the Trump era, it's that hypocrisy no longer has to be acknowledged.
Democratic senator Bernie Sanders appeared on CBS This Morning this, uh, morning, and he was asked about a Franken and Moore tit-for-tat (we really need to invent a better idiom here). Sanders suggested "we take it a step further" and get the acknowledged Sexual Harasser in Chief to resign from his job.
Meanwhile, we did come across this line from a 1991 Stuart Smalley bit on SNL: "You're only as sick as your secrets." Ouch, babe.
3. The Play-In Game
There is a guy driving around Atlanta with a working TV strapped to his Hummer. He is playing the SEC Championship Game over and over. #ItJustMeansMore #SECChamps pic.twitter.com/AQCe8PPKTL

— DAWGS MAN, DAWGS (@ENOUGHSENOUGH24) December 6, 2017
"S-E-C! S-E-C!"
 Earlier this week Sports Media Watch released a list of the top-watched college football games of the season. Here are the seven contests that drew more than 8 million viewers, from least to most:
Oklahoma-Ohio State………………………………………8.1 mil
Penn State-Ohio State………………………………………9.9 mil
Ohio State-Michigan……………………………………….10.5 mil
Alabama-Florida State……………………………………..12.1 mil
Big Ten Championship Game (Ohio St.-Wiscy)…..12.9 mil
SEC Championship Game (Auburn-Georgia)…..13.1 mil
Iron Bowl (Alabama-Auburn)…………………………13.7 mil
So yes, six of the seven most-watched games of the season featured either the Crimson Tide or the Buckeyes. You know, the two teams who basically battled it out for the fourth and final spot in the playoff. One team didn't beat anyone in the Top 15 or even advance to its conference championship game; the other lost the most important game it played but also lost to an unranked foe, Iowa, by 31.
So what if the suits in Bristol or Century City and those in Grapevine, Texas, had met and said, "You know what? We're all making this up as we go along, anyway. Let's have Alabama and Ohio State play on December 16th and the winner gsts in. Just this one time."
Honestly, I have no idea what sacred covenant such a game would have broken. It's a win-win for all, especially whoever would have broadcast it. No way that game, on a Saturday with no other games competing against it, draws fewer than 12 million viewers. No. F'in. Way.
4. Remember Me
Mexico. The afterlife. Murder. Family. Dia de Muertos. Frida Kahlo. Acoustic guitar battles.
I went to see the new Disney Pixar flick Coco last week and man is it bold. It chugs along predictably for the first 20 or so minutes and then all of a sudden it's taking you over a bridge of marigold petals into the world of the dead. Quite a heady trip for an eight year-old (talking about my emotional age).
Anyway, I couldn't help but thinking that while this was an audacious and terrific film, it's going to make an even better theme park ride whenever Disney opens a Disney Tierra or Disney Mundo in Mexico.
5. NCAA Unbeatens
Number two Kansas lost to Washington last night, which means that there are nine unbeatens remaining in Division I: Duke (11-0), Villanova (9-0), Miami (7-0; Do they also use a turnover chain?), Arizona State (7-0), TCU (9-0), Mississippi State (7-0), Florida State (8-0), Georgetown (6-0) and Valparaiso (8-0).
UCLA? The Bruins are 7-1.
None of the above have lost to Iowa by 31, in case you were wondering….
Reserves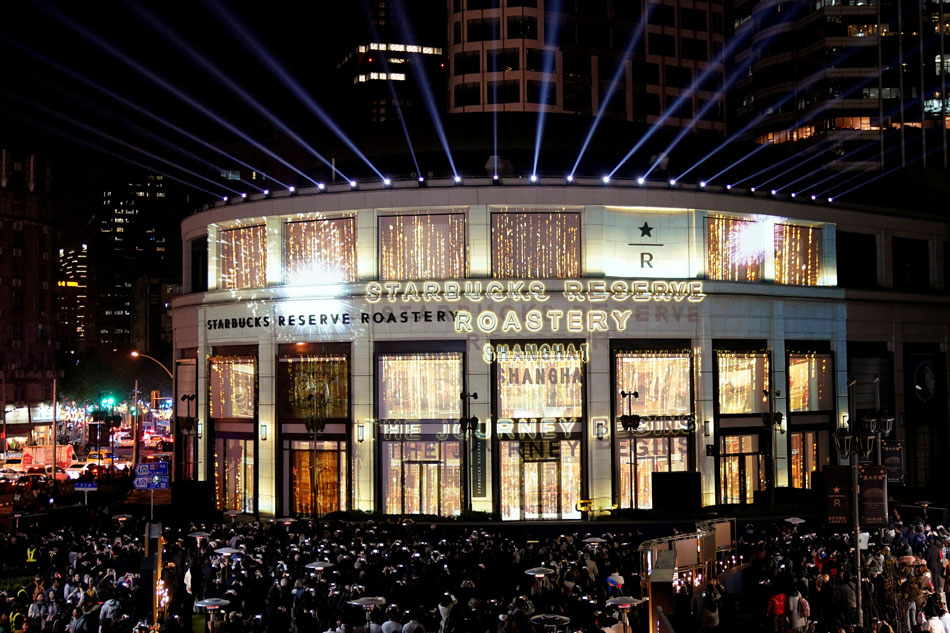 World's Largest Starbucks….
…opened earlier this week in Shanghai. Between this and that library we featured last week….29,000 square feet and 400 employees.
A few random thoughts…This nation was born in the Age Of Enlightenment, but seems to be going down in flames (literally in California, figuratively elsewhere) in the Age of Entitlement. As one friend said to me yesterday, "We've become a nation of Veruca Salts." And, oh, sweetie, do you mind not talking on your smartphone in the coffee shop? Thanks….
Fixed pic.twitter.com/uUTmyNYBEa

— dorsey.mp4 (@dorseyshaw) December 6, 2017
In the past 24 hours I've seen the following internet headlines, "Bitcoin Passes $12,000″, "Bitcoin Rips Past $13,000" and "Bitcoin Tops $15,000" when I Googled "bitcoin price." It's currently at $15,746." To me there's something funny and ironic about financial experts ripping Bitcoin for having no there there. Like Oakland. Or, religion. I mean, the only reason we "know" there's a God is because most of us have put our faith in His existcnce. There's no scientific proof. If enough people believe Bitcoin is a valid means of transacting exchanges, it is every bit as valid. In short, if you rip Bitcoin for not existing in reality and then go light an Advent candle, you're sort of a hypocrite.
Music 101
Baby, Let Me Follow You Down
This song had been around in one form or another since 1935 when Bob Dylan re-recorded it for his 1962 self-titled debut album. Four years later at an historic concert at the Royal Albert Hall in England, Dylan and The Band turned it from a folk song into an electric-guitar blowout and that shook up the faithful. You have to go to the 1 hour, 3 minute and :06 mark of this video to locate it, but it's worth it.
Remote Patrol
No Country For Old Men
8 p.m. AMC
A four-time Oscar winner, including Best Picture. Or you can watch the College Football Awards Show on ESPN at 7 p.m. Call it.