http://mediumhappy.com/?p=7372
by John Walters
Starting Five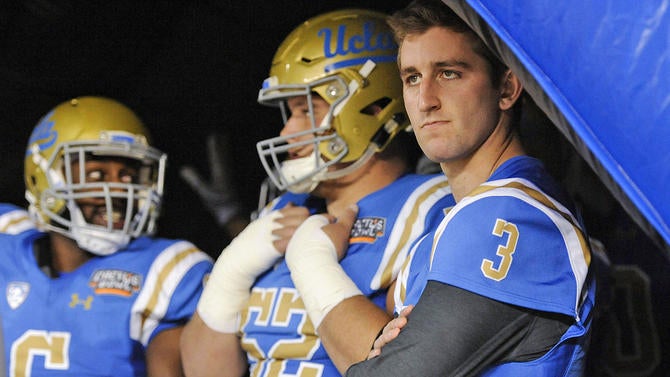 The Rosen Bowl
Three and out. It's the worst three-word sentence a quarterback can be responsible for on the field. If you look at Josh Rosen's career in Westwood/Pasadena, though, that's what it is. Three seasons, no Pac-12 championships (or even championship games), no major bowls and no bowl wins.
Rosen, who should go among the top five picks next spring in the NFL draft, and possibly number one overall, sat out last night's Cactus Bowl, which UCLA lost 37-14 to Kansas State and a 78 year-old man. In his three seasons Rosen, a Manhattan Beach native, took the Bruins to the Foster Farms Bowl, which they lost, then to a losing season in 2016, and then yesterday to the desert.
Live look at me heading into 2018 pic.twitter.com/UR5PD4vu6y

— Morgan Moriarty (@Morgan_Moriarty) December 27, 2017
The truth is that Rosen is a fantastic quarterback—he's third in the nation in passing yardage and I've never seen a UCLA game this season in which his receivers do not drop at least four gimmes—but Rosen, whose name is tailor-made for a New Year's Day game in Pasadena, never took the Bruins to anything special and in fact, coach Jim Mora was fired last night. It would've been fun to watch Rosen play even one year under Chip Kelly.
2. Of Trae and Tra
Hey, remember about three weeks ago when the MH college hoops staff alerted you to Trae Young? Well, the rest of America has caught up. The 6'2″ Sooner frosh leads the nation in both scoring (28.7 ppg) and assists (10.4), acting as if he's all Russell Westbrook or something (playing just 15 miles south). Also, weren't all the sports blogs telling us that Marvin Bagley III and Michael Porter were the only two frosh to watch this season?
Speaking of Bagley, if only the Duke frosh had remained in his hometown of Tempe, Arizona, he'd be playing for an undefeated team (12-0) that is ranked higher than Duke at the moment. The Sun Devils are the surprise of the season, as six-foot-nothing guard Tra Holder leads Arizona State in points and assists. ASU gets their second true test of the season this weekend versus arch-rival Arizona in Tucson (the beat Kansas at Allen Fieldhouse earlier this month).
3. When You Have To Finish The Round
This photo was snapped at Beacon Rock Golf Course in Bonneville, Washington, last September and it made the BBC's gallery of the year's most striking images. Take a gander.
4.  The James Gang
If you had to select one Pittsburgh Steeler who symbolized the Mike Tomlin era in the Iron City, you'd go with face-smashing, participation trophy-denying linebacker James Harrison. The Steelers released the 39 year-old, five-time Pro Bowl selection two days before Christmas, which likely did not make the Kent State alum very merry.
But then Lord Belichick plucked him for the Patriots yesterday. Evil genius! The 15-year veteran, who made the Steelers as an undrafted free agent in 2002, will undoubtedly help the Pats, who ended the Steelers season last year in the AFC Championship Game.
5. A Gentleman In Moscow
We're only halfway through it, but the MH Book Club is pleased to report that this 2016 novel by Amor Towles is the best book we've read all year (including The Sellout). It's the story of a charming Russian count who, just after the Bolshevik revolution, is sentenced to a lifetime of confinement within the Moscow hotel, the Metropol, that he has called home for the past few years.
You're already yawning. Don't. In much the way that the blank page is a gauntlet for any writer, it almost feels as if Towles, a former investment banker, issued himself the challenge of taking this premise and turning it into an exciting novel. He has more than succeeded. As our protagonist, Count Alexander Ilyich Rostov, deduces early on, Better to define your circumstances than to let your circumstances define you. He overcomes them, as does Towles.
An enthralling read, on the level of Catch-22. Pick it up. Put down the smart phone. You won't be sorry.
Reserves
Speaking of an "illegal touching"… pic.twitter.com/4MYSuf6p1m

— CFB Gif'er (@CFBgifer) December 27, 2017
****
My favorite haiku of 2017 pic.twitter.com/y3K8lEKENG

— Medium Happy (@jdubs88) December 26, 2017
***
Suns win! Suns win!
Music 101
The Scientist
Coldplay's second album, A Rush of Blood To The Head, remains one of the best rock albums of this century (ducks, avoids tossed fruit). In order for this reverse narrative video to work, singer Chris Martin had to learn how to sing this song, the second single from the album, backwards.
Remote Patrol
Pinstripe Bowl
Boston College vs. Iowa
5:15 p.m. ESPN
Keep an eye on Boston College freshman running back A.J. Dillon, who nearly won the Herschel Award and may one day win the Heisman Trophy. Iowa linebacker Josey Jewell is one of the nation's best while Hawkeye cornerback Josh Jackson should have won the Thorpe Award as the nation's best defensive back.