http://mediumhappy.com/?p=7384
by John Walters
Starting Five
Go Speed Racer! Go Speed Racer! Go Speed Racer, Gooooooo!!!!!
College football season is over, so our attention turns to the Olympics, where the biggest star in Pyeongchang—the Olympics are being held in South Korea—will be American skier Mikaela Shiffrin.
Why? She's an amazing talent, she's American and she has a million-dollar smile. On Tuesday in Austria she won her fifth consecutive World Cup race in a slalom, becoming the first skier to do so in 20 years. It was her eighth win in nine races. Shiffrin,  22 year-old from Vail, Colo., already has 41 World Cup Alpine race wins. Lindsey Vonn, the all-time female record holder in World Cup wins, had seven wins at her age.
The Europeans, they already know who Shiffrin is. We're about to learn.
2. Spicy Tua Roll
Looking back at one of the most exciting national championship games in memory, a few thoughts:
A) The above play , Tua Tagovailoa's 3rd-and-7 escape in which three Georgia defenders whiffed on the sack, was THE PLAY of the game. The Tide trailed 13-0 at the time and were badly in need of hope. A few plays after Tua got the first down he threw a touchdown and assured that Jalen Hurts was never coming back into this contest.
B) The final play was a brilliant look-off of safety Dominick Sanders by Tua, but he's nowhere near as much to blame as corner Malkom Parrish (or the defensive coordinator who rolled the Dawgs into Cover 2 on a 2nd-and-26). As I tweeted out late last night, Bama lined up in trips right. Parrish was the weak side safety. His mandate is simple: "Deeper than the deepest" as he knows the coverage is going to shade toward the opposite side of the field. Perhaps Parrish assumed they wouldn't go for the home run ball; whatever, he was far too lax in letting DaVonta Smith to get behind him. There's no shame in getting beat, but when you're beat by 5 yards on that play in overtime, your head was somewhere else.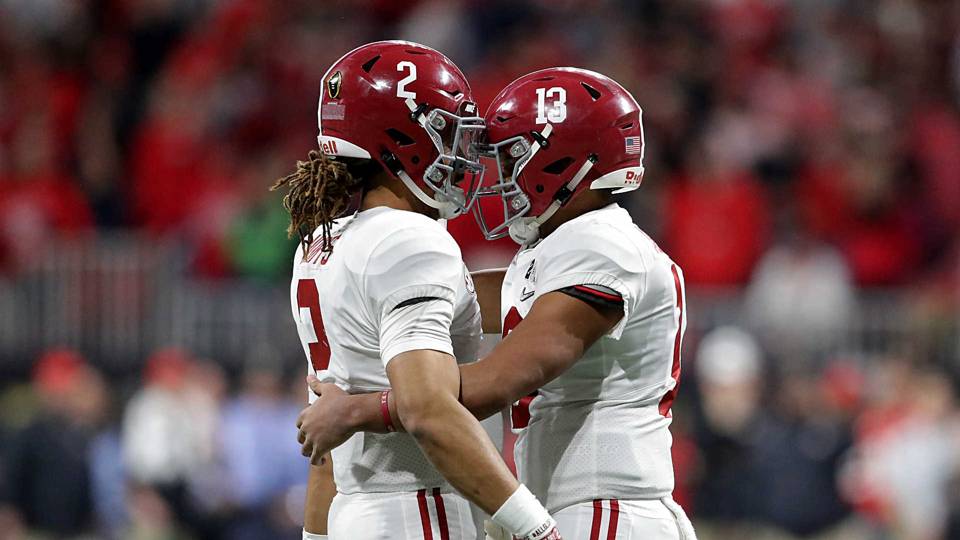 C) Jalen Hurts? Pure class. Don't be surprised if he transfers (as Georgia's Jacob Eason will), but he was the first one to congratulate Tua on the first TD pass, his head was always in the game and he handled every postgame interview putting team first and propping up his teammate. Only hope the best for him.
D) Alabama was favored by 3.5. Alabama trailed by 13 when the fourth quarter began but won by 3. The sharps know what they're doing.
3. The Warren Retort
The Oracle of Omaha, Warren Buffett, appeared on CNBC this morning with the one reporter he'll allow to interview him, Becky Quick (she flew to Nebraska). Asked about the hottest term in the stock market the past three months, the 87 year-old, self-made megabillionaire said, "In terms of cryptocurrencies, generally, I can say with almost certainty that they will come to a bad ending. When it happens or how or anything else, I don't know."
Buffett is 87. His partner at Berkshire Hathaway, Charlie Munger, is 94. Is he right? Last night on CNBC's Fast Money, Tom Lee, an analyst at least 30 years Buffett's junior, predicted that Bitcoin will at least double in value this year. Lee was correct about Bitcoin all last year. We'll see.
Anecdotally, you'll find that millennials and college-aged ones are very into crypto. And they're the ones coming of age. To this investor/gambler, the biggest danger to crypto will be governments attempting to strangle it out of existence due to pressure from lobbyists backed by big, big, BIG banks.
4.  Luke, I Am Your Father!
Here's why I love Indianapolis Star sports columnist Gregg Doyel: a few years ago he was on the Hot Take Express, a talented and opinionated columnist at CBSSports.com who seemed destined to be starring in one of ESPN's or FS1's plethora of incarnations of Pardon The Bloviation. 
Instead, for reasons unbeknownst to me, Doyel moved from his home of Cincinnati up to Indy and became a LOCAL sports columnist. He decided that there were stories to be told on a state or municipal level if one just SEARCHED for them. That it was better to find and report stories than to make half-assed and unaccountable guesses as to what would happen next (even if it didn't get him as many clicks).
So here's his latest masterpiece, on a freshman hoops phenom, Luke Brown, in a small Indiana town, Hartford City, who is fourth in the state in scoring (he just put up 48). An 83 year-old first-year coach, Jerry Hoover. And a team that, before Brown and Hoover arrived, had lost 78 of 79 games but is now 8-1. It's basically a John Mellencamp song meeting an Angelo Pizzo film.
You want to teach sports journalism at a local college? The first person your students should learn about is Gregg Doyel.
5. California Stormin'
If you're saying to yourself, Wait, isn't Santa Barbara County still burning, that's so last week/month/year. The latest apocalyptic plague to hit the area is winter storms, and they have proven more deadly. In Montecito, just east of the city of Santa Barbara (both coastal towns face due south), heavy rains triggered flooding that triggered mudslides. At least 15 are dead. Woulda been nice if these rains had come about three weeks earlier, and yes, the fires probably had a lot to do with the earth being so much more susceptible to mud slides as so much vegetation was lost. I'm not a meteorologist or botanist, I just play one in the blogosphere.
Reserves
Chucky's Back
Now if only we can get them to remain in Oakland. Oh, and no kidding, here's his son, Deuce, the team's new strength coach….
Meanwhile, has Darren Rovell been training with Deuce?
This is the ideal male body, you may not like it but this is what peak performance looks like pic.twitter.com/IpWgt0aRlm

— Pardon My Take (@PardonMyTake) January 10, 2018
Music 101
You Better Run
It was a crowded field of bad-ass ladies as the Eighties began, what with Chrissy Hynde and Deborah Harry strutting about, but Pat Benatar, a classically trained singer from Brooklyn (and later, Long Island), held her own. This song was the first single off her band's 1981 album Crimes of Passion, but you should know it is a cover of The Young Rascals' tune from 1966 that went to No. 20.
Remote Patrol
The Crown
"Paterfamilias"
Netflix
If you haven't been working through Season 2 of this fantastically written and lavishly filmed show, let Season 2's ninth episode be your inducement. Prince Phllip insists that his eldest son, Charles, not attend a Foppish British secondary school such as Eton College and instead matriculate at a smaller, more spartan Scottish school, which happens to be his alma mater. Through flashbacks we learn how this school shaped his childhood and the devastating, and I mean truly devastating, events that led to his maturation. Part Lord of the Flies, part An Officer and a Gentleman, and better than any Golden Globes-nominaed film I've seen.