http://mediumhappy.com/?p=7499
by John Walters
Tweet du Jour
"I want to thank the right honorable gentleman for telling me it was International Women's Day tomorrow," British Prime Minister Theresa May quips about Labour Party leader Jeremy Corbyn. "I think that's what's called 'mansplaining.'" https://t.co/cd3eFGDAmd pic.twitter.com/BjYyeeaJG7

— ABC News (@ABC) March 7, 2018
Starting Five
The Down 21 Club
Trailing 47-26 with just over 15 remaining in the second half, the Fighting Irish went on an epic run versus Virginia Tech at the ACC tourney. Matt Farrell induced a momentum-altering technical foul and Bonzie Colson gave Notre Dame its first lead of the second half via a banked in three-pointer from the elbow extended with the shot clock running out.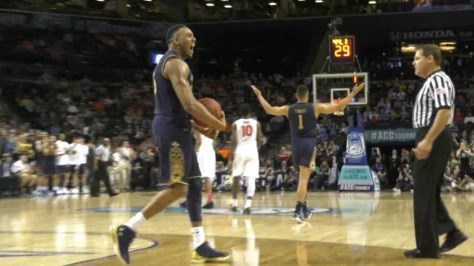 Irish win 71-65, outscoring the Hokies 45-18 over the final 15 minutes. It's the largest come-from-behind win in school history. Wild. Up next? Duke. The tourney is not a sure thing, but it would be with a win over the Boo Devils.
2. A Shooter Without A Gun
On the same day, Secretary of Education Betsy DeVos and Miami Heat super duper star Dwyane Wade visit Marjory Stoneman Douglas High School. Separately. You'll never guess which one showed up unannounced, hung out in the hallways with the students and was boisterously well-received.
As for DeVos…
Betsy Devos came to my school, talked to three people, and pet a dog. This is incase the press tries to say something else later

— Alanna//#NEVERAGAIN (@AgCI3Cu2) March 7, 2018
3. The Nutty Professor
Harvard professor Jorge Dominguez, 72, resigned after being accused of sexual harassment and inappropriate behavior by 18 different women over the course of a couple of decades.
United States president Donald Trump, 71, keeps on presidenting after being accused of sexual harassment and inappropriate behavior by 19 different women, not including the porn star who is alleging the two had an affair a dozen years ago.
Apparently, to use a term the Harvard academic would appreciate, this is all being graded on a curve.
By the way, in Trump's now infamous unsigned NDA, he goes under the pseudonym "David Dennison." As Jimmy Kimmel noted, "Even his initials have to be double D's."
4. This Never Happens At The ESPYs
This is Terry Bryant, the man who purportedly pilfered Frances McDormand's Best Actress Oscar from a table at the Governor's Ball on Sunday evening. Before McDormand even had a chance to inquire how much it would cost to buy space on three billboards on Sunset Boulevard to shame the LAPD for not solving the caper, Bryant was nabbed.
It was pretty easy sleuthing, as Bryant was bragging in public about his Oscar and Jordan Peele was the only black dude anyone saw win an an Academy Award that night. Marge Gunderson would've solved this before William H. Macy even ratted himself out.
Bryant, who considers himself an amateur journalist (so do we!) pleaded not guilty and was released without bail. The story here is how he is able to get into the Governor's Ball with just a tuxedo and a smile. Could be the launch point for a Coen Brothers film.
5. First and Fourth
If you follow us on Twitter, we've been saying that Quenton Nelson is a monster since early  October and possibly, after Saquon Barkley, the best overall player in April's NFL draft.
Earlier this week a CBS Sports mock draft (there will likely by five more before Sunday) put Barkley No. 1 to the Browns and Nelson No. 2 to the Giants. We kinda like that. Either way, the thing to do if you're Cleveland, we feel, is to pick Barkley No. 1 overall. Why?
Because he's the true game-changer, the Todd Gurley/Ezekiel Elliott/Adrian Peterson level dude. And he's a TOP character guy; everyone who knows him loves him, and with good reason.
Why do you do this? Because after you select Barkley first, you're still gonna get Sam Darnold or Josh Allen or Josh RosenRosen (or Baker Mayfield or Lamar Jackson, both Heisman winners) fourth. Although if it were us and Nelson is still available at 4, we'd take him.
On average, give us a fifth-year QB who doesn't have as much glam over an untested rookie QB who can launch a rocket 70 yards. Look at Nick Foles and Jimmy Garoppolo.
Music 101
Smells Like Teen Spirit
Four chords—E, A, G, C (repeat)— and three musicians who shook the world. We were lucky enough to stand on the stage during one of the shows on Nirvana's epic tour in late 1991/early 1992.
Remote Patrol
Notre Dame vs. Duke
7 p.m. ESPN 
ACC Quarters
The Irish are definitely NCAA-bound with a win. Duke is probably still a No. 1 seed even if they lose.