http://mediumhappy.com/?p=7549
by John Walters
Tweet du Jour
I looked on Trivago. The cheapest room in Washington is a youth hostel with bunkbeds at $81 a night. The $50 room Scott Pruitt got was a bribe from an energy lobbyist. Need your pipeline approved? Do it through Pruitt! pic.twitter.com/DaSdgvFPmv

— Jim Carrey (@JimCarrey) April 5, 2018
Starting Five
1. Splash And Burn
This is why we love Sergio Garcia. The reigning Masters champion took a 13 on Augusta's notorious 15th hole after basically reenacting the climactic scene from Tin Cup. This is still not as inconceivable as Ernie Els' carding a 9 on the first hole of the 2015 Masters, when he five-putted. But it's still pretty incredible.
Garcia hit five consecutive shots into the pond on his approach shot on the par-5 hole. In Sergio's defense, none of them landed in the drink on the fly. All landed on the front of the green and then rolled back down the hill and into the water. "I felt like I hit a lot of good shots and unfortunately the ball just didn't want to stop," said Garcia, who immediately after holing out was embraced by Rene Russo, who is even happier now that she dumped Don Johnson for him.
(This is just what he do…)
By the way, last year on Sunday at Augusta, Garcia shot a 3 (an eagle) on this hole. Yesterday he needed 10 more shots.
On 1st hole of glorious sunny day at Masters, Jason Day hits drive into trees. Ball falls into patron's full beer cup. Fan is told that Day must ID ball & play it. In the spirit of Georgia, in the morning, on a golf course, fan chugs the beer as crowd gives ovation.

— Thomas Boswell (@ThomasBoswellWP) April 5, 2018

Garcia ended the day tied for 85th place (out of 87 golfers), having shot an 81. If he'd just parred that hole, he'd have finished one-over par for the day (which is what Tiger Woods shot). It's going to be awfully tough for everyone's favorite Spanish golfer to make the cut, but he has to stick around until Sunday night anyone to put the green jacket on Jordan Spieth the 2018 champion.
2. Hair Force One
Note: This, by former Secretary of State Madeleine Albright, 80, is the best thing I've read today.
President Trump knows of no more pernicious foe than the wind that besets him when he boards Air Force One at Andrews. We foresee an Executive Order in which a terminal and jet way will be installed there.
So yesterday onboard, Trump was feeling brazen enough to field reporters' questions onboard. When asked if he knew about the $130,000 payment to Stormy Daniels, he replied, "No." Next he was asked why Michael Cohen made the payment, the truth of which is not in dispute: "You'll have to ask Michael Cohen," Trump said. "Michael is my attorney. You'll have to ask Michael."
So let's unravel this: 1) There WAS a payment. 2) For what? According to Donald, How would he know, he didn't know about it. 3) Also according to Trump, nothing ever happened between he and Stormy. 4) So Michael Cohen paid $130,00 out of his own pocket and did not tell his client that he was doing it or why he was doing it, but apparently it was to silence someone from talking about something that never took place. 5) And now Team Trump wants to sue her for breaking the terms of the agreement that they paid her to agree to so that she would not discuss the thing that never took place.
Pardon me, I have to get a square of toilet paper, as I just cut myself on Occam's Razor.
Meanwhile, about the Tirade War (you read that right) with China. After the Beijing gang saw Trump's raise, he has now re-raised with a $100 billion tariff proposal (remember: none of these have actually been implemented yet). I don't need Jim Cramer and David Faber on this; I need Lon McCeachern and Norman Chad.
While I don't like the stock market behaving like the Colossus at Magic Mountain any more than you do, at least I can see what Trump is doing here: he sees a trade imbalance with China, our economy is as healthy as it's ever been, and while this may not be the best way to level the playing field, if you're ever going to do something that adversely affects the stock market, do so while everyone is up about 30-40% on the year.
Again, this all may just be posing. Recall what legendary old New York Stock Exchange grinder Art Cashin recently said: "Trump's M.O. is to say, 'I'm going to kill you!' Then you say, 'Oh no!' Then he says, 'I'm only going to break your arm,' and you say, 'Thank you.'"
The Amazon animus is far more troubling because Trump is literally disregarding the FACTS that his own advisers (much less anyone who covers business in the media) give him in favor of attacking founder Jeff Bezos, because he's so upset about the WaPo coverage on him. He's literally committing a crime, by spreading false rumors about a company in order to knock down its stock price.
Add that to the list…
3. Officially Back: The Luck of the Irish
It was close to midnight last night when we recalled that we'd recommended you watch Notre Dame-Michigan in the Frozen Four, so we checked on line to see who had won. We couldn't find a score. We quickly flipped to the ESPN2 where there were about 17 seconds remaining in a 3-3 deadlock.
The announcers said something about how the Irish, with the puck in their end, needed to protect it to get into overtime or how they might have a chance at one last scoring opportunity. Suddenly the puck squibbed out, Notre Dame'a Cam Morrison was skating across both blue lines with it to the left, and Jake Evans was trailing him in the center. When Morrison could not elude his defender, he dropped the puck behind him to Evans, who dinked it through the wickets of the Skunkbear goalie with 5 seconds left for the 4-3 win.
Notre Dame, in the past three weeks, has now won the NCAA Fencing championship, the NCAA women's basketball championship and is now one Saturday night contest versus Minnesota-Duluth (like Mississippi State, they are also the Bulldogs) away from winning the NCAA men's hockey championship. Plus, they've had three buzzer beaters in the past week and the men's hockey team is 14-3 in one-goal games.
Notre Dame to the rest of Division I athletics: "I've found me lucky charms!"
And I haven't even mentioned Miles Boykin yet. Or the 21-point second-half comeback in the ACC quarters versus Virginia Tech. In 2018, Notre Dame athletics definitely has the clutch gene.
Jack Swarbrick can and should tell all the message board trolls on NDNation to suck it. More importantly, enjoy the good times, Irish fans. They never last (unless you're Nick Saban). Savor them while they're here.
4. Wild, Wild, Wild, Wild, Wild West
While we were not paying attention (we only look at the BOTTOM of the Western Conference standings), the NBA's Western Conference playoff situation became verrrrrry interesting. Six clubs, none of whom are the Los Angeles Lakers or cumulatively receive half the attention that the Lakers do from certain cable networks and websites, are all within TWO games of one another for the final five playoff spots.
The Utah Jazz (46-33), who are in fourth position, are just two games ahead of the Denver Nuggets (44-35), who are currently on the outside looking in to the playoff picture. Betwixt them, in descending order, are the Spurs, Thunder, T-Wolves and Pelicans. Of those six teams, no one outside of the Jazz have been particular hot of late.
What would be most intriguing? If the Thunder were to finish seventh or eighth and meet Houston (1st) or Golden State (2nd) minus Stephen Curry in Round One. That's what we'd most enjoy: a Round One Thunder-Dubs match-up with the defending champs having to get by without their two-time MVP. Could get interesting.
5. Biiiiii-sickle! Biiii-sickle! I Want To….
Even the snarkiest of us has our sincere (or weak) spots. For me it's wildlife. For the WSJ's Jason Gay, who is far funnier and snarkier, it's cycling. Here he is writing about this weekend's other major sporting event, the Paris-Roubaix bike race. You'll need a WSJ subscription.
The event was first staged in 1896 and has only been suspended due to World Wars. The course, much of which is over cobblestones, is approximately 150 miles long.
Reserves
Oops
You probably shouldn't have laid off so many copy editors, @denverpost. https://t.co/O3FuXy5lvs

— Brad Evans (@YahooNoise) April 6, 2018

****
It's too soon to know if this is going to become A Thing, but we've noticed that when we watch an episode of The West Wing there seems to be at least one unintentionally hilarious allusion to The Worst Wing.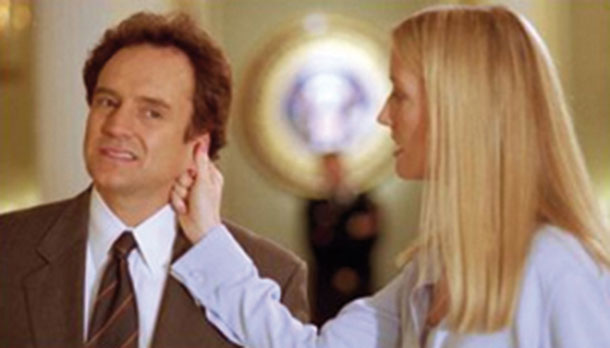 Season 1, Episode 3: Josh notices a typo on a speech that Donna hands him. "Insuccessful?" he asks. "We can't just make up words. This is the White House, we have to be better than that."
****
If you're still reading: Our fictitious private equity (so private that I'm the only one with equity in it!) firm, Walker Capital, just sold EVERYTHING. All of our stock. Yes. And we're even shorting AMZN for at least the time being. We think this China Tirade War will get worse before it gets, as The Tweet of God so eloquently put it yesterday, even worse. 
Music 101
Rock 'n Me
Q: Name three big-name rock bands that used Arizona towns in their songs, the names of the songs, and the towns.
A: The Steve Miller Band, "Rock 'n Me," Phoenix; the Beatles, "Get Back," Tucson; and of course the Eagles, "Take It Easy," Winslow.
We're still waiting for someone to write something with Tuba City in the lyrics. This song went to No. 1 for a week in 1976.
Remote Patrol
Cavaliers at Sixers
7 p.m. NBA TV
We don't have NBA TV, but perhaps you do. The Cavs (49-30) are one half game ahead of Philly (48-30) with three games remaining for "The Land" (and two for the BroLuv). The Cavs can probably lock up the third spot in the East with a W, which would mean a Kyrie-less Celtics in the second round. Why do we care, though? Cleveland's going to the Finals this year. Maybe Philly next year.