http://mediumhappy.com/?p=7588
by John Walters
Tweet du Jour
Thinking Trump might have been better off with LegalZoom.

— Matthew Cooper (@mattizcoop) May 3, 2018
Starting Five
Fox News Exposes Fake News
Last night Rudy Giuliani went on TV with Sean Hannity and for reasons known only to him, told Michael Cohen's other famous client that his boss, Donald Trump, had repaid Cohen the $130,000 that Cohen had paid Stormy Daniels. Giuliani's assertion, at the very least, exposes Trump as a liar (NO!) since only last month Trump claimed to know nothing about the payment to Daniels.
So, if Trump knew nothing about the payment, how would he know to pay it back?
Not satisfied with setting one inferno, Giuliani then told Hannity that Trump fired Comey because he wouldn't assure Trump that he was not being investigated about Russia, which is explicitly what Trump said he HAD NOT fired Comey over.
So what does Donald do now? Does he fire Giuliani for "lying"? or does he keep Giuliani and attempt to mansplain how what Giuliani said was not a golden shower of incriminating revelations?
2. Own Goal Header
In the second leg of the Champions League semifinal between Liverpool and A.S. Roma,  Liverpool defender Dejan Lovren goes to clear the ball out of the box and instead ricochets it off teammate James Milner's melon. The ball then flies into the goal.
Roma won 4-2 at home, but since Liverpool had won the first leg 5-2 and the away goals were the same, Liverpool advances to meet Real Madrid in the final, May 26 in Kiev.
3. The Igor Sanction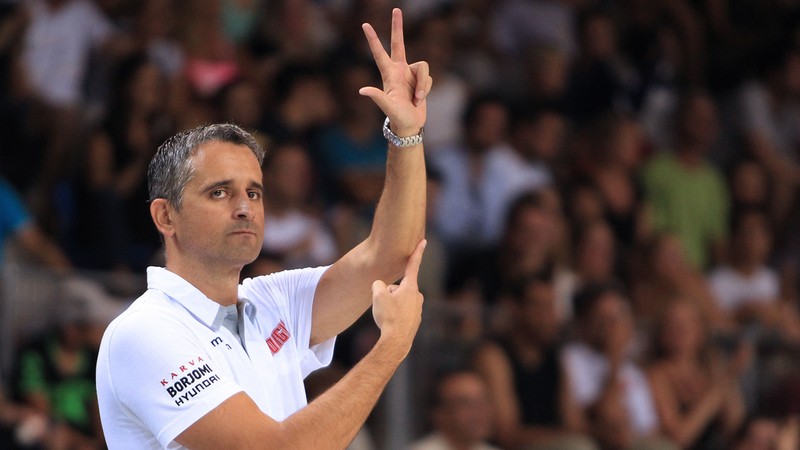 The Phoenix Suns, who had the NBA's worst record this season (21-61), have just hired Utah Jazz assistant coach Igor Kokoskov. A Serbian native, Kokoskov, 46, becomes the first NBA head coach born outside North America.
A former Suns assistant for five seasons (2008-2013), Kokoskov also coached the Slovenian national team to a Eurobasket championship last summer. One of the stars of that squad was 6'8″ white Magic man Luka Doncic. He's been mock-drafted as high as three, but might the Suns select him No. 1 if they get him (intriguing option)?
Kokoskov's own son is named Luka.
This is a great move by the Suns.
4. Luck Be A Lady
This is Maria Konnikova. Last year the writer for The New Yorker decided to learn to play poker as a stunt to write a book. Then Konnikova, who has a PhD in psychology, got very good.
In January, she took down a 240-player field to win $86,400 at an event. Since then, she's won $57,000 at another event. The book is on hold for awhile.
We covered the 2005 World Series of Poker, the Main Event, from first hand 'til last in 2005. This thought of trying exactly what Konnikova did crossed our minds. Then we lost $300 in our first hour and decided against it. Props to her.
5. It's Been 11 Days And Donald Trump Has Still Not Uttered James Shaw's Name
Good guy.
Without a gun.
Foils a white supremacist's attempt to murder fellow minorities at a Waffle House.
Using an AR-15.
Donald Trump still has yet to mention the name of James Shaw.
But yesterday Ellen Degeneres welcomed Shaw to her program and then, as she is won't to do, arranged a surprise by having Shaw meet his favorite pro athlete, Dwyane Wade.
It's funny. Everything about Shaw makes him seem like a chill, stand-up dude. And the silence from the White House on his heroism is quite deafening.
Maybe this is something they can all discuss at the NRA national meeting this weekend in Dallas, where guns will NOT be allowed inside the auditorium. Hmm.
Music 101

Deadbeat Club
The B-52's are everything we love about music: fun, shameless, harmonious and utterly original. Were they futuristic or decidedly retro? Who was the lead singer, actually (turns out all but one of them were). And then, in 1989, a decade after they made their first big splash, when you would've assumed they were way past their prime, the (other) Athens foursome put out their most commercially successful and, not coincidentally, radio-friendly album (Cosmic Thing). This was like the fifth single off it, and yet it's just such a perfect southern slumber song. Love these guys.
Remote Patrol
Eastern Conference Doubleheader
Cavs at Raptors
6 p.m. ESPN
Sixers at Celtics
8:30 p.m. TNT
How did Adam Silver get sideways on the NBA playoff schedule? Two Eastern Time Zone games on the same night? There are going to be homes all over North America tuning in to see LeBron at halftime, earliest, thinking WTF? Don't say we didn't warn you, Susie B.