http://mediumhappy.com/?p=7593
by John Walters
Tweet du Jour
Gotcha. https://t.co/a3NPal4z9X

— Kellyanne Conway (@KellyannePolls) May 8, 2018
Starting Five
When Will They Learn?
On Monday afternoon The New Yorker released a story in which four women accused New York state Attorney General Eric Schneiderman of physical abuse. By the time the sun had set, Schneiderman, 63, had resigned. Two of the women, ex-girlfriends Michelle Manning Barish and Tanya Selvaratnam, went on the record and provided their own names and their own harrowing testimony of being slapped across the face and choked. Both said that Schneiderman had threatened to have their phones tapped and that he'd kill them if they broke up with them.
Schneiderman, who had pursued Harvey Weinstein on criminal charges due to the assault allegations brought up against him last October, denied the accusations but resigned three hours later. He joins the short list of infamous ex-New York Attorneys General that includes Elliot Spitzer and Aaron Burr.
2. The Wholly Ronan Empire*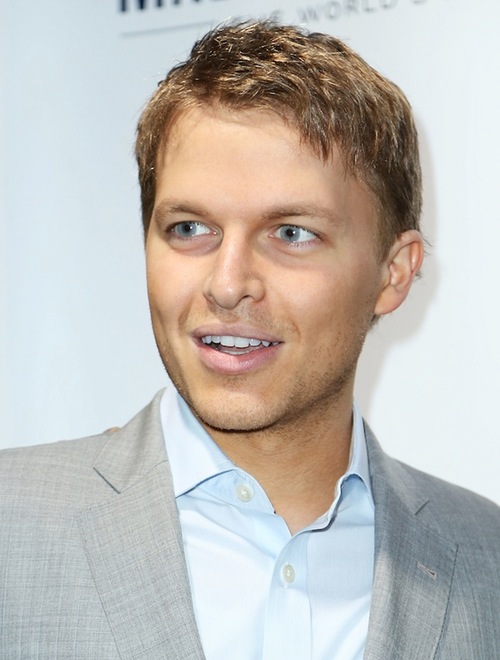 *The judges will also accept "American Farrow"
No male figure has done more to forward the #MeToo movement than Ronan Farrow, who  co-authored the piece on Schneiderman and who broke the story on Harvey Weinstein last October that sparked the entire crusade. Farrow, 30, won a Pulitzer Prize for his reporting.
Not bad for the son of Mia Farrow, best-known for her work in the title role in Rosemary's Baby, and officially of Woody Allen. Although Ronan's mom has publicly hinted that her ex-husband, Frank Sinatra, may have sired Farrow and if you ask us to look at the photo above and place our bet, we're going with Ol' Blue Eyes. Which would be funny because Frank was a friend of many, many people (and dames), but he loathed the press. He reportedly once nearly ran a few of them down after landing at LAX with Eva Gardner.
Anyway, Farrow (like Anderson Cooper) has turned out to be far more than the scion of New York celebrity. He's a very bright young man (Yale Law School alum) who's done some of the most intrepid reporting in the country in the past year. And to think NBC execs put the kibosh on his Weinstein reporting last year, which is why he went to The New Yorker with it.
Finally, you cannot at all discount how Farrow's own highly exposed personal life played a role in his dogged pursuit of sexual predators. Born in 1987, he was just a little boy when his father's decision to leave his mother for his half-sister, an adopted Asian teenager, was all over the New York City tabloids. It was a pre-internet age, but that story ruled this city for a summer and his family imploded. As bright as Farrow is—graduating college at age 15—you can bet that that traumatic experience had an enormous impact on his life and his impassioned reporting.
We call that turning a negative into a positive.
3. The International Rifle Association
At least the NRA has a sense of humor. On Monday they named convicted international arms dealer Oliver North as their new president. In case you are too young to recall, in the mid-Eighties North was a member of the National Security Council who played a huge role in selling arms to Iran, which was expressly prohibited since we had a trade embargo with them, and then funneling some of those profits to help fund the Nicaraguan Contras (which I hope will someday be the name of an MLB expansion franchise) in their war against their government, which was expressly forbidden by the Boland Amendment.
Ollie may have been the fall guy for some of these Beltway shenanigans, but he was convicted (those convictions were later dismissed by Reagan's former Veep who would succeed him, George H.W. Bush).
Still, you have to admire the NRA's chutzpah: putting the most infamous living American in terms of illegal sales of arms in the post as the president of your association. Bravo!
I wonder if any thought was given to asking Donald Glover if he wanted the gig.
4. Has Running Peaked?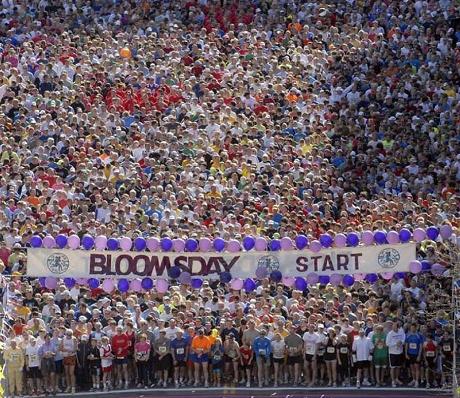 Spokane's annual Lilac Bloomsday Run, which is on our bucket list for races to run before we die (or our back and knees give out, whichever happens first) took place this weekend, as it always does on the first weekend of May. Sunday's 12 km (7.46 mile) race had "only" 38,187 finishers, which marked the seventh consecutive year that the number of finishers had declined.
Sunday's race had the fewest number of finishers since 1985.
Founded by runner and writer Don Kardong in 1977, less than a year after he finished in fourth place at the 1976 Olympic marathon in Montreal, Bloomsday (named after a character in James Joyce's Ulysses) became synonymous with the road running boom. Its popularity peaked in 1996, when more than 61,000 runners finished. With that many runners and that relatively short a distance, Bloomsday is more a parade for most than a competitive run.
Maybe this is just a blip on the chart. Or maybe running is waning in popularity, which we'd be fine with, since it wouldn't be so dang hard to get entries into the races we'd like to run.
5. Carpet Diem
On an insanely lovely early May evening in Manhattan, the MET Gala rode again. On to the costumes…
Is it us or is Rihanna beginning to look like Albert Pujols?
Reserves
Be Best Galini
"Be Best." Not Be Your Best or Be The Best. Simply "Be Best." That's our First Lady's new program for children. Melania seems like a decent person trapped in a prison of her own design, but there's also a sense of comic relief to so much of what she's attempting to do. It's funny how MAGA types are so adamant that people speak English but then give it a pass as long as they're not speaking Mexican or poor.
Our Newest Hero
You may have read about the film director who ignored safety precautions at a wildlife park named Glen Afric, roamed off into an area he didn't belong, and was unwittingly killed by a giraffe. Carlos Carvalho, 47, was looking through the camera eyepiece trying to take closeups of a giraffe known at the South African game park as Gerald when the magnificent creature swung its magnificent neck and inadvertently struck Carvalho, sending him flying through the air. The blow was fatal.
Now, Gerald is not exactly our hero, but the owners of the wild life park, who announced that Gerald would not put down, are. Said their spokesperson, a woman identified simply as Jenny: "Gerald was not to blame and would not be put down. We are not going to shoot Gerald. He was not in the wrong. He's just a huge wild animal and the guy disobeyed safety regulations. I'm very sad for his family. But I'm not one of those people who blames the animals."
Thank you.
Thank You!
THANK YOU!!!!
At last, a little sanity.
Music 101
The Spirit of Radio
Senior year of high school, April 1984. We had an assembly and three of my classmates played this song in front of the entire Brophy Prep student body and 10:30 a.m. and the gym went nuts. You had to be there, but lead singer Michael Brockman had Geddy Lee's vocals down perfectly and lead guitarist Chris Redl could flat-out shred. It was pretty damn epic. Oh yeah, Rush released this song in 1980.
Remote Patrol
NBA Playoff Doubleheader
Jazz at Rockets Game 5
8 p.m TNT
Pelicans at Warriors Game 5
At this point, I'm just watching for the TNT studio updates on gas mileage. Wake me for the conference finals.