http://mediumhappy.com/?p=7597
by John Walters
The MH staff got to rub elbows with CBS Evening News anchor Jeff Glor last night. Not that we are suddenly media titans (again), but he treated his staff to a few rounds of ale and whatnot at our other place of employ. Great tipper, nice man. Good luck at the commencement speech at Syracuse this weekend.
Starting Five
Eighty-Six The 76ers
The record will show that Boston advanced "easily," 4-1, over Philly, but the final two losses came in overtime and by two. Last night in TD Bank Center Garden or whatever it's called, Philly led 109-107 before a couple of bad turnovers and a missed Joel Embiid layup sealed their fate.
Sharp's update: The line was Boston minus 1.5 and the Celtics led by one with just 2.7 ticks left when Marcus Smart attempted to miss his second free throw. He tossed it hard off the front rim, but somehow the sphere bounded up and over, ricocheted off the backboard, and bounded through. Celts win by two. If you had Philly plus the points, it was a doubly bad beat.
Michael Cohen, Renaissance Man
Not only did Michael Cohen graduate from the Worst Law School in America, but as the financial records disclosed by Michael Avenatti demonstrate, he's also a respected accountant (hence the $600,000 payment from a South Korean airplane manufacturer) and a health-care expert (hence the $1.2 million from Novartis).
It's amazing that a one-man shell company set up in Delaware is able to draw not only interest but substantial fees from corporations based in South Korea and Switzerland, not to mention AT&T. Especially since none of the principals at those companies had never met him in person.
Hmmm.
Now you can ask yourself, Does any of this ever get revealed if Avenatti isn't representing Stormy Daniels, if the news of the $130,000 payout is not released, which sends Avenatti poking through Cohen's financial records? And our answer is YES. Wethinks Robert Mueller and pals were way ahead of Avenatti on this (might someone from his office even have leaked these figures to him?) but it sure makes a difference with this evidence out in front of the public long before Mueller files any charges.
And dig: None of these companies denied this. In fact, a few of them released higher payment numbers than Avenatti originally disclosed. Maybe they want their money back?
3. Mass. Murder
On the morning of April 21st the New York Yankees, losers of two straight, woke up to find themselves with a 9-9 record. The Boston Red Sox, waking up a few hours later on the West Coast, were 17-2. Pundits wondered if the Sawx, with a 7 1/2 game lead on the Bombers just three weeks into the season, would "run away with the A.L. East."
That night the Sawx were no-hit in Oakland. Earlier in the day the Yanks had exploded for a 7-run sixth inning to beat Toronto, 9-1. Last night New York exploded for a four-run eighth inning (in both big innings, Aaron Judge homered) to beat Boston in the Bronx and win their 17th game in 18 outings, since the morning of April 21.
The Yanks are now 26-10. Boston is 26-11. New York is in first place. Buckle up, it's going to be a fun summer with these two.
4. Meanwhile, Al Pacino Has A Word For The Mets
A midweek matinee in Cincinnati between the Mets and Reds got interesting when the Let'sGo's handed the umpires an incorrect batting order in the top of the first. Second- and third-place hitters Wilmer Flores and Asdubral Cabrera were actually written in the reverse order in the lineup card exchanged at home plate before the game.
So, after Cabrera doubled with two out and no one on in the first inning, Reds skipper Jim Riggleman apprised the home plate umpire of this and Cabrera was called out. His double was wiped off the face of the earth. This is what happens when you trade the Dark Knight to Cincinnati for a jar of pickled beets.
Anyway, any history of the Mets now must include this anecdote. The Mets lost 2-1 in 10 innings.
5. "Oh, My Aching Bach"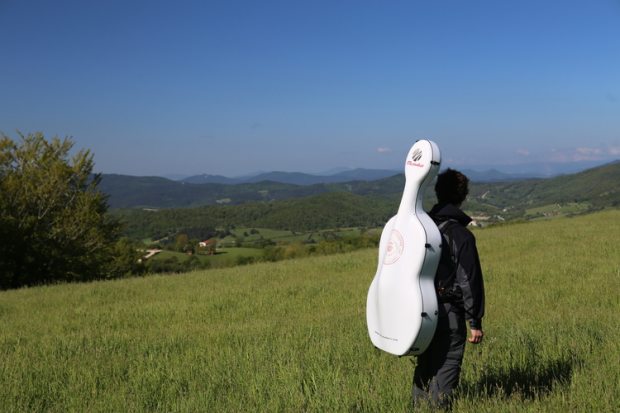 This is Dane Johansen, 33, and he was a man on a mission. In fact, he may have visited a few missions. In 2014 the native Alaskan embarked on a  600-mile pilgrimage in northern Spain, trekking the famed Camino de Santiago network of trails. His task: to play and record Bach's six suites for solo cello in 36 churches along the way. Johansen accomplished the suite feat with his sweaty feet in 45 days.
Hands down, this is and will be The New York Times-iest article of the year. Let's just end the competition now.
Reserves
Satire need not be long or overdone. Here's Andy Borowitz with a funny idea and he didn't belabor his point….
***
This type of thing seems to be happening more often lately. Maybe this Yale student can have a chat with those two Native American siblings at Colorado State. The irony of this is that the Yalie, a 34 year-old woman who is earning a Masters in African Studies, just had her thesis handed to her.
Music 101
Fooling Yourself
As disco took over on one end of the spectrum in the late 70s, and punk ruled the other, a lot of teens wearing retainers and with terrible bowl-shaped haircuts had no one to believe in. And then Styx came along. A lot of their music gets slagged and rightfully so ("Domo arigoto, Mr. Roboto?"), but this is one of their better tunes.
Remote Patrol
Game 7: Winnipeg at Nashville
8 p.m. NBC Sports Net
A Nashville-Las Vegas Western Conference final is still a possibility, as is a Las Vegas-Tampa Bay Stanley Cup final. Gordie Howe must be forechecking the grave next to him.