http://mediumhappy.com/?p=7604
by John Walters
Tweet du Jour
Striking photo captures bolt of lightning behind the U.S. capitol as widespread severe weather moves east. https://t.co/v8t35OtxWQ pic.twitter.com/nidTvRkD4V

— ABC News (@ABC) May 15, 2018

followed by…
My aim's not what it used to be. https://t.co/VGxmUux5s8

— God (@TheTweetOfGod) May 15, 2018
Starting Five
1. Stormy (Not Daniels)
At 3 p.m. yesterday the skies overhead in New York City were cerulean blue, the air was warm, and it finally felt like summer. Two hours later, the sky was deep purple and the above was happening. If it does not kill you, nature is totally cool.
2. A Man In Full
Iconic author Tom Wolfe passed away Sunday in New York City at the ripe age of 88. A journalist by trade but a writer deep in  his bones, Wolfe meticulously reported on happenings and/or trends and then spewed forth classics such as The Right Stuff (the nascent U.S. space program), The Electric Kool-Aid Acid Test (Ken Kesey and the birth of the counter-culture movement) and The Bonfire of the Vanities (Wall Street in the sybaritic Eighties).
If you read nothing else of Wolfe's, read the closing chapter of The Right Stuff as he describes the crash test pilot Chuck Yeager endures and how he walks away from it as if it were a 20 m.p.h. fender bender.
Here's Michael Lewis, the natural successor to Wolfe, profiling him three years ago in Vanity Fair.
Note: We were standing on the corner of 57th and Madison, well, it must have been at least two decades ago, when we spotted Wolfe in his vanilla suit standing almost right next to us, also waiting for the light to change. When it did, we walked next to him and said something like, "Mr. Wolfe, I'm only going to bug you until we get to the other side of the street, but I just had to thank you for The Electric Kool-Aid Acid Test. And The Right Stuff blah blah blah…."
Tom Wolfe could not have been kinder. He turned to me, he shook my hand, and with a smile on his face, he said, "Thank you."
What we learned last night: Wolfe was actually a talented pitcher who earned a three-day tryout with the New York Giants in the early Fifties.
3. NoKo No Go?
Kim Jong-Un plays his "Two can play at the impetuous, unpredictable tyrant" card last night as North Korea says that if the United States insists on complete unilateral denuclearization as a starting point, that it will not even bother attending their summit in June. Your move, Mad Tweeter!
From The New York Times: "North Korea said Mr. Kim's government would not give up its nuclear weapons unless Washington removed military threats against his isolated country. Without such assurances, it said Mr. Kim could withdraw from a planned June 12 summit meeting with President Trump in Singapore."
As someone said or wrote earlier this week, "North Korea without nukes is like Saudi Arabia without oil." We don't expect Kim (or as Mike Pompeo calls him, "Chairman Un") to surrender his nukes voluntarily. Or involuntarily. But he will have fun yanking Donald Trump's chain for awhile.
Hold off on engraving that Nobel peace prize.
4. Bummer Of 42
LeBron James scored 42 points last night—21 in the first quarter—but the We-don't-like-one-another Cavs fell by 13 points in Game 2 in Boston. The Celtics outscored the Cadaverliers by 14 points in the 3rd quarter to reverse a seven-point halftime deficit.
Jeff Van Gundy on ESPN had a memorable night with a trio of great lines late in the game. First, on a ball boy who is a full-grown man: "We've got a guy who's balding out there sweeping the floor."
After the refs wussed out on calling an obvious Flagrant 2 (automatic ejection) on J.R. Smith and instead called a Flagrant 1: "I can't disagree more with that call."
On the Cavs folding like a cheap suit late in the game: "The Cavs eyeroll each other more than a couple in a bad marriage."
5. Tarp On!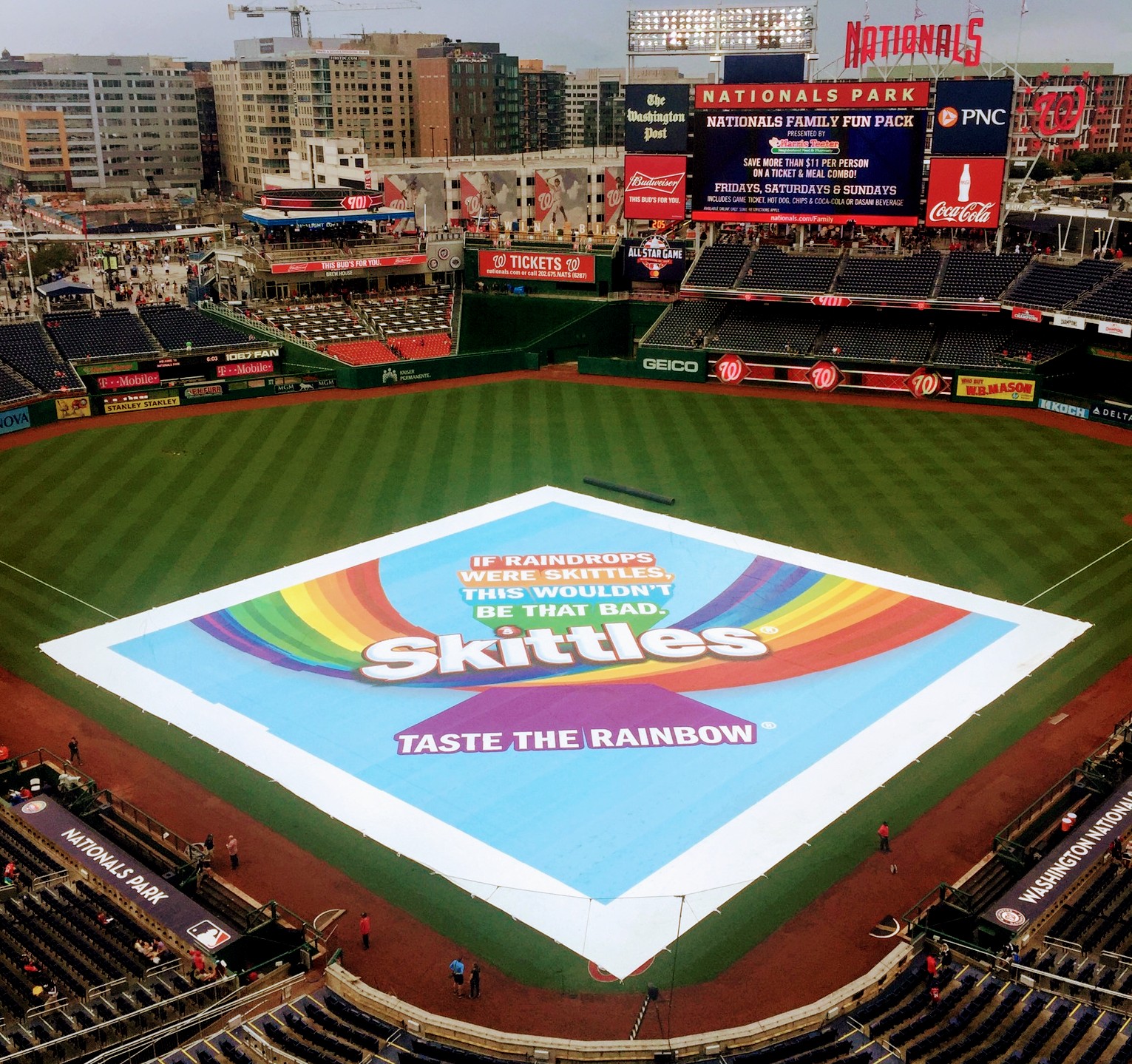 As it began raining heavily during the sixth inning of the Yankees-Nationals contest last night, the above tarp was rolled out. Genius! How have we gone all these years without branding on tarps? Turns out the Nats are not the only ones who are making it rain when it rains…
…The Chicago Cubs have figured it out as well. This will be standard in all ball parks except perhaps Tropicana Field within a year.
Reserves
Suns at Number One
The Phoenix Suns, who infamously lost a coin flip in the 1968 NBA Draft to the Milwaukee Bucks—the Suns picked second and landed Neal Walk while the Bucks took a dude named Lew Alcindor—finally won the number one overall pick last night.
Do they take University of Arizona center DeAndre Ayton (owner Robert Sarver is a Tucson guy), Duke power forward/Swiss Army Knife Marvin Bagley III, who grew up in Arizona and led Corona del Sol (Tempe) to a state championship as a freshman in 2015, or 6'8″ White Euro Magic Johnson dude Luka Doncic, who has been coached abroad by new Suns coach Igor Kokoskov?
We honestly have no clue whom the Suns will pick or should pick. We do know that a lot of old 'ballers prefer Bagley.
Ash Wed Every Day
People play golf as an ash plume rises in the distance from the Kilauea volcano on Hawaii's Big Island today.

📷: @mario_tama pic.twitter.com/b29oDL32uN

— Getty Images News (@GettyImagesNews) May 15, 2018

To paraphrase Friend of the Blog Matt Zemek, there's no better metaphor for America in 2018.
CHK Update
One of our pet stocks is Chesapeake Energy, an Oklahoma-based natural gas (read: Fracking!) (because the Chesapeake Bay is so close to the Dust Bowl) company we don't necessarily believe in, but its stock we do believe in. For three years we've followed its yo-yo trajectory of up 10%, down 10% with somewhat relative certainty.
In recent months we've gotten in whenever it went below $2.85 per share and out after it hit $3.15 per share. Call it what you will, it has worked.
Last week CHK dipped to $2.92, which was still too high for us to jump back in. Then Prez Trump called off the Iran nuke deal, gas prices soared and well, just a week later CHK is trading as we type this at $3.74 per share. That's a 28% jump in one week. Again, we DID NOT get in. But it woulda been nice. Stay tuned.
Music 101
Give Me Love (Give Me Peace on Earth)
A few of George Harrison's most popular post-Beatles hits were nothing less than prayers. This 1973 song and "My Sweet Lord" both fit that bill and both were also No. 1 hits. When this tune hit No. 1 in June of 1973 it knocked "My Love" from the top perch, which was rather significant because the artist behind that song was…Paul McCartney.
Remote Patrol
Yankees at Nationals
7 p.m. ESPN
You can tune in to Dubs-Rockets Game 2 later (9 p.m., TNT), but here's an interleague contest with a ton of star power: Starters C.C. Sabbath versus Max Scherzer (four Cy Young awards between them), former Rookies of the Year Aaron Judge and Bryce Harper, and perhaps future Rookie of the Year Gleyber Torres.