http://mediumhappy.com/?p=7630
by John Walters
Tweet du Jour
Resistance Win: When One Of Her Students Wore A MAGA Hat To Class, This Incredible Teacher Stopped Having Sex With Him After School https://t.co/dbXCjWtPod pic.twitter.com/jz5F5t7xE0

— ResistanceHole (@ResistanceHole) June 4, 2018
Starting Five
Get The Flock Outta Here
Yesterday America's favorite "short-fingered vulgarian," Donald Trump, disinvited the Super Bowl champion Philadelphia Eagles from a scheduled White House visit. From the White House statement:
"The Philadelphia Eagles are unable to come to the White House with their full team to be celebrated tomorrow. They disagree with their President because he insists that they proudly stand for the National Anthem, hand on heart, in honor of the great men and women of our military and the people of our country. The Eagles wanted to send a smaller delegation, but the 1,000 fans planning to attend the event deserve better."
The problem, as former Eagle wide receiver Torrey Smith (who played for the team last season) noted, is that none of the Eagles knelt during the national anthem last season. No one. True, many of them were not going to attend, but that's because they've come out publicly against "pussy grabbers" and a guy who equivocates for Neo-Nazi groups and calls their colleagues "sons of bitches." But it wasn't about the anthem.
Torrey Smith, are you available to teach GOP leaders? pic.twitter.com/H6q9jY9ukr

— Kathleen Johnson (@ReallyNiceTry) June 5, 2018

Meanwhile, how fitting that this president disinvites a team whose home city is where both the Declaration of Independence and the U.S. Constitution were written and whose mascot is America's symbol for liberty. What a dope.
If you are going to tweet…tweet facts…no one on the Eagles took a knee last season………. https://t.co/7aiTuvVKe8

— Torrey Smith (@TorreySmithWR) June 5, 2018

Philadelphia mayor Jim Kenney was refreshingly blunt in his assessment of the kerfuffle: "Disinviting them from the White House only proves that our president is not a true patriot, but a fragile egomaniac obsessed with crowd size and afraid of the embarrassment of throwing a party to which no one wants to attend."
2. Then Fox News Jumped In
President @realDonaldTrump says Philadelphia @Eagles won't attend @WhiteHouse ceremony amid national anthem dispute https://t.co/QOOUCfOxhD pic.twitter.com/4yFsEJrTQ1

— Fox News (@FoxNews) June 5, 2018

The White House's Ministry of Information, a.k.a. Fox News, quickly got their propaganda machine up and running, reporting the story that the President had canceled the Eagles' visit while showing their geriatric audience still photos of the Eagle players kneeling. But, as Eagle tight end Zach Ertz pointed out, the players were kneeling because they were praying before the anthem.
This can't be serious…. Praying before games with my teammates, well before the anthem, is being used for your propaganda?! Just sad, I feel like you guys should have to be better than this… https://t.co/kYeyH2zXdK

— Zach Ertz (@ZERTZ_86) June 5, 2018

All of this reminds us: the Washington Capitals took a 3-1 lead in the Stanley Cup finals last night with a 6-2 defeat of Las Vegas. That White House visit will go much smoother since two of the Caps' premier skaters, Evgeny Kuznetsov and Alex Ovechkin, are Russian.
3. Schultzless in Seattle
After 36 years at Starbucks, the company he founded in Seattle in the 1980s, Howard Schultz, 64, announcing he is stepping down. His next move? Schultz is considering a run at the White House, one of the few places in the country that does not have its own Starbucks.
It could be an intriguing race: two men from the outer boroughs of New York City, one from Queens, the other from Brooklyn; both raised in post-World War II America, one the son of German parents, the other of Jewish parents; one got into Fordham, the other took a football scholarship to Northern Michigan; one inherited his first few million, the other launched a company that has had as much influence on the American fast-food landscape as McDonald's. One wanted to own a major professional team, one actually did.
4. Masterpiece Theater
We will admit to being genuinely ambivalent and torn on the Supreme Court case of Colorado baker Jack Phillips, who refused to bake a cake six years ago for a same-sex couple who were getting married out of state (at the time, Colorado did not recognize same-sex marriage). We honestly think the bigger issue is, Who takes a wedding cake across state lines???
Anyway, give the owner of Masterpiece Cakeshop in Lakewood, Colo., credit: he's not just homophobic. He refuses to bake cakes for Halloween festivities and divorce parties, too. Being a conservative Christian can be a huge financial liability in the pastry chef biz.
Anyway, we respect his right to do what he feels is right and we acknowledge that a private business owner is not the same as a municipal entity. So, we've come around to our Twitter friend @AuburnElvis' view on that.
What we simply don't understand, having been around so many gay and lesbian couples and people here in New York, is how anyone can envision homosexuality as a sin. Remember, the people citing their sources on this are citing human beings who did not even know the Atlantic Ocean existed, much less that the earth revolved around the sun. And yet these are their geniuses for understanding homosexuality?
If you simply believe that God is love, then you will see so much love among homosexuals, both those in and out of relationships. Many of the best people I have known in NYC, including many of the people with whom I work at the Cookoutateria, are gay. And they're great. My former boss at Newsweek is such a wonderful person that I've thought he's got to be hiding that he's gay (he's married and has a child). He's just too nice, funny, witty and thoughtful to be a straight man.
Anyway, haters gonna hate hate hate/Bakers gonna bake bake bake. Let them eat cake, I say.
5. High Noon Fallutin'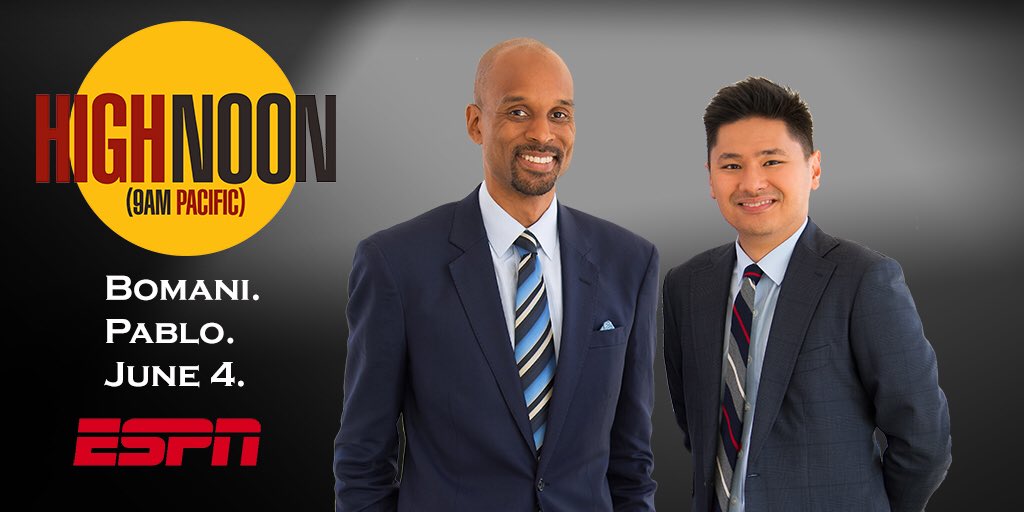 It was only one episode, and it's stylishly produced, and again, we stress, it was ONLY ONE EPISODE. But by now I think we know who Bomani Jones and Pablo Torre are: they're two smart guys in their thirties who do not wear their education like a lower back tattoo but rather like a neck tattoo.
The idea behind this show, produced by ESPN's Erik Rydholm, who gave us PTI among other ESPN bloviation fests, is a younger, more woke PTI. The difference here, I believe, is that Tony Kornheiser was always a lovable crank. He's Toby Ziegler from the West Wing, and Mike Wilbon is kind of his, I dunno, his Leo McGarry?
High Noon is two Josh Lymans talking back and forth at each other. We felt the most revealing aspect of the program is the pains they took to remind viewers that, despite the title of the show, it airs at 9 a.m. Pacific. They never mentioned the Mountain or Central/Clay Travis time zones. "It's the show Coastal Elites have been waiting for…"
Music 101
Still
The Commodores may best be known for "Brick House," but they also released four big slow-ballad hits in the late Seventies: "Easy," "Three Times A Lady," "Sail On" and this No. 1 R&B smash in September of 1979 (they did not write "September"; that was Earth, Wind & Fire). That's a quartet of the greatest junior high slow dance jams ever penned.
Finally pianist/songrwriter/singer Lionel Richie realized he was doing all the heavy lifting and went solo, launching a successful but unbelievably schmaltzy ("Dancing On The Ceiling," etc.) one-man hit parade in the early Eighties. The Commodores would go on to be bottom-feeders in the SEC East.
Remote Patrol
My Next Guest Needs No Introduction: Howard Stern
Netflix
Honestly, David Letterman's six-part series has been largely underwhelming. We made it through Barack Obama and George Clooney but barely watched any of the next three. The suspicion here is that he's saved the best for last. Stretching all the way back to 1984 and Late Night on NBC, Howard Stern has always been Dave's best interview foil because he has absolutely no filter.