http://mediumhappy.com/?p=7636
by John Walters
Tweet du Jour
Well, LeBron finally got a supporting cast.

— usman bhatti (@ubhatti234) June 9, 2018
Starting Five
Dominance And Resilience
Two races late Saturday afternoon on opposite coasts. The one you know about, the one you more than likely watched, involved Justify, starting from the post position and leading wire-to-wire at the Belmont Stakes. Justify becomes the second horse in four years to win the Triple Crown and the first, we believe, to have done so without having raced as a two year-old. The Bob Baffert-trained horse becomes the 13th Triple Crown winner overall.
Though we appreciated Justify's unchallenged excellence, it didn't really move us. Maybe because we couldn't really relate to being the most talented and simply being smart enough not to get in your own way.
The racer we could relate to was Kendall Ellis of USC, who took off from the last position in the women's 4 x 400 relay at the NCAA Outdoor Track & Field Championships in Eugene. A little set-up: heading into the 4 x 400, the final event, Georgia had 52 points, Stanford 51 and USC 43. You get 10 points for first place, so USC's only chance was to win the race (the Dawgs and Cardinal did not advance to the final in this event so neither had a chance to add to its total score).
USC's anchor leg handoff was clumsy and Ellis, a senior from Pembroke Pines, Fla., was going to have to fight through traffic if she were to have any chance. A quick note about Ellis: she graduated high school with a 4.7 GPA and was a four-time Florida state champion in the 400. She also graduated USC in the spring of 2017 with a business degree. She's a grad student.
So, after the botched handoff, Ellis is in fourth place. Go to 2:20 on the video and watch the final lap. Listen to ESPN's male announcer (John Anderson? Dwight Stones? I think it's the former, who is a former high jumper at Missouri) say with certainty, "There's no way [Purdue loses] unless she drops the baton. Purdue's going to win this…" just 100 meters from the finish.
Final note: this was LAST YEAR's women's 4 x 400 race. Look who finished in 2nd place. Ellis didn't just come back from 4th place on Saturday. She came all the way back from 2017.
2. Alex and Anthony
As many of us devoted at least a few Saturday and Sunday moments to muse on what could lead CNN's Anthony Bourdain to take his own life, the Washington Capitals' Alex Ovechkin seemed to have the best weekend of his. Ovi tossed out the first pitch at the Nationals game, did a keg stand somewhere else, did push-ups in a D.C. fountain, and barbecued while singing "We Are The Champions" at the top of his lungs.
Ovi, understandably, was seizing the day, which is something Bourdain, via his two travel shows (first, No Reservations on the Travel Channel and later Parts Unknown on CNN), seemed to be encouraging us all to do. Perhaps that's what makes the 61 year-old New Jersey native's suicide so incomprehensible: Bourdain seemed to have a greater appetite for life and empathy for his fellow man than anyone on television.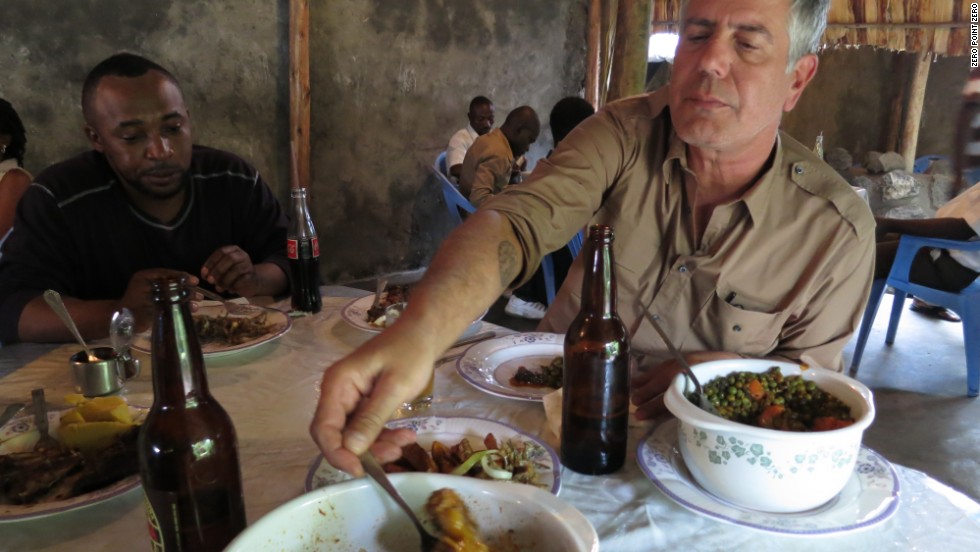 If and when CNN re-airs it, watch the tribute to Bourdain that ran on Sunday night (extra, EXTRA props to the CNN producers who likely spent all weekend in an edit bay to make the show possible). Bourdain was no mere sybarite, getting to go to places we'll never go to, eating foods we may not eat, having conversations we'll never have and basking in the glory of his good fortune. No, if that was his schtick, we'd have never been drawn in.
Bourdain was an honest and empathetic travel guide. He was blunt and he opened a vein in describing his experiences to us. He was raw. He was genuine. Not only did he never take it for granted, but he approached his job as if he were both missionary and teacher. The difference is that whereas most missionaries bring their culture to a foreign land, his job was to bring that foreign land to us. He was the pilgrim, but we were the beneficiaries.
And how does all of that tie in to Ovi? Well, if you're reading this, I can promise you that you're never going to win a Stanley Cup. But you don't have to in order to approach any weekend as Ovi did this past one. You're alive. And there's so much to do and see. You're lucky. Don't ever forget it.
And that does not make us understand Bourdain's death any better. We may have more thoughts on that later this week. But at least he showed us not only what it is to live, but also to understand that most people all over the globe are remarkably similar: we are not our world leaders, or our military. We are a community. If you watch the CNN special, you'll notice that Bourdain did not shy away from visiting dangerous places (Myanmar, Iran, Tripoli) and he'd always ask common citizens the same question: "Are you hopeful?"
3. Nadal's House
The Spaniard, Rafael Nadal, wins his 11th French Open title, this time in straight sets. Beyond their 30th birthdays Nadal, 32, and Roger Federer, 36, seem more intent than ever  on putting the "Most Grand Slam titles" mark forever out of reach. Between the two of them they've claimed the last six Grand Slams—three apiece—dating back to the beginning of 2017.
Federer now has 20 Grand Slams and Nadal 17 (Pete Sampras retired more than a decade ago with the then all-time most of 14). While it once seemed that Novak Djokovic, still only 31, would pass both of them as he won 6 of 8 Grand Slams between 2014 and 2016, the Swiss and the Spaniard are not going quietly into that good night. And it has now been two full year, eight Grand Slam events, since Djokovic has hoisted a cup.
Where does this end and who finishes on top? We're going to go with Nadal, who has four years on Federer and basically owns Roland Garros (11 titles in Paris in the past 14 years).
4. Blame Canada
If this weekend's G-7 Summit in Quebec City were a party, Donald Trump was the guest who arrived unfashionably late, wondered why his friend who'd previously slipped the date rape drug into the drinks of sisters of other party goers wasn't allowed to attend, and then left early, after which he insulted the affable host.
TRUMP disgraced the Presidency and the United States at the G-7 summit. From his slovenly appearance to his unpreparedness, ignorance and arrogance, he beclowned himself. The Republican majority is filled with cowards who are servile supplicants to the most unfit POTUS ever

— Steve Schmidt (@SteveSchmidtSES) June 10, 2018

America First!
In both cases, the woman was right. pic.twitter.com/TveQ0Hb81P

— Schooley (@Rschooley) June 9, 2018

5. Hand-icapped
The first self-inflicted wound was punching the white board after Game 1. The second was wearing the cast after Game 4. Now the spin is that Ol' Sweet Pea, who was able to go 9 days without his hand injury being revealed but unable to do so for one final hour after his team had been swept, only wore the cast to the post-series presser because news had begun to leak about the injury.
So how did that news exactly "leak?" Who leaked it? And why would that news compel you to wear the cast, which comes off as nothing less than a plea for sympathy and absolution. We know you're great. We know the Cavs couldn't have won without you (or with you). We know you didn't have enough help. But now you need us to know that you were hurt the final three games and, oh, by the way, whose fault is that?
Not a good look. He's an all-timer, but his career is speckled with moments ("The Decision," "The Supporting Cast") that make you wonder if he ever understood what being part of a team is all about. As one friend of ours aptly stated it yesterday, "He's the Millennial Jordan."
Reserves
Amyx Hardware and Roofing Supplies
8145 Tennessee 131
Washburn, TN 37888
+1(865)497-3828
There is a special place in hell for people like this. pic.twitter.com/CWjGpnKKyh

— ANGRY NAVAL OFFICER #VETSRESISTSQUADRON (@BlueGhost40_) June 10, 2018

Homophobia AND a grammatical error! It's a MAGA two-fer!
Music 101
Singapore
Tom Waits, the lead track from his acclaimed 1985 album, Rain Dogs. Seemed rather appropriate for today. Thanks, Cecil.
Remote Patrol
The Staircase
Netflix
Did novelist Michael Peterson murder his wife, Kathleen, or did she simply fall down the staircase at the family home? And wasn't it more than a coincidence that family friend Elizabeth Raitliff died 18 years earlier…at the bottom of a staircase? This is being hailed as the "Making A Murderer" of 2018.