http://mediumhappy.com/?p=7701
by John Walters
Tweet du Jour
30 years later, I still remember that @JoseCanseco drove in his 88th RBI of the season on 8/8/88. My brain could really use that memory space.

— Jamie Reidy (@JamieReidy) August 8, 2018
Starting Five
Privatize ("They're Watching You, They See Your Every Move")
Taking a cue from POTUS, Tesla founder and CEO Elon Musk tweeted yesterday that he'd rather the company be private. Musk added another tweet saying he'd take shares of the stock to $420 (it was at around $344 when he sent the first tweet) and that shareholders could either sell or remain with the company as it privatized.
My hope is *all* current investors remain with Tesla even if we're private. Would create special purpose fund enabling anyone to stay with Tesla. Already do this with Fidelity's SpaceX investment.

— Elon Musk (@elonmusk) August 7, 2018
Shares of Tesla (TSLA) jumped 10% in the wake of that tweet and even more short-sellers than usual were cursing the South Africa native's name. You could've bought TSLA before last week's earnings report at $298. Now it's at $380.
2. SI Also Named Names
Yesterday we noted that ESPN was releasing a Top 50 College Football Players list. We'd forgotten that SI had released its 3rd annual Top 100 College Players list back in mid-June (but my page only stopped buffering on Sunday).
Both ESPN and SI have Ed Oliver at number one, but after that I much prefer SI's list, which is not as agog over quarterbacks and sagely places Khalil Tate, ESPN's 3rd-rated QB in the Pac-12 alone, as the number one overall QB in the nation (ESPN's list reads as if Todd McShay wrote it with an eye on how dudes will be drafted as opposed to what they can do on a Saturday).
What we like even better, and agree with, is SI's Top 25 team rankings in which they put Clemson No. 1 over Alabama. The Tigers have that mammoth, super-talented D-line and the Crimson Tide has both a championship hangover and what could become a toxic QB controversy (ask Notre Dame fans how that worked out, the latter part, two years ago).
3. Remember Him?
What, as a Notre Dame alum, you should really love about both ESPN's and SI's lists is that the Fighting Irish's returning starter at quarterback, Brandon Wimbush, does not appear on either. Under the radar. Low expectations.
Remember how in love Notre Dame fans and the media were with Wimbush after September and October last season? The Irish were 8-1 and Wimbush, then a first-year starter, had thrown 13 touchdowns versus only two interceptions. He'd also rushed for 13 touchdowns and had four 100-yard rushing games.
Then the wheels fell off at Miami and Stanford, where honestly, Ian Book was the preferred option. It'll be interesting to see what the lack of fanfare does to light a spark under both Wimbush and this entire Irish squad. Are they overrated in the mid-teens or have people forgotten just how explosive a dual-threat Wimbush can be? We'll see.
p.s. We still believe Wimbush got hurt on that helicopter tackle (at the :37 mark above) near the goal line versus Wake Forest far worse than Notre Dame let on. To us it's the X-factor of why his season went awry.
p.p.s. What to watch for with Notre Dame offense if you've not been paying close attention: Wideouts Miles Boykin (remember him from the LSU game) and Chase Claypool are 6'4″ and 6'5″, respectively, and both upperclassmen with experience. You'll see a lot of deep jump balls for them this autumn.
4. The Other Tate
SI thinks Khalil Tate is the nation's best college football quarterback. Two years ago Scout.com believed Tate Martell, out of Las Vegas' Bishop Gorman, was the nation's top prep QB. Martell matriculated at Ohio State, where he redshirted last season.
So Ohio State names Dwayne Haskins, a kid with three years of eligibility remaining, its starting quarterback. And Haskins, like not a few of his Buckeye predecessors this century, has a game that's better-suited to college, not the NFL. Which suggests he'll want to hold onto this gig for three seasons. Which is to say we foresee a Jacob Eason-type future for Martell: West Coast hot shot goes east, gets a good look at the pine, follows Horace Greeley's advice.
Martell, who is only 5'11", may be waiting to see how L'Affair d'Urban turns out. But it would make sense if he transfers out of Columbus before the season begins, thereby giving himself three potential seasons as a starter somewhere else as opposed to, if he plays this season for the Buckeyes as a clipboard holder, two. Chip Kelly might enjoy his company in Westwood.
5. The Cyclists and ISIS
First, we cannot believe that Outside magazine and/or Jonathan Krakauer did not find this story first. Second, this will be a movie (remember what we said about the McNopoly story? Affleck and Damon have already bid on it).
Jay Austin and Lauren Geoghegan, a pair of 29 year-old Georgetown alums both working in D.C.—he for HUD, she in Georgetown admissions—quit their jobs, shipped their bicycles to Africa, and embarked on the adventure of a lifetime. That was in July of 2017.
Last week, while riding through Tajikistan on Day 369 of their journey, the couple and two other cyclists were run down by ISIS militants in a car. It was not an accident.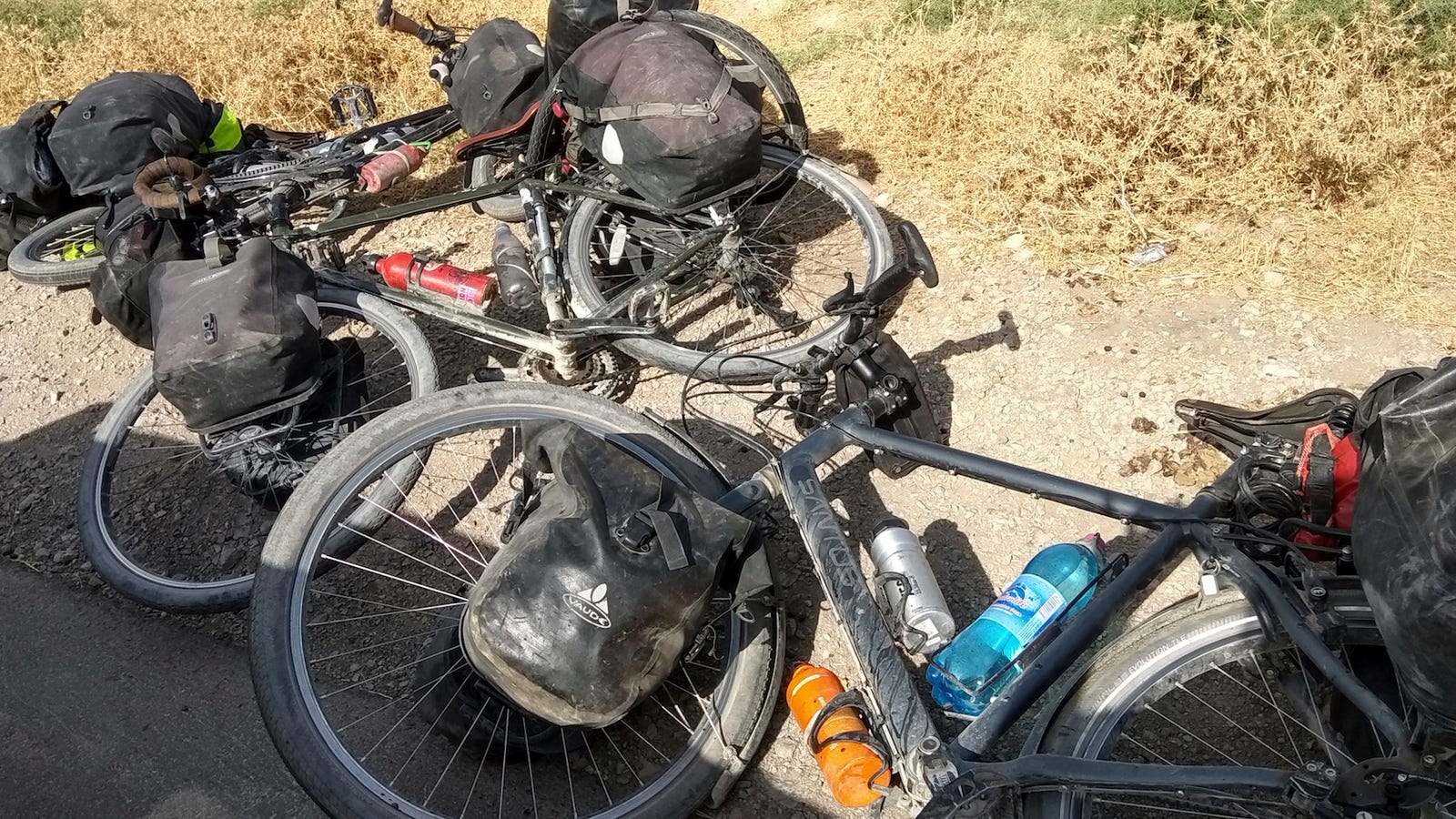 A personal note: I often take off on bicycle excursions on my days off here. Last week I did a 50-miler, on my mountain-hybrid bike, beginning on the Upper West Side, traveling through the Bronx to the Bronx River Pathway (one of the little-known wonders and delights of America's largest city) and up past the Kensico Dam in upper Westchester.
When I'm on these treks, I often think of how much improved everyone's mental health would be if they just got out on a bike and experienced the outdoors like this. How people get caught up in all the wrong trappings of societal convention (Do you really want to spend your Saturday attending that 3 year-0ld's birthday party?) and really are never free.
It's a tragedy that Austin and Geoghegan were killed. Then again, they had 368 days of wonder and adventure that most people will never, or rarely, experience. And for me the tragedy is that so many of us don't even realize how trapped we are.
Another aside: I bartended a party on Monday night where I made friends with one man, age 55, who told me he'd retired from the Granite & Mason (?) Union because of an aortic aneurysm. How do you spend your time, I asked him? "Whales!" he said with fervor, and then proceeded to show me photos of whale-watching trips he'd taken in Mexico, California and Cape Cod. It was something he'd only taken up after he'd been forced to retire. "I'm 55 going on five," said the man, Peter.
He's lucky enough to have discovered wonder before it was too late. Jay Austin and Lauren Geoghegan were smart enough to figure it out earlier in life. Good for them. I hope no one who knows or loves them is sad or feels regret. They were probably truly happy when it ended.
p.s. The murderers' motive was to protest Westerners infiltrating their culture, but they used an American invention (the automobile) to carry out their deed. We've long since given up explaining hypocrisy to demagogues and/or the people who follow them.
Music 101
Then Came You
What happens when you pair The Spinners, who to this point in their career had a pair of top ten hits, with Dionne Warwick, who'd had seven top ten hits? This 1974 song, which shot to Number One on the Billboard charts in the summer of 1974. Neither act had ever had a No. 1 hit before they hooked up. That's Bobby Smith on lead male vocals.
Remote Patrol
Margin Call
11:35 p.m. TMC (NOT TCM!)
The Big Short, Too Big To Fail, The Wolf of Wall Street and even both Bernie Madoff films (HBO and one for TV) likely earned more attention than this 2011 film dealing, in a fictitious manner, with the sub-prime mortgage crisis. We contend that this may be the best of them all, or at least in the same league with The Big Short. The above scene is Jeremy Irons at his very best, and you can see from the board room table some of the other actors in this film: Kevin Spacey, Paul Bettany, Simon Baker and Demi Moore. That's Zachary Quinto, Mr. Spock, as the deer in the headlights who actually is the boy genius. You will also catch an excellent, as usual, Stanley Tucci.