http://mediumhappy.com/?p=7711
by John Walters
1. Your former business partner becomes president of the United States.

2. A hurtful accusation is lodged against him.

3. He declares publicly that you can exonerate him.

4. Many disbelieve him. All eyes turn to you to confirm or deny.

5. You stay silent.

— David Frum (@davidfrum) August 14, 2018

 Starting Five
"Dog" Days Of Summer
Yesterday on The Worst Wing: The president calls former White House aide/Season 1 contestant Omarosa  "that dog"….Sarah Sanders says that she cannot "guarantee" there's no tape of the president using the N-word…Omarosa—finally, Trump and the big "O" are associated—says that Trump totally knew that the leaked Hillary emails were about to be released before they were released which, if true, well, ball game…oh, and Paul Manafort's defense team declined to call a witness, because either he cannot wait to get to prison or he can't wait for Trump to pardon him.
Meanwhile, the entire GOP remains silent. Nice job, nice effort.
2. Blame In Bethesda
Sixty-three days after the death of Jordan McNair and, more to the point, four days after ESPN put out its story, University of Maryland president Wallace Loh got in front of a podium and put the blame—legal and moral—squarely on the university's shoulders. So there's definitely a settlement in the works.
What the Terps did not do is explain why, if the athletic trainers were at fault for McNair's death from heat stroke that took place during a May 29 workout, that it was strength coach Rick Court with whom they "parted ways." The due process of the investigation will play out, but at a university that still hasn't forgotten the death of Len Bias 31 summers ago, we don't see head coach D.J. Durkin surviving this. In terms of his job.
What we do know is that the crisis at Maryland has taken some of the heat off Urban Meyer. Even if Zach Smith apparently did hide a DUI from him.
3. The Killer B's
Betts, Benintendi, Bogaerts, Bradley, Jr… Martinez. Okay, not every stud in the Red Sox lineup has a surname that begins with a "B," but most of them do. Boston won again last night, 2-1, against the Phillies to move 51 games over .500 (86-35). They are now on pace, with their .711 win percentage, to finish with the best regular-season record since MLB moved to a 162-game season.
The Yankees (75-34) are 7-2 since being swept in Fenway and they've still fallen half a game back of the Sawx, to 10 back. The last time a team finished 30 or more games over .500 and 10 or more games out of first place was 1906. At the time there were only 45 states.
p.s. It's not in "Remote Patrol," but they're at the Phillies on the ESPN tonight at 7 p.m.
4. Death and Basketball
We haven't seen this story get too much media play, but two Sundays ago in New York City a Wake Forest assistant basketball coach, Jamill Jones, punched a man and killed him. The victim, Sandor Szabo, 35, and of Boca Raton, Fla., was in town for his step-sister's wedding.
It was after midnight, Szabo was drunk, and he mistook Jones for his Uber driver so he began knocking on the window of his car. This was in Long Island City, which is just over the East River from midtown Manhattan. Jones got out of the car and punched Szabo in the face. The punch and the fall caused multiple cranial fractures and Szabo died.
Jones turned himself in to the police four days later. He has been charged with third-degree assault but look for that charge to be upgraded at least to manslaughter. Rule No. 18: Nothing good happens after midnight.*
*And by "good" we don't mean fun; you know what we mean.
5. Nation Building
Sometimes when I am bartending a small party, particularly if it's business professionals who seem ill at ease socializing with one another, I try to break the ice with a quiz. I have a couple, but here's one that stimulates the gray matter (if you have the answer without Googling it, go ahead and put it in the comments). We did this just last week and after that the folks at the private-equity firm loosened up some (certainly, the alcohol helped, too). Here it is:
There are no countries whose names are two or three letters long. There are ten countries whose names are four letters long. Name them.
Reserves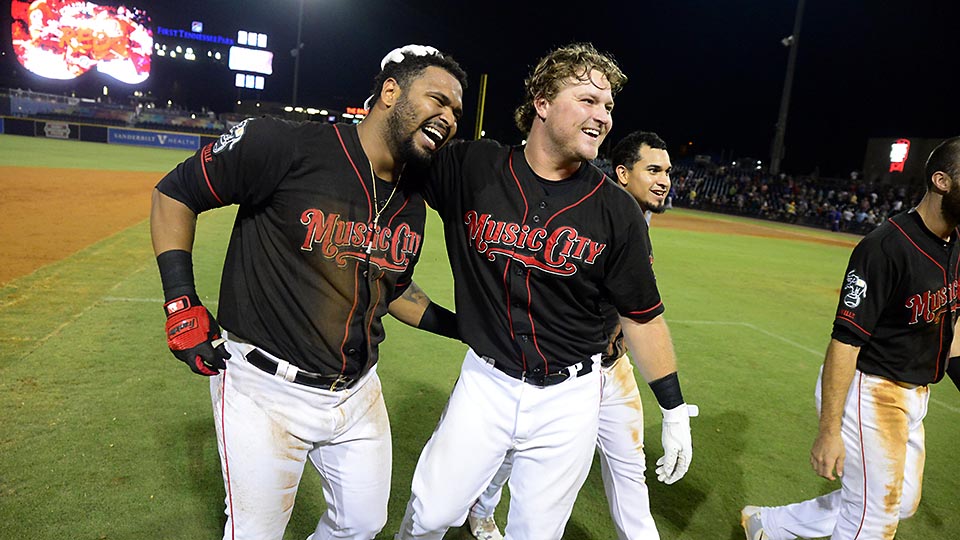 Triple A's
The Nashville Sounds, the AAA affiliate of the Oakland A's, won their 15th straight game on Tuesday night, tying a franchise record. More impressive, the A's were playing sub-.500 ball when the win streak began. They're now 66-55. We foresee the film MoneybAAAll being made if this keeps up. Worth noting: the Sounds have a player named Boog Powell, but he's no relation to the former Major Leaguer who was the 1970 AL MVP.
Acuna More Taters
Atlanta Brave rookie Ronald Acuna hits his fifth home run in as many games. He's also hit a leadoff homer in three consecutive games, including both games of a doubleheader yesterday. Acuna has 19 home runs on the season.
Music 101 
Man's Job
https://www.youtube.com/watch?v=Y04BH-mLFzk&list=RDY04BH-mLFzk&t=67
One of the few missteps of Bruce Springsteen's career was the idea to release two albums on the same March day in 1992: Lucky Town and Human Touch. Either by itself is not a great album, but if he had just culled the best cuts from both he'd have had a Boss-worthy album. Our suggested track listing for Lucky Touch: "Lucky Town," "Man's Job," "Roll of The Dice," "Human Touch," "If I Should Fall Behind," "Better Days" and "My Beautiful Reward."
Remote Patrol
The West Wing
"Internal Displacement"
Netflix
Season 7, the final season of TWW, is our least favorite, but there's one stand-out, vintage episode that harkens back to the early years. Remarkably, it was written by Bradley Whitford (who plays Josh Lyman; we believe it's the only episode penned by a cast member) and he wrote it as a star turn for female cast mate Allison Janney.
What makes it so terrific? It has classic walk-and-talk banter, characters placed in morally difficult positions, and moments of hilarity. It also not so subtly puts a woman, C.J. Cregg (Janney), in charge of our country for the day and all she does is possibly prevent World War III and help solve a humanitarian crisis in Darfur. Finally, the episode is book-ended with reunion scenes between C.J. and Danny Kincannon (Timothy Busfield) at a restaurant that even includes a scolding of alpha types who attempt to treat servers like sub-human minions.
There's a moment near the end of the episode where C.J., exhibiting maturity not often seen in her male peers, comes around to someone else's line of thinking as opposed to stubbornly holding her position. If you know the moment I'm talking about, and you know the reaction that her olive branch gets from Lyman (Whitford does not give himself many lines, but he does allow himself the funniest moment in the episode), well, it's a priceless scene.
Claudia Jean grows as both a leader and a negotiator in just the span of one episode. She's being presidential, from the way she handles Doug Westin to the manner in which she grows savvier with each successive foreign ambassador meeting. Also, what the Chinese ambassador tells her as his parting shot? We're 100% with him there. Go watch it.
I really could've done without Season 7, as informative as it was in terms of the sausage-making of a presidential campaign. This episode almost made it all worth it. Every major male character on The West Wing has said that Janney was their favorite actor to be in a scene with. This episode illustrates why.