http://mediumhappy.com/?p=7733
by John Walters
We're back. The Irish pummeled the Skunk bears. We met the Dean of Notre Dame's science department and our friend asked her if there was any way he could appeal his Organic Chemistry grade 33 years later. We'll tackle college football tomorrow.
Tweet du Jour
Happy Labor Day (: pic.twitter.com/JuyBXYa3r2

— Matt Deitsch (@MattxRed) September 3, 2018
Starting Five
The Blaze From Brazil
No one knows how or who started the blaze that destroyed Brazil's National Museum on Sunday night, only that it is an incalculable tragedy. More than 200 years of art work and archaeological finds were destroyed. And although some were spared, the inferno raged out of control partly because the two closest fire hydrants to the museum were not functioning.
"It was like setting Versailles on fire. Years of history that can never be recovered."

Massive fire engulfed Brazil's 200-year-old National Museum in Rio de Janeiro destroying more than 20 million historical pieces. https://t.co/9xz65qaj06 pic.twitter.com/QK6X1ahs76

— ABC News (@ABC) September 3, 2018

The museum, located in Rio de Janeiro, was founded in 1818 and up until Sunday was celebrating its bicentennial. The museum has no internal sprinkler system and has suffered, not unlike its host city, from years of neglect and government corruption.
2. Nike Backs Colin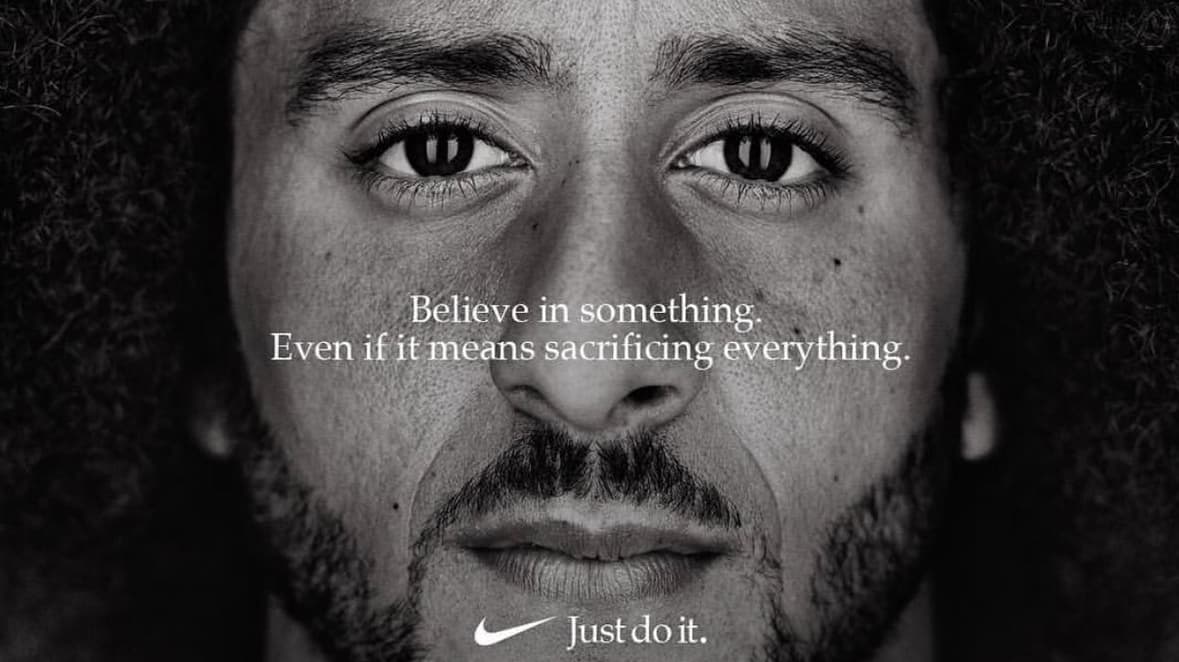 For the 30th anniversary of its "Just Do It" campaign, Nike chose Colin Kaepernick as its spokesmodel. For the start of the 2018 season, the Minnesota Vikings are keeping a dude named Kyle Sloter at QB and the Carolina Panthers one Taylor Heinicke. Point made.
Dig: We get the concept that maybe the NFL doesn't want to employ someone whose actions upset its fan base. What we don't get is why Kaepernick's statement, considered truthfully and not misrepresented by Donald Trump, upsets that fan base.
3. Millman Delivers
Shortly before 1 a.m. Aussie John Millman upset Roger Federer, 3-6, 7-5, 7-6, 7-6 to advance to the quarterfinals of the U.S. Open…and deny fans who have tickets to Wednesday's night session the chance to see Federer meet Novak Djokovic. Millman announced afterward that he has to wake up in six hours for a Fantasy Football draft. He's picking second and doesn't know whether to take Le'Veon Bell or Todd Gurley.
It's 1 am ET and he just upset Roger Federer in the match of his life. Listen to what Millman told ESPN about why he needs to wake up in 6 hours pic.twitter.com/qSxbaLNPMs

— Josh Krulewitz (@jksports) September 4, 2018

The Swiss Master, Federer, is in the twilight of his career. Does the Tom Brady of tennis return next season? Will we see him in a Grand Slam final, or semi-final, ever again? He currently owns the most Grand Slam singles titles (20) in men's tennis history, four ahead of Rafael Nadal, who is still alive in Flushing Meadows and five years younger.
4. deGrom Is deServing
Mets ace Jacob deGrom deserves to win the N.L. Cy Young Award but if he does not, no one will be surprised: deGrom is unsurpassed when it comes to failing to win things he deserves to win.
On Monday night at Dodger Stadium deGrom allowed one run through six innings (which is equal to the number of runs that he himself drove in for the Mets while he was in the ballgame), but came away once more with no decision. The Mets would later win the game.
The native Floridian now has an 8-8 record with 12 no decisions. In those dozen games that did not factor into his record, he has a 1.41 ERA, which would be by far the best ERA in baseball on its own this season. The best overall ERA in baseball in 2018 is 1.68, which also belongs to deGrom.
He also had two hits, bringing his batting average to .167. We believe Jacob now has pitched 6 games this season where he's allowed one or fewer runs without picking up the win, and that's an MLB record. He may win the Cy Young purely out of empathy.
Dog Days Of Summer
This isn't exactly new, but our good friend Smo turned us on to this over the weekend, and we've probably said or written something to insult him in the past (deserved), so we are including this A) to get back on his good side and B) because we love dogs.
You wonder what the director of this video was waving behind the camera to keep the pooch's attention. A slab of maple bacon?
Reserves
Someone get these mother**ck**' Badgers out of that mother**ck**' A-gap….
hey have we already talked about this pic.twitter.com/oDGqT6pnAH

— stefanielaine 🌹 (@stefanielaine) September 3, 2018
Fat, dumb and glittery is no way to go through life, son.
Never sleeping soundly again. pic.twitter.com/NYUxhgu7Ff

— One Foot Down (@OneFootDown) September 4, 2018
Music 101
Halo
Queen Bey turns 37 today, and for us this, from 2009, is her greatest televised moment. Outstanding vocals, outstanding performance, and no gesture nor maneuver, no matter how minute, is accidental. It's all choregraphed, but in a subtle way. Our favorite moment comes at 2:18 when she turns directly to face the camera. Maybe Kanye was right…
Remote Patrol
Game 5: Mercury at Storm
10 p.m. ESPN2
Sue nose hoops. Despite a pulverized proboscis, or in her case a busted beak, Seattle Sue Bird will play in Game 5. So will Diana Taurasi, who is 15-0 all-time in elimination games in the WNBA.