http://mediumhappy.com/?p=7735
by John Walters
Tweet Me Right
This is what elite coaching look's like pic.twitter.com/J9ce0VnaeR

— PFTCommenter (@PFTCommenter) September 5, 2018

Welcome to our "The Amazing Adventures of Kavanaugh and Clay" edition….
Starting Five
Getting The Picture
We don't know why Supreme Court nominee Brett Kavanaugh, right, chose not to shake the hand of Fred Guttenberg, whose daughter was murdered in the Parkland school shooting, when he offered it at yesterday's confirmation hearing. We don't know why Guttenberg was there and more to the point, why he'd want to shake Kavanaugh's hand.
What we do know is that the photo, snapped by the AP's Andrew Harnik, is powerful.
Why?
Look at the photo again. Let's assume that Guttenberg represents one half of America and Kavanaugh the other (I"ll leave what those halves, or haves and have-nots are, up to you). Guttenberg is reaching out to connect. Trying to make a connection. Kavanaugh is staring at him suspiciously: Why should we want to know one another? Be in each other's worlds? He's buttoning his jacket. He appears almost annoyed that Guttenberg would detour him.
This photograph should win every prize. pic.twitter.com/a30q6ChZYD

— Alexander Nazaryan (@alexnazaryan) September 5, 2018

And then he turns his back on Guttenberg. And walks away.
The symbolism is palpable.
2. Bird Of Paradise
Seattle Storm? More like Pacific Sue-nami.
The Storm trailed the Mercury 73-69 midway through the fourth quarter of last night's decisive Game 5. Then Sue Bird, the league's oldest player, buried a three-pointer with 5:48 remaining.
Legends. #WNBAPlayoffs pic.twitter.com/908vWjlIxK

— WNBA (@WNBA) September 5, 2018

Then there was a feisty jump ball involving Sue, a minor fracas, and one of Bird's best buds, Diana Taurasi, lobbying a referee to T up her pal, who was sore about being taking an inadvertent arm to her busted beak.
From there Bird would hit three more threes, plus a long two, to lead the Storm to a 94-84 clinching win. And now it's on to Washington.
13-1

— Seattle Storm (@seattlestorm) September 5, 2018

Taurasi, who had never lost a winner-take-all game in her glorious WNBA career, saw her streak ended.
3. Clay's Fudging The Numbers (Again)
I don't know who took this photo, but it's now my screensaver so thank you!!

On to Ball State!

Go Irish🍀 pic.twitter.com/GLGDJLxiRL

— Mike Elston (@CoachMikeElston) September 3, 2018

We began tracking Clay Travis' college football picks on his site last autumn and we noticed something: his pre-Saturday picks did not seem to be lining up with his post-Saturday won-loss record that he was reporting. But we were somewhat lethargic in tracking this, so we let it go.
This season, though, we've decide to track Clay's picks versus the ex post facto (that's a legal term; did you know that Clay has a law degree?) reportage of the records. And he didn't disappoint. Beforehand he bragged he'd go 14-0 and he actually did quite well: He went 10-4. But afteward he "reported" that he'd gone 10-2. That's an actual .714 win percentage versus what Clay is claiming as a .833 win percentage.
Don't believe me?
Here are Clay's picks:
Central Florida -23.5 vs. Connecticut 
(WIN: UCF won 56-17. He's 1-0)
FAU +21 and the over 72
(LOSS and WIN: OU won 63-14. He is 2-1)
Tennessee +10 vs. West Virginia
(LOSS: Vols got their clocks cleaned, 40-14. He is 2-2)
Auburn -2 and the under, 48.5
(WIN and WIN: Tigers won 21-16. Clay is 4-2)
Ole Miss vs. Texas Tech, the over 68, now 67
(WIN: Ole Miss 47, TT 27; Clay is 5-2)
Notre Dame – 1  and the under 46.5
(WIN and WIN: Irish, 24-17. He's 7-2)
Alabama -24.5 vs. Louisville, and the over 62.5
(WIN and WIN: Tide, 51-14. He's 9-2)
Vandy -3 vs. MTSU
(WIN He's 10-2 as Vandy won, 35-7)
Miami -2.5 vs. LSU, the under 48.5, now Miami -3.5 and 47
(LOSS and LOSS. Tigers won 33-17. He finishes 10-4).
Let's be clear: 10-4 as a gambler is outstanding (Clay reports that last season he won 49% of his games. You've got to win about 53%, roughly, to break even). But if you look here, on Sunday Clay reported that he'd gone 10-2. Not only did he get his record wrong, but also the number of games he picked.
There are really stupid people who believe really stupid things. I have some pity and empathy for them because they are stupid.

Clay Travis is smart but advocates stupid things because he's a grifter with a defective set of ethics. Unlike the stupid, he has no excuse.

— Craig Calcaterra (@craigcalcaterra) September 4, 2018

It's not that I don't like Clay, but I don't like Clay. We'll keep watching this for you as the season progresses.
4. Fear (And Loathing)
The dude who actually met and won the trust of Deep Throat some 45 years ago, Bob Woodward, is back to tackle the Trump presidency. Think about that: in terms of time frame, that's like Frances Ford Coppola coming back to make a film as good as The Godfather this year.
The tome, Fear: Trump In The White House, has everything: Chief of Staff John Kelly once again referring to his boss as "an idiot" and to the West Wing as "Crazytown." Or Trump's former lawyer, John Dowd, advising him, " "Don't testify It's either that or an orange jump suit." Or Trump referring to Attorney General Jeff Sessions as "mentally retarded."
The Woodward book has already been refuted and discredited by General (Secretary of Defense) James Mattis and General (Chief of Staff) John Kelly. Their quotes were made up frauds, a con on the public. Likewise other stories and quotes. Woodward is a Dem operative? Notice timing?

— Donald J. Trump (@realDonaldTrump) September 4, 2018

And much, much more. Of course, Donny has already tweeted his review. Our advice on that tweet, and on the man who wrote this book, is nearly the same: Consider the source(s).
24 years ago, Woodward quoted me in his Clinton book saying all kinds of profane and rude things. Why? Maybe because he's a Republican. Or maybe because:. I. Said. Them.

— Paul Begala (@PaulBegala) September 4, 2018

Of course, Generals Kelly and Mattis, who were probably two of the book's chief sources, have since come out and discredited the book. The theory here, as a smart friend of mine espouses (and supports), is that Kelly and Mattis are sacrificing their reputations for the good of the country, the idea being that someone has to be inside the White House to prevent it from being nothing but looney tunes and thus to prevent World War III.
Dear People Who Are Praising Mattis, Kelly https://t.co/O3y0p1MXPe. for "controlling" the president*: you are supporting a daily coup d'etat. pic.twitter.com/6tPPEFH7Qd

— Charles P. Pierce (@CharlesPPierce) September 5, 2018

I disagree. And so, apparently, does Charlie Pierce. He states the reasoning more succinctly than I, but it's analogous to the poor way in which our government "fixed" the sub-prime mortgage crisis by creating TARP. When an institution (then, America or our government, now, the generals) abandons its ideals in order to fix a problem short-term, much greater long-term problems will be created.
.@neelkashkari: I think the legacy of the financial crisis is the extreme polarization that we are experiencing every day. https://t.co/uVarq5VLro pic.twitter.com/45axUE7Ljq

— Jesse Felder (@jessefelder) September 5, 2018

Take the pain. But don't sacrifice your integrity. Because you never know what the consequences of a once-proud institution (or general) abandoning them will be. In the former case, I'd argue that the consequence was Trump himself.
5. Dearest Mother
If you follow @CaptainAndrewLuck , you appreciate that this is one of the few Twitter accounts that demonstrates that the social media site can be used as a tool for good. Here is the story of how that account came about.
We've met Andrew Luck. He loves to read and he's a student of history. We have to imagine he loves this meme.
Reserves
So MUCH is happening this week that we need to dip into the Reserves. It IS September, after all, the greatest month of the year.
Luke Longball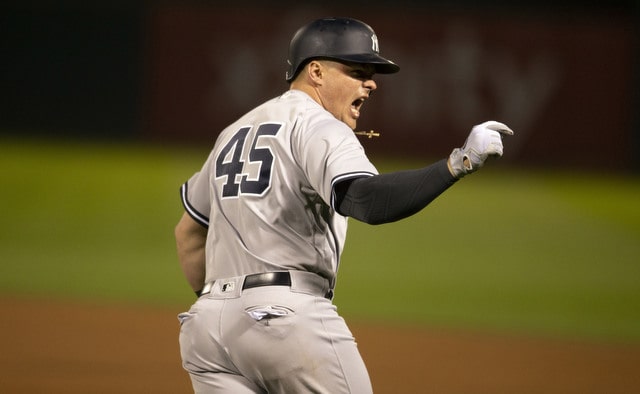 Remember when the Yankees traded Tyler Austin to make room for Greg Bird? Those were innocent days. Bird has struggled since returning from his latest injury in late May (.197 BA) and the Bombers finally inserted mammoth pickup Luke Voit (whom they got in the trade with the Cardinals for J.A. Happy), who physically resembles and is playing like 1998 Shane Spencer.
Last night Voit hit the go-ahead home run in the Yanks' 5-1 comeback win at Oakland, his third home run in three games and his seventh since August 24th, which is less than two weeks ago. "Where would the Yankees be without Luke Voit right now?" asked YES announcer Michael Kay, alluding to the absences of slugger Aaron Judge and shortstop Didi Gregorius, whose silent bats have been mitigated by Voit's power.
Imagine this lineup when healthy: Brett Gardner, Giancarlo Stanton, Aaron Judge, Didi Gregorius, Aaron Hicks, Miguel Andujar, Gleyber Torres, Gary Sanchez and Voit. That puts Neil Walker, arguably the Yankees' most reliable situational hitter, on the bench, as well as Bird and former NL MVP Andrew McCutchen.
Whither Bird? I doubt the Yanks are ready to give up on that sweet swing especially with their right-field porch, but he definitely seems to be battling mental demons. If they do trade him, he'll prosper elsewhere.
U.S. and Thiem
Four hours and 49 minutes. Five sets. Rafael Nadal held off Austrian Dominic Thiem in a fifth-set tiebreaker, but most of the crowd was rooting for the kid. We were all Team Thiem. As John McEnroe said around 2 a.m. when the match ended, "We all love Nadal, but…"
Fifth-Round Pick Makes Seahawks
Strong pic.twitter.com/tafRhIKTpV

— Doug Gottlieb (@GottliebShow) September 5, 2018

If you watched UCF's Shaquem Griffin last year, or knew his story, you knew just how foolish it would be to bet against the linebacker with one hand. Pete Carroll and the Seahawks took him in the fifth round. He made the roster. He may start Sunday. This will become a Disney film.
Weekend In South Bend
Because you asked, Susie B….No, we did not attend College GameDay. I've done that a few times, we were spending the weekend at a Lake Michigan beach house about an hour away, and we're sort of over crowds. We are older men, after all.
I'll dispense with every minute detail, other than to say that I encourage anyone to visit Nore Dame's new hockey rink. It's state-of-the-art. My personal highlight came at a rooftop tailgater at the Jordan Hall of Science. There I was, listening to my friend, Smo, earnestly tell the woman in development for Notre Dame's Science Dept., Alison (it was six of us guys talking to Alison, so just a typical Notre Dame social ratio, 30 years later) that what they really need is "a super-monkey collider, because how else will we be able to determine the effects of what happens when monkeys collide at supersonic speeds." The best part is that he makes this argument passionately and earnestly and that she could not tell if he was kidding. Although the fact that he'd scrawled an "ND" logo onto a small square of white paper an then paper-clipped it to the front of his green shirt as his "Irish Wear Green" fashion statement should have provided a clue.
Also, because of our ages there was some talk about kidney stones (I've been spared). One of our gang had a harrowing story involving a stone "slightly larger than a Tic-Tac" and a string that needed to be pulled out from…
Music 101
My Generation
When you assess this classic manifesto of defiance from The Who (Rolling Stone named it the 11th best song of "all time"), you have to remember that the year was 1965. The Beatles were still cute and Bob Dylan was still pretty much a folkie. Jimi Hendrix hadn't been invented yet, nor had The Doors, and the Rolling Stones themselves were still playing blues covers ("Not Fade Away") or lugubrious elegies ("Heart of Stone"). And here comes this pretty boy snot from London, Roger Daltrey, singing, "Hope I die before I get old."
And when Roger suggests to the older crowd, "Why don't y'all f-f-f-fade away?" we know what he's really saying.
This was, in our minds, the original GOML anthem.
Remote Patrol
Comedians In Cars: Kate McKinnon
Netflix
I've grown a little weary of Jerry Seinfeld's series, and if you watch certain episodes (John Mulaney, Dave Chappelle), it sounds as if he has, too. So it's wonderful to find him pair up with someone who shares his sensibilities, or as he puts it, "Just two silly people with nothing to do but drive around New York City."
Jerry is finally inspired here, going on a riff about broccoli rabe: "I don't know who this Rob guy was who thought he could improve on broccoli and then put his name on it."
I don't know how well Jerry knew Kate before this episode, or if they'd ever met, but you can tell that he is adoring her. And when she grabs his arm as they are walking outside on a sidewalk near the end? It's love at first goof.
Stick around until after the credits when they come to a consensus as to why they hate Los Angeles.