http://mediumhappy.com/?p=7751
By Chris Corbellini
Friday News Dump: NFL Week 2 picks
Last week's record: 2-2.
Total record: 2-2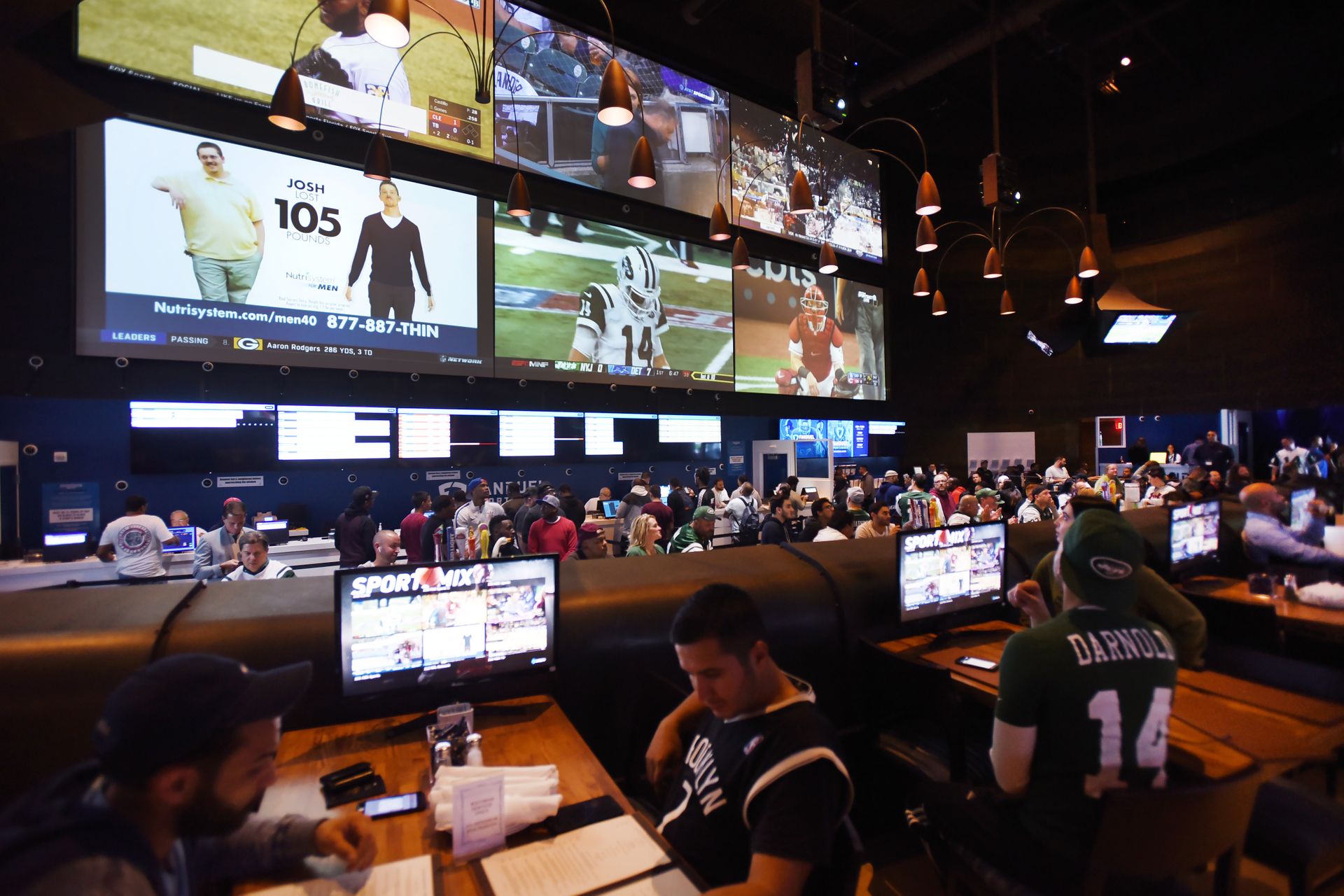 I walked 15 blocks, stepped onto a ferry, took a train and then a shuttle bus to get to a sports book last Sunday. And in doing so I learned an important lesson, allowing me to look deeply into life and all its mysteries … Don't do that ever again. After all the early games were over, and the hard-core gamblers groused about bad luck and warm beer, I knew the future of sports wagering was in mobile. I must give the proper respect to the book employees — especially the teller who had to walk me through my first-ever bet, which I mistakenly tried to pay with a credit card — they were uniformly positive and unflappable and did an amazing job. But if sports gambling really wants to go mainstream, state by state, then the customers have to feel like it's easy, accessible, and it must be said, upscale.
Still, before I take things online for good I will grouse about my own bad beats last week. I'm going to swim in the filth with the rest of the bettors, because I was one of them. For starters, I yelled this out loud, to no one in particular but to everyone in earshot: "What the FUCK, Ben?!"
As in Ben Roethlisberger, who suddenly forgot he's played in rainy, October-like conditions before — he grew up in Ohio, and played his college ball there too. That's 25 years of October rainy football — and coughed up an overtime tie to Cleveland, of all things, people and places. And while we're here, in the bitter barn, I think the Tennessee-Miami game is probably still delayed. The Titans could never get the running game going, probably because they binged on "Stranger Things" while waiting out the lightning in the locker room, and were so distraught by it they thought the Dolphins defense were creatures from The Upside Down.
I did get the Jaguars pick right (those linebackers are fast) over the Giants, and then the Rams woke up, stretched their arms, yawned, and became a playoff team in the second half of their Monday nighter against the Raiders. So, 2-2 on picks on my first try, and a resounding 0-2 against Mother Nature. And here comes Week 2, otherwise known as irresponsible overreaction week. I made three picks this time because I couldn't talk myself into the Browns covering at New Orleans (-9). Home team in caps, with William Hill odds (as of Thursday night).
WASHINGTON (-6) over Indianapolis
So, I re-watched Redskins-Cardinals game film on NFL Game Pass. Some of the things that stood out:
-Can anyone tell me if Game Pass sucks or not? I'm a new subscriber. I see good things and bad.
-On the Redskins' first touchdown, off a second and 10 from the Arizona 13, quarterback Alex Smith, falling backward against a single-man bull rush, hit Chris Thompson on his right shoulder pad as the running back was sprinting right while a defender trailed him. The placement was perfect, and Thompson had the angle to get to the end zone. It was the kind of throw the entire Washington team can and will get behind: The new guy is pretty damn good.
-With 4:12 to go in the second quarter, off a third and goal at Arizona's 1, right guard Brandon Scherff and right tackle Morgan Moses blasted Cardinals defensive linemen left and into the turf, and Adrian Peterson sliced through to make it 14-0. The Xs and Os aside, this was a total "fuck-you-we're-coming-right-at-you" play.
-Earlier in that drive, Smith finally completed a pass to a wide receiver – a 10-yarder to slot man Jamison Crowder off a second and 9. To that point, the offense consisted of Smith dump offs to Thompson and even some scrambling, and I wondered if the Redskins were setting up a deep throw at some point.
-Then in the third quarter, off a third and 9, Smith did go deep to Paul Richardson, and missed by an inch or two. An "almost" to file away. BTW, the Cardinals were then called for defensive holding, which gave the Redskins a first down. I'm sure Arizona's defensive coordinator handled that one coolly and calmly, without any profanity, up in the coaches' booth.
–Redskins center Chase Roullier and Thompson deserved game balls for this one. Roullier had some nasty blocks 5-10 yards downfield in several instances, and Thompson decided he was Earl Campbell for one Sunday. That's a long, bullet-point way of saying I like the Redskins offensive line, Smith's accuracy in a sloppy pocket, and Thompson trying to put Peterson on the bench. It'll be enough against Indy.
DENVER (-6) over Oakland
The Raiders are a hot train wreck without Khalil Mack – the defense is ranked 29th in the NFL in passing situations against running backs, and their starting safeties and a corner were graded harshly by Pro Football Focus last week. I can't predict who of the Broncos rookie running backs will have a bigger day — Royce Freeman, or Phillip Lindsay — but their combined efforts in the flat will give the Denver Thoroughbreds a win by a touchdown at home.
Something to file away, if it becomes a trend: Oakland QB Derek Carr was locking on to one receiver too much, and he released the ball too quickly on some attempts. I know it's a hair-trigger thing, life in the pocket, but it was noticeable in Week 1. Something's up. I'm sure his receivers sense it.
LOS ANGELES RAMS (-13) over Arizona
The line here almost made me bail. I'm a newbie at betting games, and even I winced. That's a lot of points so early in the NFL season, with everybody healthy. And then I looked closer. In the first half of their season opener the Rams looked … spacey. A little off. The receivers didn't get enough separation. Not even Brandin Cooks, LA's sprinter. Not consistently. And they couldn't cover a tight end. Looking at you, #58.
Still, I think of Todd Gurley here against a Cards defense that was pulverized a week before. And watching the game film of the Rams-Raiders game, I was impressed by LA's second-half adjustments, especially on defense. And #58? Cory Littleton? He would pick off Carr in the fourth quarter, staying in his zone on the left side of the field even as a Raiders receiver closest to him broke inside right, and the QB lofted one right into the linebacker's hands.
And those receivers that couldn't break free? On a first and goal, during the final play of the third quarter, Cooper Kupp pulled off a fake chip block before sneaking into an open space for a TD. That's one way to do it. The DB put up his arms in anger – as if to say, how did I just lose?
Finally, in the fourth quarter, cornerback Marcus Peters beat Jared Cook for a Pick 6 that was the cherry on the victory (and a reported $13,000 fine for his Marshawn Lynch crotch grab). An emphatic finish for the Rams, but more importantly, on plays big and small, they are listening to defensive coordinator Wade Phillips and his assistants. It's working.
I see LA calling on Gurley enough to break free for a fattening fantasy football day, and the defense should figure out the Cardinals offensive strategy by the half. That'll be enough for a two-TD victory, and allow the fair-weather Los Angeles fans a chance to jet sometime in the third quarter to grab some In-N-Out Burger.