http://mediumhappy.com/?p=7777
by John Walters
Starting Five
A Star Is Born
Those of us who follow the college football knew about Pat Mahomes II, the son of a Major League Baseball player (and what was his name?). At Texas Tech he was the reason Baker Mayfield had to transfer and only two years ago he threw for an astounding 734 yards against Oklahoma (Mahomes rushed for 85 in that loss, giving him an FBS single-game record 819 yards of total offense).
Last night was Mahomes' national coming-out-party, as he led the Kansas City Chiefs to a victory in Denver on MNF that included a sweet eluding-Von Miller toss using his left hand late in the fourth quarter. Mahomes has guided K.C. to a 4-0 start (only the Rams are also undefeated) and has the league's top QBR rating, having thrown 14 TD passes and not a single pick. No NFL city has better fans than Kansas City. None. This will be fun to watch.
2. Chugging Along*
*The judges will also accept "NL Yeast" and "New Milwaukee"
The Milwaukee Brewers are going to be our feel-good team of October, aren't they? One foresees Marquette alum/scribe supreme Steve Rushin heading out to Milwaukee for an epic profile on Wiscy native Craig Counsell, the team's manager and a good Catholic lad from Notre Dame, and the rest of the gang, from Christian Yelich (the second coming of Ted Williams, right down to his southern California roots) to Lo Cain ("He don't lie, he don't lie, he don't lie") to the octogenarian mascot, Bob Uecker.
The Brew Crew, five games back on September 2, beat the Cubs in Game 163 at Wrigley to win the NL East yesterday, 3-1. Then it was back up I-94, past the Mars Cheese Palace, back home to await a Thursday Game 1 in which they may very well find themselves facing…the Chicago Cubs. That would be epic. Not good for a sportswriter's frequent flyer miles, but epic.
3. Y'all >>>>> Yale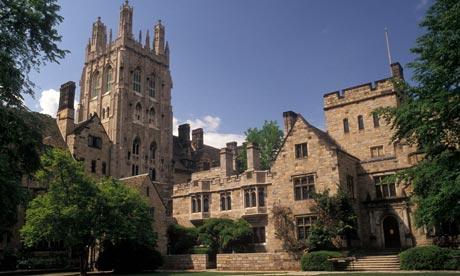 You know, maybe Yale isn't all that prestigious or worthy after all. I mean, double-Yalie Brett Kavanaugh more and more comes off like a tool. Rory Gilmore graduated from there and ten years later she was unemployed and basically homeless. Law school grads Bill and Hillary are unemployed and, according to our current president, she is a loser.
Meanwhile, have you been to New Haven??? It's a city located along the Long Island Sound that didn't have the foresight to build up the area right along the water into an attractive commercial/tourist spot. Instead, it's simply the intersection of interstates 95 and 91. Sure, the pizza's fantastic and Toad's is a good place to see an up-and-coming musical act, but after that? Ew.
As we like to say here at MH, New Haven is No Haven.
Go to a southern state school. Have fun. Eat better food. Cheer for a real football team. Meet people who've heard of Dale Earnhardt, Jr. It's better down south.
4. You Can't Buy Class
Maybe the Seattle Seahawks should just never vist University of Phoenix Stadium or whatever they're calling it (currently State Farm Stadium….can't they just name it Tillman Arena and be done with it?). First it was Darren Bevell's boneheaded call in Super Bowl XLIX. Now another form of bird at a Cardinals game from safety Earl Thomas after he broke his leg in his first game back this season.
None of us know what happened in the locker room or front offices, but this much is known: Thomas, 29, has earned $55 million in his nine NFL seasons, six of which were Pro Bowl campaigns. A few years ago the Seahawks and Thomas agreed to a four-year deal worth $40 million in which more than $25 million was guaranteed. He was reportedly the best-compensated player at his position in the NFL.
Then, in 2016, Thomas broke his leg. In the preseason he was holding out, looking for a contract extension. The Hawks refused to give him one because, let's face it, he's 29 and damaged goods. He was not traded. He held out but each week he did he was forfeiting a $500,000 game check.
We're sure Thomas, a vaunted member of the Legion of Boom, did a ton for the franchise during their Super Bowl era. And we're just as sure that the Seahawks did plenty for him. Thomas should check how many millennials who don't work at nearby Microsoft or Amazon earn what he does. He is a gifted athlete who was paid a sum commensurate with his gifts.
But then when he got hurt he was looking for a way to extend that payday into his mid-thirties. Sorry, not gonna happen. Thomas said, and this is worth repeating, "I'm investing in myself."
And that's fine. But so are the Seahawks. And why would they throw more money at a piece that is past its prime? We get that Thomas is pissed off, but at the end of the day he may as well have been flipping that bird at a mirror, or no one at all.
5. Man Behaving Badly
Here's your president at the White House Rose Garden yesterday. At least he didn't say, "Get back in the kitchen, dearie."
If Cecilia Vega had been on her toes, the appropriate comeback would have been, "Like you with your tweets?"
And here's Trump going after CNN's Kaitlan Collins, who also doesn't know her place…
Trump shouts down @kaitlancollins as she tries to ask him a question about Kavanaugh!!! She asks it anyway. He won't answer. pic.twitter.com/05AIvBa38c

— Aaron Rupar (@atrupar) October 1, 2018

Watch that second clip and take note: Trump demeans, unapologetically, two female reporters within two minutes, but when he coughs he says, "Excuse me." Because that's what needed to be excused.
Oh, and this is as close as Deborah Ramirez was willing to get to Brett Kavanaugh after college…
To be clear: this isn't just proof of perjury.

It's also a conspiracy to cover up a crime.https://t.co/pQcfZCWDsb

— David Atkins #11Justices (@DavidOAtkins) October 1, 2018
Music 101
Shallow
Before the movie (A Star Is Born) blows up, before the song blows up, here it is. True fact: A good friend and former roommate of ours used to teach high school English and direct the school plays here in Gotham City. One year his female lead was a girl from Sacred Heart named Stephanie Germanotta: Lady Ga Ga. We read one critical review of this film where they referred to it as Ga Ga Land. That's good. Wish we'd have thought of it.
If this song doesn't win the Oscar, we'll eat Kanye West's MAGA hat…
Remote Patrol
NL Wildcard Game: Rockies at Cubs
8 p.m. ESPN (AND ESPN2)
For the analytics junkies, ESPN2 will air a "Statcast Edition" which will include a constantly evolving percentage odds of your ever getting la*d if you're the type of person who watches Statcast Editions. Meanwhile, how enjoyable would it be to watch the Cubs lose at home two days in a row to two different teams to be eliminated from the postseason after having a five-game lead on Labor Day weekend? Let's go, Continental Divides!