http://mediumhappy.com/?p=7785
by John Walters
Tweet Me Right
Soggy president takes toilet paper with him: pic.twitter.com/m54VTAgxrE

— Deadspin (@Deadspin) October 5, 2018
Starting Five
Carnage In New York
Twenty people dead. Twenty. From one accident involving two vehicles (really just one was both moving and occupied). What the hell? The accident occurred around 2 p.m. Saturday in upstate New York in the town of Schoharie, at the junction of Routes 30 and 30A. An SUV-style limo carrying 17 passengers was traveling perhaps as fast as 6o mph as it roared down Route 30 toward the intersection with 30 A. The T-crossing is marked only with a Stop sign and the limo driver either failed to heed it or simply was going too fast to stop.
The limo struck an unoccupied Toyota truck and two pedestrians standing outside the Apple Barrel Country Store, killing them, then plowed into an embankment. The passengers, celebrating a 30th birthday and doing a winery tour, were all likely not in seatbelts. It was instant death for all but one person, who later died at the hospital.
It's difficult to fathom, the sudden and massive loss of life from an accident really involving just one car. It's the largest transportation loss of life in the U.S., planes included, since 2009 when 50 people perished in a plane crash in Buffalo, also upstate New York. "That limo was coming down that hill probably over 60 miles per hour," said Jessica Kirby, 36, the manager of the Apple Barrel Country Store. "I don't want to describe the scene. It's not something I want to think about."
Eerily, thirteen years and four days earlier in upstate New York, a tour boat, the Ethan Allen, capsized on Lake George, killing….20.
Most of the victims were around 30 years old and lived in Amsterdam, N.Y. They included two recently married couples and four sisters.
2. Konfirmation Daze
We'll have more to say on this later this week, but for now…
and this from Jimmy Kimmel.
3. A Star Was Born
With all the hype for A Star Is Born this past weekend (we have yet to see it, but Friend of MH Katie McCollow did and she have it three stars and a meh), we felt it our duty to remind you that there were three previous iterations of this film with the identical title: the original in 1937 with Janet Gaynor and Fredric March, the previously acknowledged best with Judy Garland and James Mason in 1954, and the god-awful one with Kris Kristofferson and Barbra Streisand (too old for the role by then) in 1976.
As our sister said of the Lady Ga Ga-Bradley Cooper version, "Get out the Oscar wheelbarrow." But you should know that while the previous three versions earned a collective 17 Oscar nominations, it only won two: Best Original Story in 1937 and Best Original Song ("Evergreen") in 1976.
It's also worth knowing that most Academy Awards nerds consider Judy Garland's snub at the 1955 Oscars for Best Actress as the greatest injustice in the history of the award. Garland lost to Grace Kelly, who played a non-glamorous type-against-type in The Country  Girl (see: Charlize Theron, Monster). It's bizarre: Garland, one of the greatest actresses and film icons ever, never won an Oscar. It is said that this defeat—she had just given birth and was unable to attend the ceremony—sent her into a downward spiral from which she never truly recovered (talk about life imitating art). If you're wondering why people believe so strongly that Garland deserved the Oscar for this performance, watch this clip:
If you're scoring at home, Garland begins her soliloquy at 1:04 and finishes at 3:35. That's 2 1/2 minutes of uninterrupted speaking, emoting, etc., and she's magnificent. Spell-binding. Damn, as soon as Grace Kelly saw this clip she snatched that Oscar, ran off the podium and married herself a damn prince and retired. She knew. Everybody knew. Judy wuz robbed.
We'll see what happens next winter, but our gut tells us this film will have more Oscar success than its predecessors.
4. Khabib Khabobs
We don't know if the mayhem following the UFC match between Conor McGregor and Khabib Nurmagomedov was orchestrated or not. We're not UFC fans, mainly because it looks like human cock-fighting to us. Yes, it takes skilled fighters but where it differs from boxing or or even tae kwan do is that it involves either submission or literally being knocked out. There's something dehumanizing about that; it's not the same as, but it is, to us, not unlike cheering for rape or assault.
That's our opinion. Your mileage may vary. Either way, what happened after the fight doesn't surprise us much considering the types of folks who enjoy this as entertainment. Yes, we are being judgmental. No, that doesn't bother us at all.
5. No Safe Harbor
Tragically, in the Age of Trump, the world is becoming a dangerous place for both women and people who speak or write the truth. And the people who hurt them are more brazen about it. In Bulgaria, television journalist Victoria Marinova was raped and murdered. Marinova's last interview was with two journalists who were looking into corruption in the EU. Coincidence?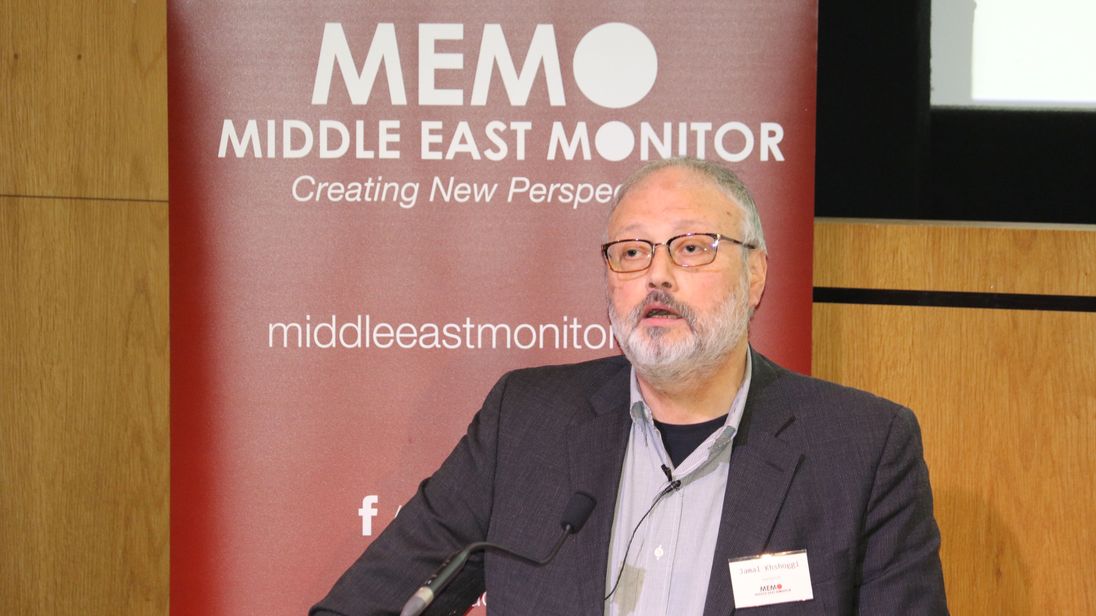 Meanwhile last week in Turkey, Washington Post global opinions columnist Jamal Khashoggi was likely murdered inside the consulate for his own country, Saudi Arabia. Khashoggi, 59 and a Saudi exile living in the U.S., had gone inside to obtain an official document for his wedding, leaving his fiancee outside. Inside the building, it has been reported, were 15 Saudis who had flown in that day expressly to detain him, torture him and murder him. Inside the building.
Khashoggi's corpse was reportedly dismembered and the entire episode was taped.
I think you know how our Dear Leader will react to this event.
Music 101
Fantasy
Do yourself a favor and purchase Earth, Wind & Fire Greatest Hits as soon as you're finished reading this. This song, composed by the band's late co-lead singer, Maurice White, was inspired by his having seen Close Encounters of the Third Kind. Released in 1978, it only peaked at No. 32 on the Billboard chart. There was just a glut of great music then. We were spoiled. I may have made this point before.
Remote Patrol
Better Call Saul
9 p.m. AMC
The Season 4 finale, "Winner," is already here. Werner has gone AWOL, simply to visit his wife in Germany. But Gus ain't having any of that. Jimmy is going to appeal his law license being revoked. Kim is still Team Jimmy.
It's been a disjointed season, a purgatory of sorts for most of our characters, and the main ones' story lines (Jimmy and Mike, namely) have not overlapped or even collided occasionally in intriguing ways. More than anything, it has often felt, to us, as if the writers have painted themselves into a corner and have tried to get themselves out of it within one episode's time by creating a contrived remedy. There have been no "A-Ha!" moments, as in Breaking Bad, no looming crises. Most of all, though, it has felt as if the writers don't have any better clue as to how to advance the story than you or I do. It's still a great show, because the characters are so charming, but this entire season, sans Chuck, has felt as if the show is idling, waiting to find a bewitching way to get us to the final descent of Jimmy to Saul.