http://mediumhappy.com/?p=7792
by John Walters
Tweet Me Right
— Mark Blazick (@MarkBlazick) October 12, 2018
Starting Five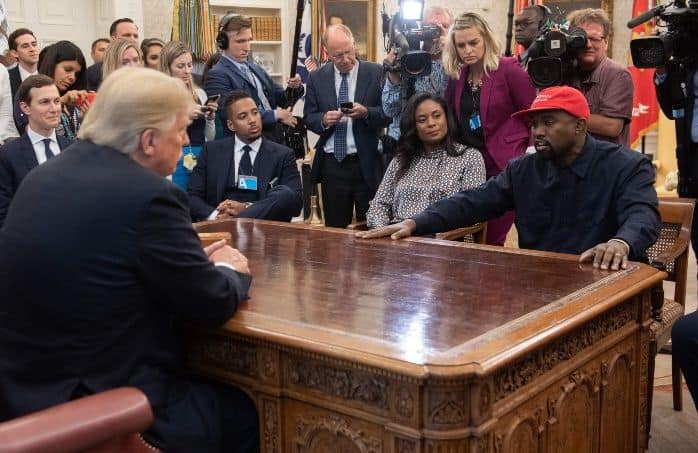 1. The Kanye West Wing

You're telling us that's the same dude who once quipped on national television, "George Bush doesn't care about black people?" Now he's hugging it out in the Oval Office with Donald Trump, dropping mother*cker bombs on camera, and mansplaining why he voted the way he did in 2016?
Quoth Kanye: "I love Hillary. I love everyone, right? But the campaign 'I'm with her' just didn't make me feel, as a guy that didn't get to see my dad all the time, like a guy that could play catch with his son. There was something about putting this hat on that made me feel like Superman."
Narrator: Superman doesn't wear a hat. Also, he's an undocumented immigrant who would never be allowed to play the French Open in that outfit.
Anyway, it was surreal and utterly inappropriate would be funny if not so tragic and as we've been saying since the beginning, Another Day of Trump.
By the way, while this charade was playing out in the Oval Office, the Senate was ramming 15 more male Trump-appointed judges down our throats and the Dems were complicit because in return the GOP said if they did so everyone could return to their districts three weeks early. You get your money for nothing/And your chicks for free...
2. Mousey Tongue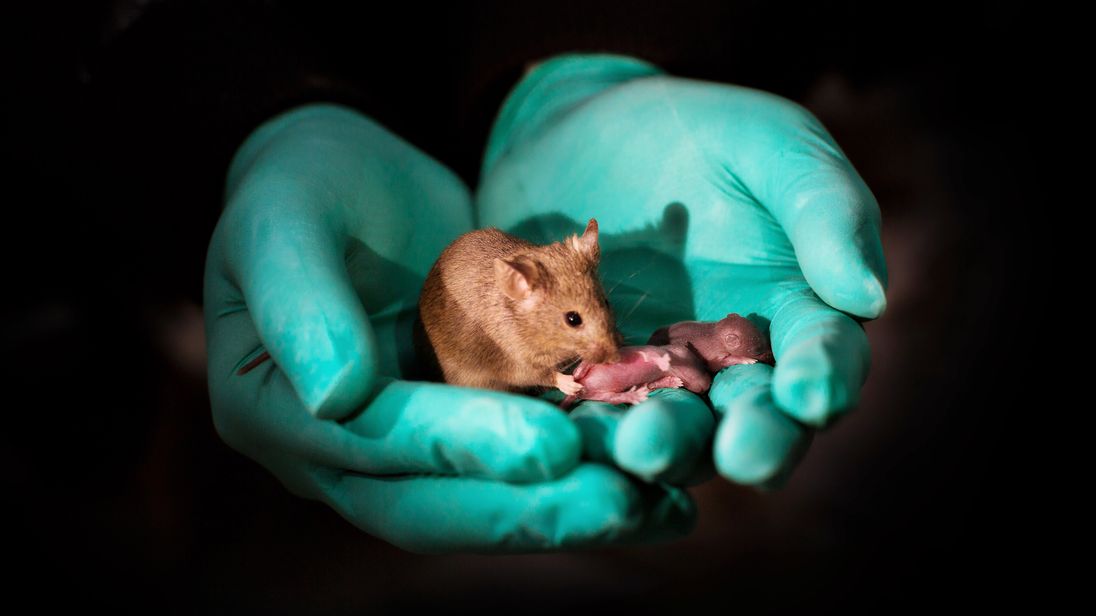 Researchers from the Chinese Academy of Science (we were wait-listed there) recently announced that they were able to use embryonic stem cells and genetic engineering to produce live offspring from two female mice. We have no idea what the second mouse was needed for but it's been 33 years since we studied for our college genetics final exam, so we're a bit rusty on the particulars.
Leave it to the Chinese to be the vanguard of asexual reproduction.
Researchers are now attempting to build the world's smallest operational Subaru for this non-traditional family, who at press time were resting comfortably and watching The Kids Are All Right.
3. From Rage To Riches
From Rags To Bitches
Someone bought the domain name BrettKavanaugh.com and made it a site for survivors of sexual assault. So now when you Google the new Supreme Court justice's name, this will pop up. After we saw this, curiosity took hold of us and we searched to see if the domain ClayTravis.com had yet been claimed by someone. It has not.
4. Then: Nigerian Prince; Now: Tanzanian Billionaire
Things are getting Tanzanier in Africa, where the nation's only billionaire, and the continent's youngest, Mohammed Dewji, was abducted as he was about to enter a gym in Dar Es Salaam for a workout. Dewji, 43, has a reported worth of $1.5 billion and owns Mohammed Enterprises, which is a conglomerate of businesses in a number of sectors.
If you receive an email today from a Tanzanian billionaire asking you to donate to his ransom, it may actually be real.
5. This Justin: Will Oregon Runner Cause Nike's Stock To Tank, Too?
Justin Gallegos, a runner at Oregon with cerebral palsy, thought he was just finishing another cross country race. Little did he know, Nike was waiting at the finish line to offer him a pro contract (via @kabdullah360 / Elevation 0m) pic.twitter.com/FIXFoHQYI3

— Sports Illustrated (@SInow) October 10, 2018

Just one month after making Colin Kaepernick its poster boy, Nike went ahead and surprised Oregon distance runner Justin Gallegos, who suffers from cerebral palsy, with a contract. This,we assume, will render him ineligible?
For the record, Gallegos is part of Oregon's non-varsity running club. Nike signed him to a three-year deal. He recently ran a half-marathon in 2:03, which is damn good. We just watched the video and now this room needs dusting.
Reserves
Turkish officials have audio and video evidence (in short, they've met the Melania Test) of Jamal Khashoggi being tortured and then executed inside the Saudi consulate. Sources said the 15 assassins (talk about, ahem, overkill) also brought a bonesaw with them for purposes of dismemberment, the better to depart with Khashoggi's corpse in an inconspicuous manner.
So we've got a nation that murders a journalist inside its own consulate, was the birthplace of 18 of the 19 9/11 hijackers, is currently using our weaponry to starve out the nation of Yemen, and was also the very first country President Trump visited? Sounds about right, but then $110 billion arm deals are nothing to sneeze at.
*****
We liked this idea from Max Kellerman. The Giants have two sterling position-player talents in Odell Beckham (just re-signed) and Saquon Barkley and a 37 year-old stiff at quarterback in Eli Manning. Colin Kaepernick lives in New York City and is actually not unpopular here. Sign him. Put him in practice sessions. See what he has left in the tank. The local media and fans certainly would not crucify you. What do you have to lose, G-Men?
Music 101 
True Colors
Before she was just another old lady waiting with me on the corner of 79th and Broadway for the light to change, Cyndi Lauper was an '80s pop star with a unique and enchanting voice. Not quite as powerful as Annie Lennox, mind you, but she was quirky and genuine and this was one of her bona fide hits.
Remote Patrol
SUNDAY NIGHT
Sundays With Alec Baldwin
10 p.m. Sunday
I'm trying to picture the pitch meeting.
"So you're just gonna…talk?"
"Yes."
"And no one's going to sing?"
"Or dance."
"And no one's going to hook up or have an immunity challenge?"
"We're just…talking."
SUNDAY
8 p.m.
Chiefs at Patriots
Meet the new boss. Pat Mahomes and the 5-0 Chiefs aren't the first AFC franchise that came after Tom Brady and the Pats' fiefdom, but he's not as young as he used to be and it may finally be time. Or is it?