http://mediumhappy.com/?p=7799
by John Walters
Tweet Me Right
Donald Trump Won't Share Umbrella With Melania, Again: Leaves FLOTUS Standing in Rain As He Talks To TV Camera https://t.co/WzZY0HJmNV

— Trabian V Landing (@kidnamedtray) October 15, 2018

What always fascinates me about GOP leaders is how they get all the little things wrong. It's how you treat people in the trivial, every day moments that provides the window to your political soul, or lack thereof.
Starting Five
Feat of Clay's Son
We're old enough to remember Clay Bellinger (as is FS1's Tom Verducci, who covered him on those Yankee teams), the backup Yankee shortstop who in four Major League seasons won two World Series rings (and nearly a third in 2001). Last night in extra innings his son Cody—a proud alum of Chandler (Ariz.) Hamilton High, as is Ryan Fitzpatrick, as are a number of other solid jocks—, the reigning NL Rookie of the Year, made a tremendous catch in right field and later knocked in the game-winning run in the bottom of the 13th inning at Dodger Stadium.
We stayed up for the entire extra innings, which went past 2 a.m. here, which is why there may be more than the usual number of typos here today.
2. Spoiler Alert
In his just-published tome, Brief Answers To the Big Questions, the late internationally acclaimed physicist Stephen Hawking writes, "There is no God. No one directs the universe (Didn't Don Draper say pretty much the exact same thing  in Season 1 of Mad Men?)."
The MH staff has not seen a copy of Hawking's book yet, but we imagine other sentences in the tome read, "Of course O.J. did it. Duh!" and "The Sopranos went home and ate f*cking ziti because it was taking too long for their meals to arrive."
Hawking died last March and is either feeling pretty sheepish about what he wrote or is not feeling a thing because he no longer exists in any form.
3. Pompeo and Circumstances
So the White House dispatches Secretary of State Mike Pompeo to Saudi Arabia post haste for this photo op with Prince Mohammed bin Salman. Behind the scenes, I imagine Pompeo giving MBS the business: "Dude, why did you have to be so sloppy? We have people who do this sort of thing all the time (in fact, some of them are in Yemen right now) and make it look like an accident.
"Now CNN and MSNBC are going to spend the next three weeks on this and we only just wrapped our latest 'Implausible Deniability' Tour two weeks ago with Brett Kavanaugh. How often do you think we can play the same tunes before the audience becomes restless?"
Meanwhile, MBS is going to designate a 'rogue general' as its scapegoat, and you know what happens to goats in that part of the world? It's the small-letters "goat" not the Michael Jordan "GOAT" of the USA.
Just wondering: When the entire world is aware  that you are formulating your alibi in real time and just waiting for you to release it as you go over and over again whether or not it will pass the bullsh*t test (it won't), isn't that alibi compromised from the git go?
And yes, it's more than a little ridiculous that the murder of one Washington Post journalist is receiving this much attention when the Saudis have been responsible for at least 50,000 deaths in Yemen this year (maybe that's why MBS thought he could do this with impunity), but that's just the way the world works. You put a face on something (hello, Cecil the Lion) and suddenly it's a lot easier for the masses to care.
4. Jackpot-o-Lantern
Yes, we succumbed and purchased $10 worth of Mega Millions tickets last night, to no avail. The good news is that nobody won, which means that by Friday night's drawing the amount will certainly have set a new record. Estimates have it at $868 million, or a cash lump sum of nearly $500 million (if we win, we're investing it all in cannabis companies).
There's also a Powerball drawing tonight, which is up to $345 million.
We read one good analogy that will help you get your head around how slim your chances are of winning: Try to pick a single second in the span of 10 years. Correctly picking that one second is like holding the winning ticket.
So you're saying there's a chance?
Message to our employer: If we win either drawing, we'll still write The Bubble Screen this weekend. Promise.
5. Hold Your Fire*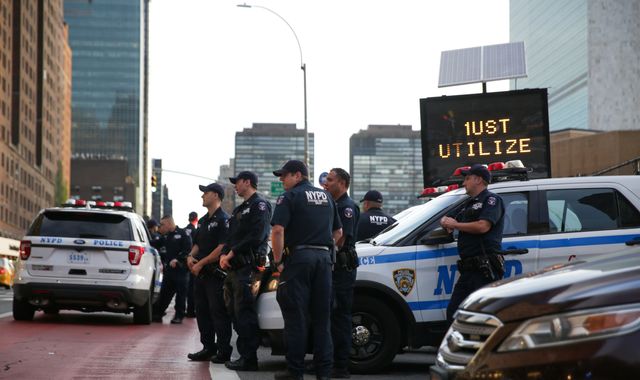 *The judges are still mulling "Mass of Weapons Destruction"
While the misadventures of the Proud Boys may have cast New York City in an unfavorable light last weekend, it was also a weekend without a single recorded shooting. Not one. Not bad for a metropolitan area of 8.6 million people. That's the first time in at least 25 years Gotham has gone an entire weekend without a single shooting.*
As we told our parents for decades, we feel far safer in New York City than we do back home in Arizona. One reason: young people here do not drive.
*NYC's data base for shootings only dates back to 1993, so the streak may extend longer back than that. As you may know, the city was a far more dangerous place before 1993 than it's been since. We like to think our soothing presence has mollified the Apple's more hostile elements.
Music 101
All Mixed Up
Do the fans at this 1978 show by The Cars have any idea how lucky they are? (No, how could they?). Is the late Benjamin Orr the most under-appreciated lead vocalist of the rock era? (Yes) How talented is Greg Hawkes, playing not just the sax and organ on the same song, but at a few junctures (4:00 mark) at the same time? (Very)
Remote Patrol
The Walking Dead
8:30 p.m. TCM
The description of this 1936 film rom the listing: A wrongfully executed ex-con comes back to life as a white-haired, monster-faced zombie who haunts graveyards while seeking revenge on the conspirators who framed him.
Mavericks at Suns
10:30 p.m. ESPN
Luka Doncic and DeAndre Ayton make their NBA debuts. Kind of excited for both.