http://mediumhappy.com/?p=7815
by John Walters
MH staffer Chris Corbellini almost won $1 million (pinky finger to side of mouth) last January. To learn how close he came, and why he didn't, please read his column that directly precedes this. Related: I once nearly interviewed Elle MacPherson at a posh Madison Avenue townhouse in the early '90s, but then she had to cancel at the last minute. 
Tweet Me Right
Omg Ruth Vader Ginsberg pic.twitter.com/TdJjVcUz41

— Leify (@LeifTheTank) October 27, 2018
Starting Five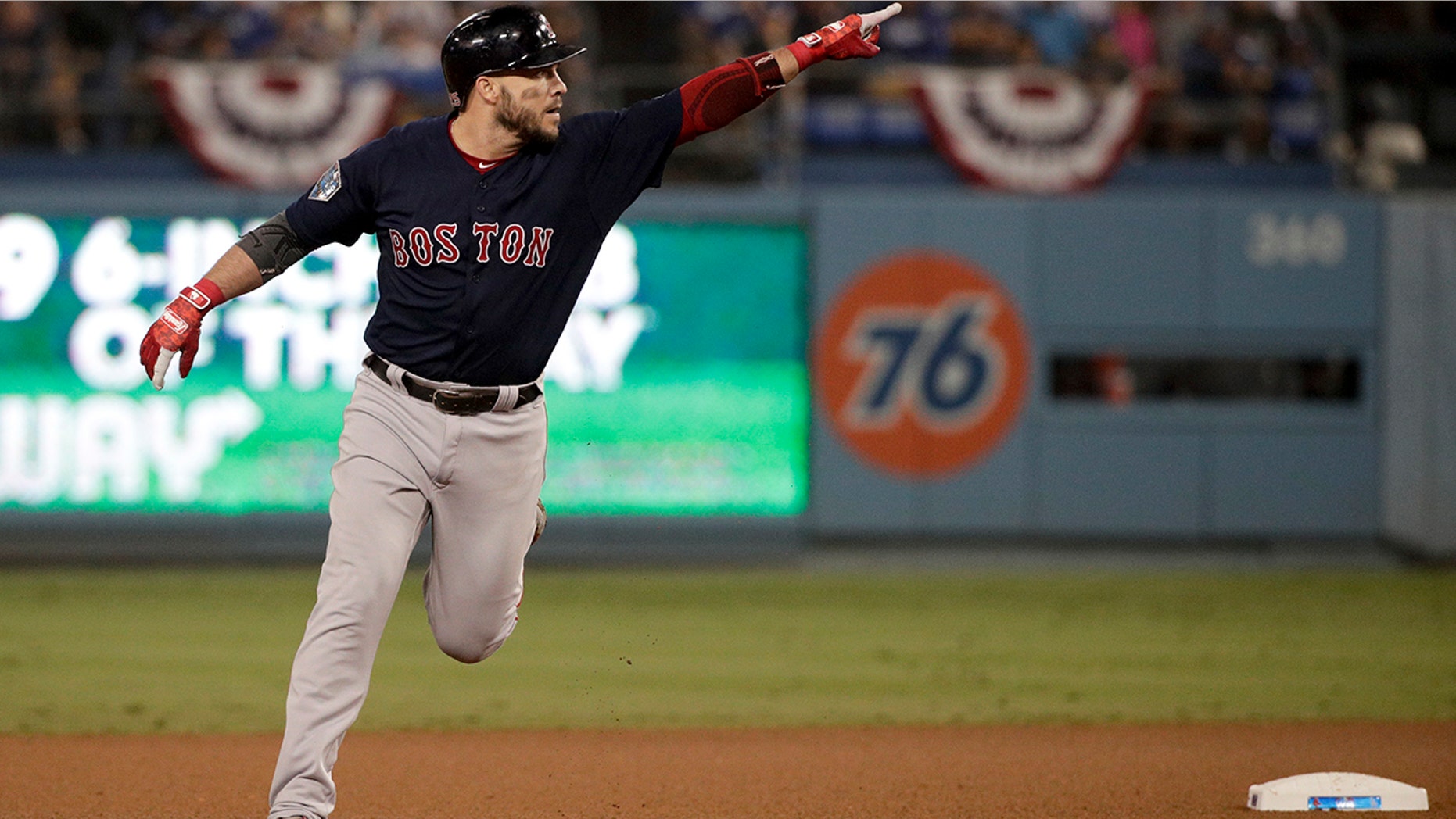 Darn Sox
In every year that has ever ended in '18 and had a World Series, the Boston Red Sox have won that World Series. Also, as one tweep noted, of Boston's nine Fall Classic championships, all have taken place between the years '03 and '18. So as a Yankee fan let's hope we're off the hook for another 85 years or so.
Listen, the Sox were the best team by far all season and all playoffs long. In last night's clinching Game 5, Rent-a-World Series-MVP David Freese of the Dodgers hit David Price's very first offering for a home run and Los Angeles never had a legitimate hit after that (Freese's triple was more the result of a designated hitter playing right field and losing a playable fly ball in the lights).
— Tyler (@tworzel) October 29, 2018

(We hated everything about Manny Machado's approach to hitting and base-running this October, which is why we're terrified the Yankees will sign and overpay him. Above, the final pitch of the World Series.)
Before Game 5, after the wild 18-inning classic (we stayed up for all of it) and Saturday's Sox comeback win, we had an inkling that this series would end up a little like 1975. In that series, the Red Sox lost to the Reds but all anyone seems to remember about it is Carlton Fisk's Game 6 home run (that's on you, Will Hunting). We thought that all anyone might remember of 2018 going forward was the Game 3 classic, the longest game in World Series history both by innings and time (Nathan Eovaldi's 98-pitch extra innings defeat is a metaphor for every "nice try"), and also the Yasiel Puig GIF/three-run homer from Game 4
This might be nominated for sports gif of the year pic.twitter.com/yhwfOBBILV

— Andrew Hammond (@ahammsportsgeek) October 28, 2018

Was it a memorable series (besides for Red Sox fans)? Yes. It had two memorable games, 3 and 4, some outstanding performances by two guys who look as if they play beer-league softball on the weekends (MVP Steve Pearce and near-MVP Brock Holt), some memorable plays (Clay Bellinger's 8-2 double-play put out). The 1986 World Series? Everyone only remembers one game from that, after all, but we still talk about it. Game 3 and, to a lesser extent, Game 4, will long be remembered. Steve Pearce's animal takeover of the Series–home run, bases-clearing double, home run and home run over 4 at-bats through Games 3 and 4—were legendary. And he's 35.
As I asked after his second home run last night, "Where has he been all his career?" And as my friend Jim, a diehard Sawx fan who can read the back of a baseball card replied, "Everywhere."
2. Tragedy In Pittsburgh
Eleven dead, including a 97 year-old Holocaust survivor. You know the story.
How did the president react? First, he discarded an umbrella at the top of the steps of Air Force One, providing the perfect metaphor for every human being or institution with which he has ever come in contact.
— Jon Wurster (@jonwurster) October 27, 2018
 Then Trump suggested that the synagogue should have had armed guards (never mind that four police officers were shot confronting the suspect, who had an AR-15). Then he attended a rally and joked that he'd considered canceling because he was having a bad hair day. Then on Monday morning his blonde Eva Braun, Kellyanne Conway, suggested not that the murders were anti-Semitic but rather "anti-religiosity" (the Evangelicals even want pity after a slaughter of Jews)…
Conway tries to frame Pittsburgh shooting as really being about "anti-religiosity" writ large.

"The anti-religiosity in this country that is somehow in vogue… making fun of people who express religion, the late night comedians,.. It's always anti-religious." pic.twitter.com/yw6ZvY1CIQ

— Aaron Rupar (@atrupar) October 29, 2018

while Trump once again attacked the media, which is like quintupling down on his gas lighting. It's all very, very obscene.
There is great anger in our Country caused in part by inaccurate, and even fraudulent, reporting of the news. The Fake News Media, the true Enemy of the People, must stop the open & obvious hostility & report the news accurately & fairly. That will do much to put out the flame…

— Donald J. Trump (@realDonaldTrump) October 29, 2018
….of Anger and Outrage and we will then be able to bring all sides together in Peace and Harmony. Fake News Must End!

— Donald J. Trump (@realDonaldTrump) October 29, 2018

Wow. That almost, ALMOST, sounds like a call to arms for more alt-right whack jobs to attack the press. I wonder which cable news TV host will be assassinated first. It's coming. And when it happens, trust me, Donald Trump will not hold himself accountable. Behind closed doors, he'll smile.
3. Van-Demoninum
The Friday arrest was a reminder to us all that all vans house creepy characters (even Van Jones, what with that interview of Jared Kushner last week). A brief rundown of van enthusiasts will only prove that (thanks to all who contributed):
Jack Black, Mr. Schneebly in School Of Rock…
Mr. Schneebly in School of Rock pic.twitter.com/s2ssoidrGn

— TJ (@tjnd88) October 26, 2018

Uncle Rico, Napoleon Dynamite….
Uncle Rico pic.twitter.com/ZBMQmbeCcv

— Cecil Hurt (@CecilHurt) October 26, 2018

Buffalo Bill, Silence Of The Lambs 
Fred, Daphne, Thelma, Shaggy and Scoob (and how did they get the money to finance their never-ending road trip? Selling drugs, probably)
Dude, how could you leave this crew off the list: pic.twitter.com/GpPeE0ybDY

— KyDerbyJay (@KyDerbyJay) October 26, 2018

Kelly Leak, The Bad News Bears…
— Tim Ring (@timringTV) October 26, 2018

Matt Foley, who lived in a van down by the river…
So basically the feds arrested Matt Foley….https://t.co/K141Sj0XJD

— Medium Happy (@jdubs88) October 26, 2018

Also: Jeff Spiccoli (though he's not actually creepy, just stoned), Cheech & Chong (ibid) and Harry and Lloyd (might as well be stoned).
4. Indonesia Air Tragedy
A Lion Air Flight with 189 aboard crashed into the sea not long after taking off from Jakarta, Indonesia. The pilot had requested to be able to return just 13 minutes after takeoff and then there was radio silence.
5. Mike Gundy's Second-Best Press Conference Moment
I never thought Mike Gundy would be able to top his "I'm a man I'm 40" press conference but this one comes pretty close pic.twitter.com/QSUoD5QrlQ

— OMRebelNation (@OMRebelNation) October 28, 2018

We gotta admit, the Oklahoma State coach is right on (though we don't collect unemployment checks here at MH).
Reserves
Finally, FINALLY, someone made the smart play that the Twitterverse always clamors for. I don't know if this wrecked your wager or your fantasy points and I don't care. This is legen…wait for it….dary.
Music 101
Do You Love Me
It's not every week that we feature a genuine classic here, but this 1962 gem by The Contours is certainly that. Backstory: THE Berry Gordy, Jr., wrote this song and intended to have The Temptations record it. But he literally could not locate them and was so impatient to release it, knowing it was a sure-fire hit, that he gave it to The Contours, whose first two singles had tanked. It was the right move for everyone involved, as lead singer Billy Gordon's raspy vocals make it inimitable. The tune had two top-five runs, in 1962 and, thanks to its appearance in Dirty Dancing, in 1988.
Remote Patrol
Patriots at Bills
8 p.m. ESPN
First, even we're a little intrigued by a prime time game at Rich Stadium we mean Ralph Wilson Stadium, er New Era Field. Second, consider this a six-day advance warning that the Packers and Aaron Rodgers are playing Tom Brady and the Pats in New England next Sunday night and that contest will blow past any NFL or World Series ratings to date the past two months. Gonna be YUUUUUUUUGE. And we'd love to go if you have a spare ticket or two lying around.
Tonight, though, it's just gonna be odd to see the Bills playing in prime time. If you go, bring a book. When New England is up by 50 in the second half, walk to the top row of the stadium, take off your coat/sweater/shirt and neoprene undergarment, and start reading your book. You'll instantly become a meme.