http://mediumhappy.com/?p=7822
by John Walters
The staff has exceeded the recommended daily allowance of being whelmed at the moment. We will try to post later. As always, we appreciate both your patronage and patronizing comments.
Starting Five

Petty Hate Machine
At his latest ego-shot stop, in Missouri, President Trump took his total lie tally as president up to 6,240, according to folks at The Washington Post who actually investigate such matters.
Meanwhile, Fox & Friends' Ainsley Earhardt provided the perfect quote for these Orwellian with-a-splash-of-Catch-22-thrown-in-for-good-measure times:
This is @ainsleyearhardt defending Trump this morning after he renewed his "enemy of the people" attacks on the press. All Trump's saying is: "be accurate and report the story the way I want it reported," Earhardt says.https://t.co/PWsNJrelX4 pic.twitter.com/sxzxZKZVLw

— Eliza Relman (@eliza_relman) November 1, 2018

"He's saying if you don't want to be called the enemy, then get the story right, be accurate and report the story the way I want it reported."
She probably does not even understand the irony of this quote.
Here's a column from Paul Krugman in today's New York Times. You may disagree with what he's saying because you do not like hearing it, but is there anything factually askew?
2. From A War With Iraq To A War With A Rock
We need to shoot people who throw rocks because of the biblical David and Goliath?

Wait, what?!

Watch how @ChrisCuomo deals with this: pic.twitter.com/BdP9trod2T

— Cuomo Prime Time (@CuomoPrimeTime) November 2, 2018

If the commander-in-chief of the United States armed forces orders his soldiers to fire on mineral-toting refugees, are they obligated to follow that order? How does the chain of command work here? How large must the rocks be? Can we get a ruling on dirt clods? Rolled-up tortillas?
The above video may mark the first time you ever see a guest appear on a cable news program and declare, "I'm a former flight attendant!" as a means of providing credentials.
3. A Big Schtick
You either groan at this type of humor from Seth Meyers or, like us, you absolutely bathe in it. Keen-eyed observers will note that Seth and his writers are borrowing from vintage Letterman bits (performed in the very same studio where Seth now does his Late Night show), Monty Python's Flying Circus and even Batman (the original movie from the 1960s, which featured a plethora of slapstick, including a "Batmobile Parachute Pickup Service").
Inspired stuff, all the way through, and take note how Meyers continually sounds both contrite and dismayed at how unworthy the segment is. That's hair-shirting right out of the Letterman closet.
4. Colleen Kaepernick?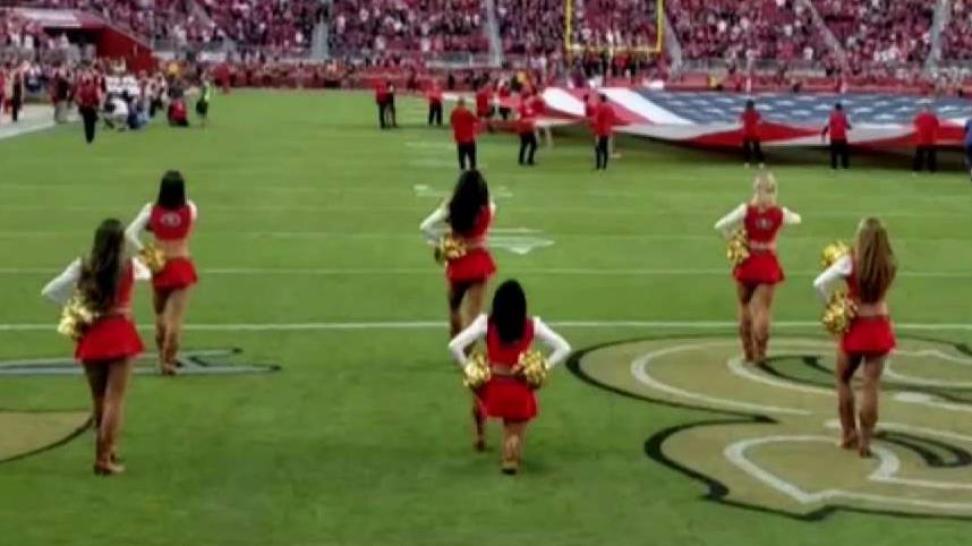 Before last night's much-heralded NFL debut of Nick Mullens, an unidentified member of the San Franciso 49er cheerleader squad, the Gold Rush, took a knee during the national anthem. Same stadium, same team. What will happen next?
Here's the lineup if you want to take an uneducated guess as to who was the kneeler. One thing you'll learn by perusing: there's a Gold Rush member named Montana.
5. Farewell, Dr. Z
Legendary SI scribe Paul Zimmerman, conneisseur of the gridiron, wines and the fabulous redhead, passed away yesterday at the age of 86. No one at SI was more knowledgeable about the sport, no writer over the age of 45 took to the transition to the web more seamlessly (it was the source of a second, perhaps even more celebrated career there), and no writer was, to be honest, more of a bully to fact-checkers. Remember the deposition scene in The Social Network? Pretty much that every Monday.
This regular feature was both alluring and creepy, not unlike the annual swimsuit issue.
Remote Patrol
SUNDAY
Packers at Patriots 
8 p.m. NBC
Even the MH staff, which ordinarily does not begin watching NFL games until January, is eager for this one: the two greatest quarterbacks of this century meeting up in Foxboro for only the second time in their careers: 33 combined seasons, five NFL MVP awards, five Super Bowl rings, 83o touchdown passes, more than 129,000 yards passing. Statistically, you may want to elevate Brees or Manning or even Favre over Rodgers, but we'll go with this pair because, on top of all the statistical superlatives, they know how to win games late better than anyone of their generation.