http://mediumhappy.com/?p=7833
by John Walters
Tweet Me Right
TWITTER please find this girl I have to know what that guy said to her pic.twitter.com/CopENdncqx

— Gina (@gina_lolz) November 7, 2018

Send in your suggested quote. Here's ours: "I too have a blind eye I'd like you to see…"
Starting Five
Out Of Sessions
You have two choices once you accept Donald Trump as your lord and savior: You either do everything he wants you to do, i.e. express complete fealty, or you eventually end up in the gutter. Beside your career.
Former Trump sycophant and U.S. Senator from the great state of Alabama discovered that the hard way when, as newly installed Attorney General, he recused himself from the Mueller investigation. For 20 odd months since, the guillotine has been hovering over the back of Sessions' neck.
jeff sessions is the only confederate monument trump was willing to take down

— Clint Smith (@ClintSmithIII) November 7, 2018

Today it came down faster than you can say, "You're a rude and terrible person." Trump will install Matt Whitaker, a former tight end on the Iowa Hawkeyes who the president hopes will serve as a lead blocker agains Robert Mueller.
Kind of funny how less than 24 hours after the Democrats take over the House of Representatives, Trump fires the dude who was the firewall against Trump firing Mueller. In the immortal words of George Costanza, "WE'RE TAKING IT UP A NOTCH!"
2. Acosta Accosted
Here's CNN's Jim Acosta versus President Donald Trump, the high—or low- —light of yesterday's 86-minute White House press briefing. In our opinion, there are no winners here.
Trump is being Trump, of course ("Oh, here we go…") but Acosta isn't exactly being respectful when he lectures the president on the difference between an "invasion" and "immigrants." No one likes a pedant (trust us, we're as pedantic as anyone we know).
We don't agree with the the fear-mongering the White House is engaged in (and you'd be wise to note that yesterday, for the first time in more than a week, Fox News had no footage of the caravan; hmm, wonder why not?), but we think Acosta had more than enough Q&A time by the time the president cut him off. There were dozens of other reports in the room who likely wanted to ask a question, too. It's one thing to request a follow-up, it's another to clutch the mic so long that the home viewer wonders if you're about to announce that "Now we'd like to do a deep track from our first album."
Here is a video of the interaction for the world to see: pic.twitter.com/us8u5TWzDz

— CNN Communications (@CNNPR) November 8, 2018

(The Magic Loogie video: Back and to the left. Back and to the left. Baaaaaaaack and to the left.)
Acosta simply refused to surrender the microphone. He'd already asked a question or three and maybe if he wasn't satisfied with the answers, that's too bad. I'm not in the habit of defending Donald Trump, as you know, but what was the president supposed to do? If Trump had simply refused to answer any question by Acosta, I'd take his side. But Acosta actually got the president to react to three different questions, or at least questions interrupted. This wasn't a one-on-one.
We stand by our decision to revoke this individual's hard pass. We will not tolerate the inappropriate behavior clearly documented in this video. pic.twitter.com/T8X1Ng912y

— Sarah Sanders (@PressSec) November 8, 2018
At a certain point the president is allowed to move on. And it is the president, not Jim Acosta, who sets those parameters. By refusing to relinquish the mic, Acosta was hijacking the presser. And from what I've seen, he's not about to apologize for that. That's why CNN loves him. He's a bulldog, albeit a polite and respectful bulldog.
But he often treats pressers as an extended debate between himself and Trump (or Sarah Sanders). From our vantage point, there's a wide spectrum between being the president's lap dog and refusing to play by the rules, as he was.
Acosta left the president little choice but to step away from his own mic, as that poor White House intern tried to intervene. And my Twitter timeline, which is full of journalists, are all taking Acosta's side. But I'm not. He asked his questions, and Trump rudely and condescendingly, as is his nature, gave his answers. At some point Trump gets to move on. And Acosta doesn't get to say when.
1) Took @PressSec Sarah Sanders' video of briefing
2) Tinted red and made transparent over CSPAN video
3) Red motion is when they doctored video speed
4) Sped up to make Jim Acosta's motion look like a chop
5) I've edited video for 15+ years
6) The White House doctored it pic.twitter.com/q6arkYSx0V

— Rafael Shimunov 🔥 (@rafaelshimunov) November 8, 2018

As for Sarah Sanders later justifying the revocation of Acosta's pass because he put his hands on the female staffer (and Corey Lewandowski, of all people, tweeting out his support of this censure) we'll roll the tape and send it over to Dean Blandino in the replay booth. Still, if you peruse both videos, you'll notice the White House version is chop-shopped. Wonder why…
Plenty to criticize Acosta about, but he did not "place his hands" on the intern. It's ridiculous for anyone to suggest he did. And after Trump joked about Gianforte bodyslamming Ben Jacobs the White House can't bust out the fainting couch now. https://t.co/1rFOw9CCiz

— Chuck Ross (@ChuckRossDC) November 8, 2018

Let's be clear, because I can already see the sparks shooting up from Susie B.'s keyboard. I don't think the White House has any justification to suspend Acosta's hard pass (but then I don't think they have any justification to fire Sessions, or to do most of the things they do every day), but I don't think Acosta adhered to decorum, either. He was going to continue asking questions until someone forced him to stop. He, too, was out of control.
3. Borderline Insanity
Here's the drill that we've all become accustomed to…
Where? Thousand Oaks, Calif., a nightclub called Borderline.
How Many?  12 dead
Who? Not Honduran immigrants, so that's a relief.
What Next? Thoughts and Prayers; President Trump praises law enforcement in a tweet and since the gunman was Caucasian, makes no mention of him; "It's Too Soon To Talk About Guns" timer is automatically reset.
4. Overdue Book
Saturday night's sub-freezing Florida State-Notre Dame data point just got a little more interesting. Fighting Irish quarterback Ian Book, the nation's completion percentage leader at 74.5%, will apparently miss the data point with, as Al Michaels would put it, "a rib."
This is the hit Ian Book took in the first quarter at Northwestern. Played through it, but appears the impact to the ribs/back lingered beyond last Saturday night. pic.twitter.com/sLpy2omLmw

— Pete Sampson (@PeteSampson_) November 8, 2018

How seriously injured is Book? Will he also miss the Syracuse data point, or is the coaching staff holding him out of FSU (a very winnable game) so that he'll be ready for Syracuse, a more daunting foe, at Yankee Stadium on November 17? And will it be all Brandon Wimbush come Saturday, or will Brian Kelly sprinkle in a little of freshman Phil Jurkovec?
Stay tuned.
5. Two Generations Of Dickersons
You never hear them mention it on CBS This Morning, but host John Dickerson is the scion of a White House reporter (Hooray, Nepotism! Part 674) who had plenty of experience covering a president who would ultimately resign due to a scandal. Dickerson, who formerly hosted Face The Nation on CBS on Sunday mornings, is the son of Nancy Dickerson, a pioneer among women in on-air political coverage.
Nancy Dickerson, who died in 1997 at the age of 70, is truly worthy of one of those slow-paced, historical CBS Sunday Morning profiles. A school teacher in Milwaukee, Nancy Hanschmann set off on her own to Washington, D.C.. with the dream of becoming a broadcaster. A single lady, she landed an associate producer's gig at…Face The Nation.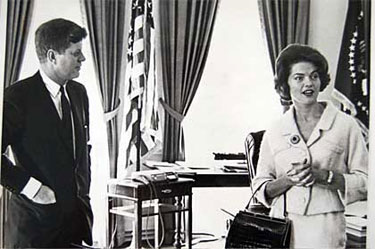 In 1960 she became CBS' first female correspondent (she covered Kennedy's corpse being returned to Andrews Air Force base) and then from 1963-1970 worked for NBC. In 1962 she married a wealthy industrialist, C. Wyatt Dickerson, and they had two sons. They lived on a 46-acre estate in McLean, Va., called Merry wood, that overlooked the Potomac.
Dickerson then went on to work for PBS and produce independent pieces. She is buried in Arlington National Cemetery. We can understand why her son doesn't want to bring up his mom's name too much, but she is sort of a legend in the biz, particularly when it comes to women who cover the White House.
Music 101
Waiting
Sometimes it's best to cleanse your musical palate with a simple garage rock classic. Here's Green Day with a simple four-chord ditty (A, D, B minor, E, repeat) from the year 2000.
Remote Patrol
Bucks at Warriors
10:30 p.m. TNT
Okay, even I'm interested in this one. Giannis and Dante take on the Splash Brothers. A moment of silence, please, for Milwaukee beat writers who have to type Antetokounmpo and DiVincenzo in all their gamers. These two squads are a combined 18-3 and the Bucks are the most exciting new super team in the league (I'm far more intrigued by them than the LeLakers).