http://mediumhappy.com/?p=7908
by John Walters
Tweet Me Right
"I promised I'd save you a chair. We did." – @notthefakeSVP pic.twitter.com/DinJe5lkCm

— SportsCenter (@SportsCenter) January 2, 2019

Love the SVP.
Starting Five
Levi's ("Haw, Haw") Genie
The college football national championship game between Alabama and Clemson will be played at Levi's Stadium next Monday night and here are a few of the reasons the stands may be nearly as empty as they were for this 49ers game:
–The game is being played on a Monday night, a school night, in January. The weather forecast is low 50s and rain.
–These two schools have met in two of the past three national championship games and in all three of the past three postseasons. The novelty has worn off.
–Santa Clara is roughly 2,400 miles from either Clemson or Tuscaloosa. The flights from Atlanta are not cheap (cheapest we found were $845 round-trip) and when you arrive you find yourself at one of the two highest per-capita-income areas of the U.S. There are no deals.
–Spiritually, the Silicon Valley is about as far away from "S-E-C!" as it gets. Stanford can't even fill up its stadium when it's good.
–One final item: in the few games I've been to recently, I don't see much of an advantage in "being there" as opposed to watching at home. At home I've got the fridge, I've got the easy-access lavatory, I've got a more comfortable seat, I've got the wi-fi, I've got (on Saturdays) a second game I can watch. At the game everything costs more, there are countless hassles (no TSA bag check between my bedroom and den), and half the time your eyes are diverted away to watching what's on the Jumbotron, anyway. Why go? FOMO? Maybe it's my age, but I'm so over that.
Bottom line: Much like subscribers once became more valuable to the magazines than what their subscriptions would be, in-game audiences are more valuable to ESPN than the money they'd spend on the game. This is a TV show, make no mistake. And it's not as good of a TV show if played in a vacuum. It'll be interesting to find what seat-fillers ESPN is able to procure, although we suggest the WWL either stage a coding conference or a ComicCon event pre-game. I don't think Imagine Dragons is gonna split the difference.
2. The Ceiling Fallacy
More college football? Sure, why not? Let's discuss what we here at MH refer to as The Ceiling Fallacy, regarding the gripes by Georgia and Ohio State fans during Saturday's blowout by Clemson of Notre Dame. To wit, there was some whining or at least politicking by Georgia fans, a few players, Tony Barnhart (self-proclaimed "Mr. CFB") and Matt Hayes of The Sporting News that Georgia deserved to be there.
Here's how we see it: On their best days, probably, the Bulldogs and Buckeyes have a higher ceiling than Notre Dame did this season. Probably, at their best, they are the better teams. But college football, and real life, is not about assessing you on your Ceiling. It's about CONSISTENCY.
The legendary college gridiron philosopher Woody Allen is reputed to have once said, "Eighty percent of success is showing up." He's right, you know. And that means it's more about what you're able to accomplish on your lowest day, not your highest day. Notre Dame had 12 games this season and showed up for everyone. Georgia forgot to show up in Baton Rouge and Ohio State did not bother to show up in West Lafayette.
If college football ever gets to a place where we prioritize potential over performance, then we're headed to a bad place.
3. Trump's Line In The Sand…
…stretches 1,954 miles from the Pacific Ocean to the Gulf of Mexico. The U.S.-Mexican border is the line in the sand that Donald Trump has drawn for his presidency, and he's willing to take down everyone and everything to get his way on this one.
Never mind that illegals are not "flooding over the border" (the rate of illegal immigration has decreased) or that the Honduran caravan mysteriously evaporated. Never mind that most illegal drugs enter the United States via ports or via vehicles that drive right through checkpoints. Never mind that 800,000 government workers are not collecting paychecks: sanctions are coming, alright, Mr. President: to your own federal employees.
Never mind that there remain 1,500 illegal immigrant children in detention camps. We've got our own American gulag.
Today is also the day a Democratic-majority House of Representatives gets sworn in, which means they can hold their breaths on Trump's budget requests for a full two years. It'll be ironic if the hill that Trump chooses to die on is actually the Rio Grande.
Oh, and wasn't Mexico supposed to be paying for all of this?
4. Farewell, Mr. Funkhouser
Truly sobered and saddened by the passing of Bob Einstein, better known by his characters Super Dave Osborne and Marty Funkhouser, the latter on Curb Your Enthusiasm (until our dying day, we will remember the line, "The Funkhousers are with Cheryl…"). Einstein, 76, was the older brother of Albert Brooks who, yes, was born Albert Einstein.
In the late Eighties and early Nineties Super Dave was the perfect Letterman guest: a parody of someone who took himself seriously, which was the entire joke. On Curb he was the perfect foil for Larry. He will be missed.
5. Keeper Of The Flame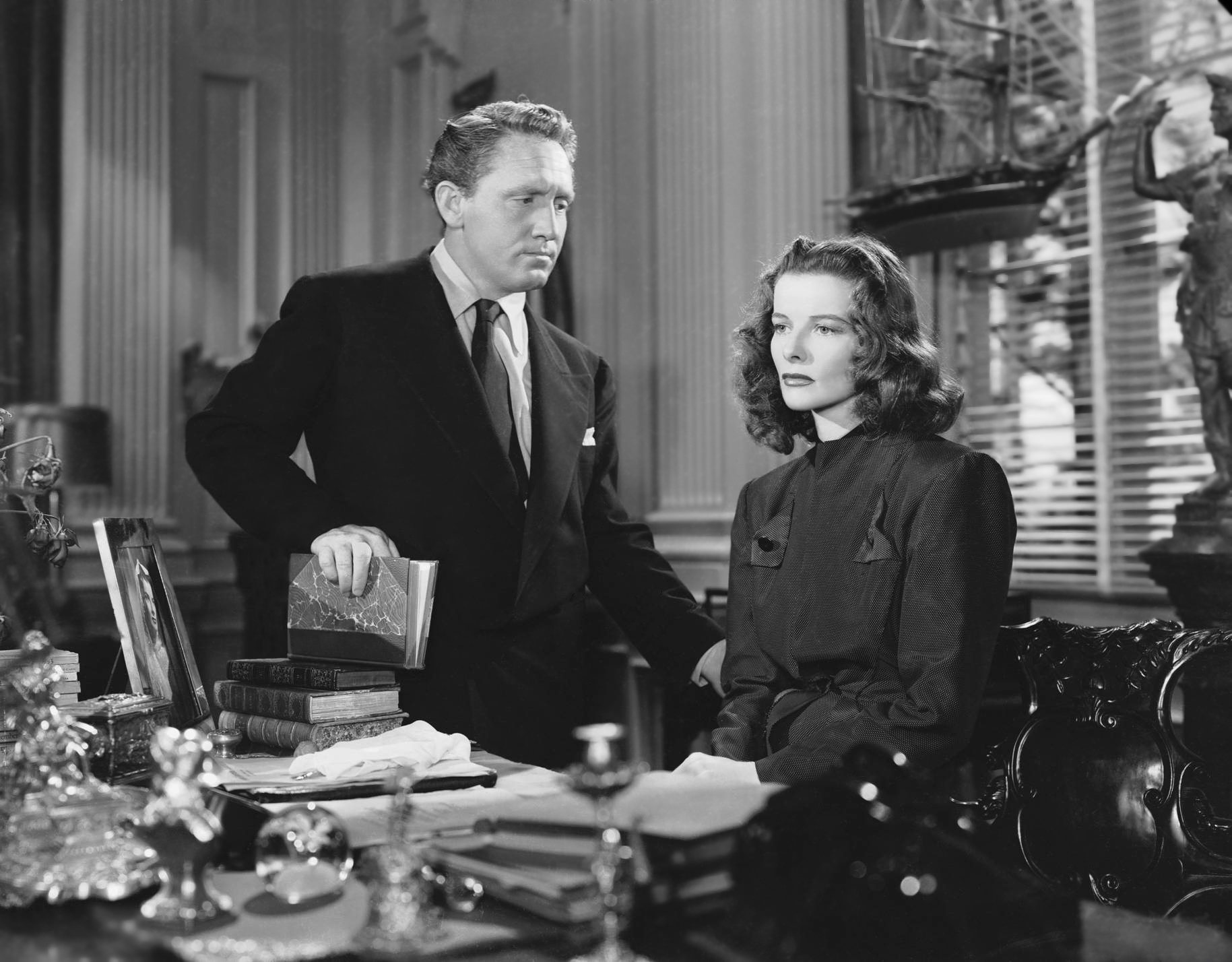 One of our cheap thrill is happening upon a film on TCM that we'd never heard of and then staring into the abyss, wondering aloud, "HOW HAVE WE NEVER HEARD OF THIS MOVIE?" The latest example is Keeper Of The Flame, a 1943 film starring Katharine Hepburn and Spencer Tracy (their second of nine films together). She plays the widow of a wealthy, nationally regarded civic leader who just died in a mysterious auto crash; he's the veteran scribe come to write his biography.
It' not a comedy. In fact, we come to find out that this public hero actually had some very dark views about democracy and the masses. Watch this scene in which Hepburn finally reveals what her dead husband actually was about (remember, this came out in the midst of World War II) and see if it doesn't remind you of anybody (or a small group).
Spooky.
On a lighter note, TCM host Ben Mankiewicz is feeling his comic oats of late as he settles more comfortably into the late Robert Osborne's spot. Introducing Casablanca the other night, Mankiewicz said, "For those of you who don't know the plot, it's about a beach resort town and a shark that comes to terrorize it one summer."
The other night, between two Burt Reynolds films, Mankiewicz noted, "He played football at Florida, or Florida State, one of those schools. It doesn't make a difference." Then he waited a beat, grinned, and said, "Just wanted to see if I could get a reaction out of you" and went on to note that Burt was a Seminole.
Last TCM note: In two different films in the last fortnight we noticed a striking brunette and only upon later research did we find it was the same actress. Whom we'd never heard of. Her name? Patricia Morison. Considering her features and the fact that we don't understand how she did not become a bigger star, we're dubbing her the Rena Sofer of her day.
Morison was born in 1915. She passed just last May.
Music 101 
Gotta Get Away
Don't know much more about Wyatt Blair except that he's 25ish and from Orange County, but we actually heard this tune during a film's coming attractions and liked it. Very Sixties sunshine pop.
Remote Patrol
Liverpool at Manchester City
3 p.m. 
These are the Reds (17-3-0) Salah days, as striker Mo Salah is third in the Premier League in both goals and assists. With more than half the Premier League season completed, Liverpool, i.e. the Reds, have yet to lose a match as they visit Etihad Stadium, roughly an hour away. Man City (15-2-3) is in third place.