http://mediumhappy.com/?p=7912
by John Walters
Tweet Me Right
We made this little tribute to one of our favorite people ever in the world of comedy, the one and only Bob Einstein.

(And yes, I did give him the car..) pic.twitter.com/0cVMIERSL1

— Jerry Seinfeld (@JerrySeinfeld) January 5, 2019
Starting Five
1. Double Doink!*
*The judges will reluctantly accept "Grizzly End"
You may choose to remember it as Nick Foles finding Golden Tate on 4th-and-goal from the 2 against the NFL's best defense. History will likely remember it as Cody Parkey's game-winning 43-yard field goal attempt doinking off the left upright, ricocheting off the cross bar and falling harmlessly into the end zone. "A double-doink," as ESPN's Cris Collinsworth called it.
Eagles 16, Bears 15 in the last and most suspenseful playoff contest of the weekend.
LMFAOOOOOOOOOOOO HELP THE BEAR pic.twitter.com/717NP8udCV

— The Man Who Sold The World (@LordBalvin) January 7, 2019

Yes, Parkey split the uprights moments before as the Eagles called time out just before the ball was snapped. Yes, Philly's Treyvon Hester got a finger tip on the ball, perhaps altering its trajectory just enough. Ye, Parkey inconceivably hit kicks off the uprights four times in ONE GAME earlier this season.
We'll remember, as much as the Parkey Plunk, a masterful 2nd down catch and yards-after-catch by Eagle tight end Dallas Goedert just past midfield on the final drive that went for 10 yards. It felt like the play that gave the Eagle a jolt. Collinsworth said, "Remember this play."
We did. He was correct.
2. "We Are The Champions"
At the Golden Globes, Bohemian Rhapsody stuns everyone, including its own producer, by topping A Star Is Born for Best Drama (Yo, it's got "Bohemian" in the title and the voters are the Hollywood Foreign Press Association; what did you expect?). Also, Rami Malek over Bradley Cooper in an upset. On a positive note, Cooper did not soil his pants at the ceremony and he did not go home and hang himself; we don't think.
Other moments from the evening…
–Andy Samberg's intro of the first presenters: "He discovered Ali and she discovered him in a garage…please welcome Bradley Cooper and Lady GaGa."
—Carol Burnett noting that she was so glad we had this time together, and acknowledging sadly that a show like hers, with that monstrous budget (and 30 million viewers a week) would never happen today.
–An older viewer asking "Is that a man or a woman?" How many households across America does this happen in during awards show season?
—Christian Bale, who won Best Supporting for portraying Dick Cheney in Vice: "Thank you to Satan for giving me the inspiration to play this role."
I gotta be honest. I tried watching Roma on Netflix one night and made it through about 10 minutes before I fell asleep. To say it starts sloooooow is an understatement. To those who finished it, how much longer do I have to watch before it gets going ?

— Ramona Shelburne (@ramonashelburne) January 7, 2019

–Seeing Roma win Best Foreign Picture and Best Director and wondering how many more countless Americans this film will put to sleep (beautiful to look at, but boring).
–Seeing the smile on Chris Pine's face as Jeff Bridges gave his Cecil B. DeMille Award speech and wondering if they had taken hits from the same bong.
–Watching Michael Douglas give Glenn Close a congratulatory smooch (there's a film called The Wife??? Really?) and instantly thinking rabbits may be in peril.
–Wondering how shocked and disappointed the gang from A Star Is Born must be this morning. Honestly, it's fantastic right up until she sings THAT SONG on stage. The second half loses its footing. I refer to it as the "2018 South Florida Bulls."
(One more thought on ASIB: The trailer's really all you need. It's better than the film, in fact.)
–The jokes by Andy Samberg that were so clever that they flew over most everyone's head. The joke about the Black Panthers and Oakland during the otherwise flat monologue and then the intro for Steve Carell which was a bait-and-switch on the hackneyed idea of connecting title of an actor's films to introduce him. You were led to believe it was Jack Nicholson ("You don't have to be an easy rider or fly over a cuckoo's nest to see this actor is as good as it gets…ladies and gentlemen, Steve Carell"). We appreciated the effort, Andy.
3. Coppin: A Plea
You may have heard that Geno Auriemma's UConn Huskies finally, after 126 consecutive regular season wins dating back to November of 2014, lost. This was at Baylor last Thursday evening (it was the Huskies' first regular-season loss without overtime in 209 games dating back to February 2013, also to Baylor).
But that's not the only spectacular news involving losing, streaks, and college basketball right now. At Coppin State, an HBCU in Baltimore, neither the men's (0-15) or women's (0-13) hoops teams have won a game this season. Check that, the men won on Saturday, breaking a both programs-losing streak that had dated back to last February.
The men's squad, now 1-15, took down Savannah State, 73-67.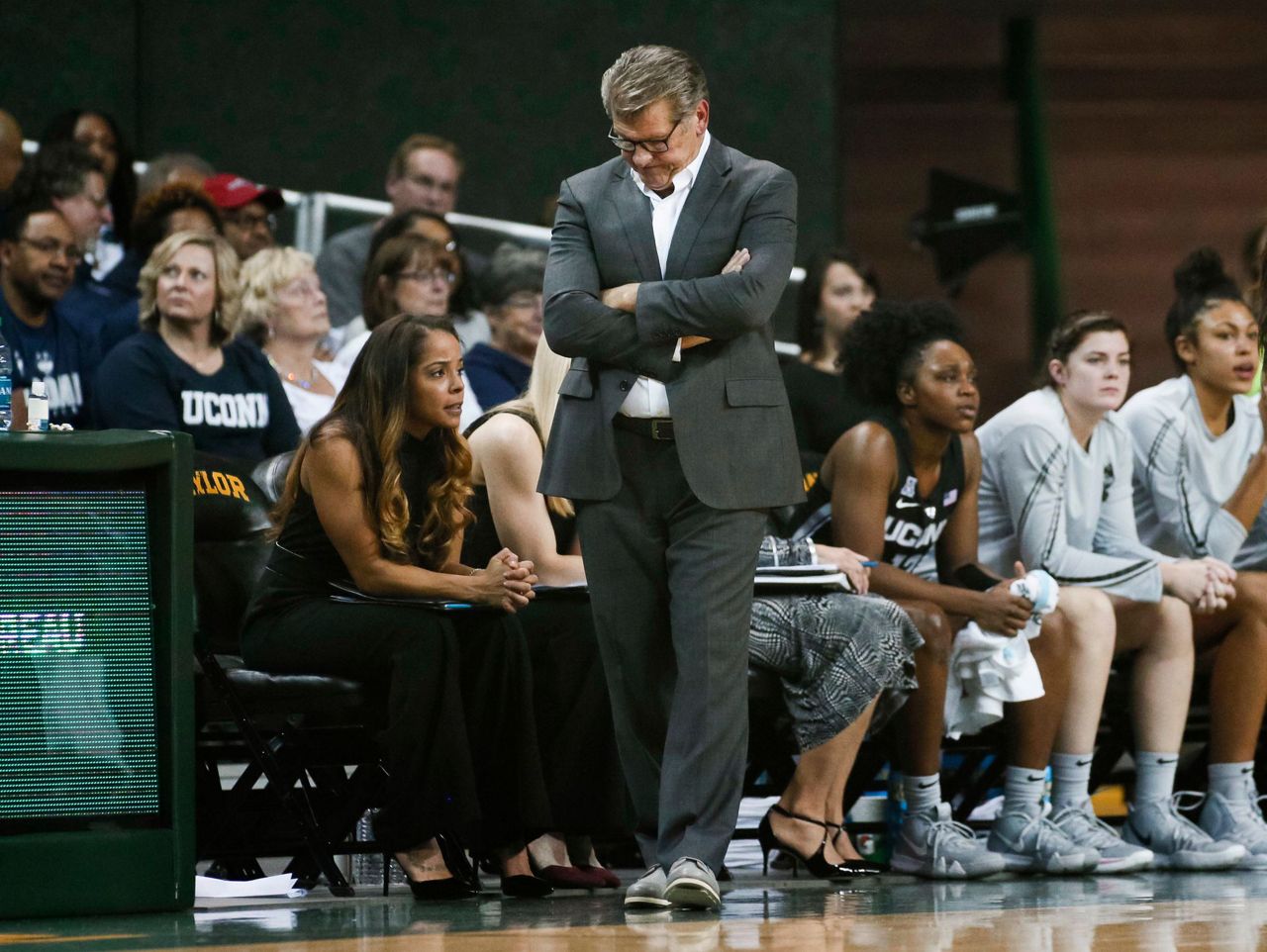 The UConn women bounced back at Houston on Saturday, 81-61, but this team is no leviathan. The Huskies only have one player taller than 6'3″ All-American Katie Lou Samuelson, who lives outside the arc anyway, and that's a 6'4″ frosh not seeing much PT. In their last four games, the Huskies have only won by 10, 9, and 20 and they lost by 11.
4. Will Fields Find Grass Greener in Columbus?
Follow along if you wish: Jacob Eason was the No. 1 rated Pro-style high school quarterback in the nation in 2016, and he signed with Georgia. But then he got injured in the Dawgs' opener and lost his job to Jacob Fromm, who had been the No. 3 rate Pro-style prep QB in the country in 2017. Fromm led the Bulldogs to within a couple plays of the national championship, and so Eason transferred back home to U-Dub.
That opened the door for Justin Fields, the No. 1 rated Dual Threat-style QB in the nation in 2018 to matriculate at Georgia this past season. But Fields could not beat out Fromm, either, and so now he has opted to transfer to Ohio State, where Tate Martell, the No. 2 rated Dual Threat QB from 2017, has sat patiently or impatiently for two seasons.
One of these alpha dudes, Fields or Martell, is not going to win the job in Columbus. And Martell has a two-year head start there in terms of knowing the culture and the plays and well, everything.
Meanwhile, Ryan Day is stepping into this job as of last week and if you ask us he's dancing with danger. Martell is white, Fields is black (we assume that Dwayne Haskins, the starter this year, is leaving; he'd likely be the first QB taken in the NFL draft). Martial has been the understudy; Fields is the interloper. Like it or not, these factors could lead to a divided locker room.
But maybe Day has seen enough of Martell to know that he's not in love with him. That at the very least he'd love to see if Fields can push him to be better. At the most, if Fields can push him out. If Day were truly committed to Martell, you think he might dissuade Fields from relocating to Ohio's state capital.
Either way, the Buckeyes aren't exactly pushing themselves next season: the OOC is Florida Atlantic, Cincinnati (good this season, I know) and Miami of Ohio, all at the 'shoe.
5. The Life Aquatic
Remember the story line in Entourage where Vincent Chase landed the lead in Aquaman, but then a power outage on the opening weekend threatened to submerge the film in bad press (due to low box office)? Fortunately that make-believe Aquaman rebounded, allowing Vinny to pursue passion projects Queens Boulevard and Medellin (which did tank)…
The actual Aquaman film came out three weeks back, starring another former HBO actor (Jason Momoa, who portrayed Khal Drago in Game Of Thrones) and it's tearing up the box office. Aquaman has done $940 billion globally, which is just ridiculous. The people want superheroes. Don't ask me why.
Reserves
There's nothing cooler than nature (although Mahershala Ali comes close)
CHILL OUT: While heavy snow across parts of Italy brought event cancellations, a couple deer spotted outside of a town appeared unbothered by the winter wonderland around them. https://t.co/5IVyYslaE5 pic.twitter.com/WtP5nfJ5P3

— ABC News (@ABC) January 7, 2019
and…
IN FORMATION: Starlings put on a dazzling display for birdwatchers (and some farm animals) in southern Israel, where they spend part of the winter. https://t.co/Y0PCwOJVww pic.twitter.com/otHt40CEUV

— ABC News (@ABC) January 6, 2019
 Music 101
Woman, Woman
In 1968 Gary Puckett and the Union Gap had two singles climb to the top 3 in the Billboard charts: This and "Young Girl." We'd say someone in the band had issues but they were actually recording material that someone else had written. This song, their first hit, actually went to No. 1 in Canada.
If you want to win a wager with friends, tell them you'll give them $20 if they can name the   famous Sixties recording artist who was born in Hibbing, Minnesota. They'll say Bob Dylan, who was actually born in Duluth but raised in Hibbing. Puckett was born in Hibbing, but his family soon moved to Yakima, Wash.
Remote Patrol
College Football National Championship Game
Alabama vs. Clemson
8 p.m. ESPN
Will number four be a bore? The Tide and Tigers are meeting in the playoff for the fourth time in the past four seasons–between them they will have won 11 of the 12 games played in the playoffs since late 2015—and Levi's Stadium promises to be wet and perhaps not quite close to full. Have you ever worn soggy Levi's? Then you know.
The Duelin' Dabos are an underdog in this matchup for a fourth straight time. We like the Tide tonight.