http://mediumhappy.com/?p=7914
by John Walters
Tweet Me Right
Don Trump Jr is telling friends that he will be indicted. #BOOM

— Touré (@Toure) January 8, 2019

He has friends? No one allows me to hand down sentences, but if I could I'd leave Don Jr. alone and unarmed in a large pen with one animal from every species that he's killed. That would be fun. And I'd honestly love to see that.
Starting Five
Dabo's No Dumbo
"S-E-C!", meet "A-C-C!"
Clemson 44, Alabama 16, and it was really only close for the first 25 minutes. Takeaways:
–Clemson and its folksy, self-effacing coach Dabo Swinney have shrewdly positioned themselves as the Kinder, Gentler Bama (though, who isn't?). And while you weren't looking, the revolution already occurred. In the past four years, the Tigers have the same exact record (55-4) and the same number of national championships (2) as the Crimson Tide.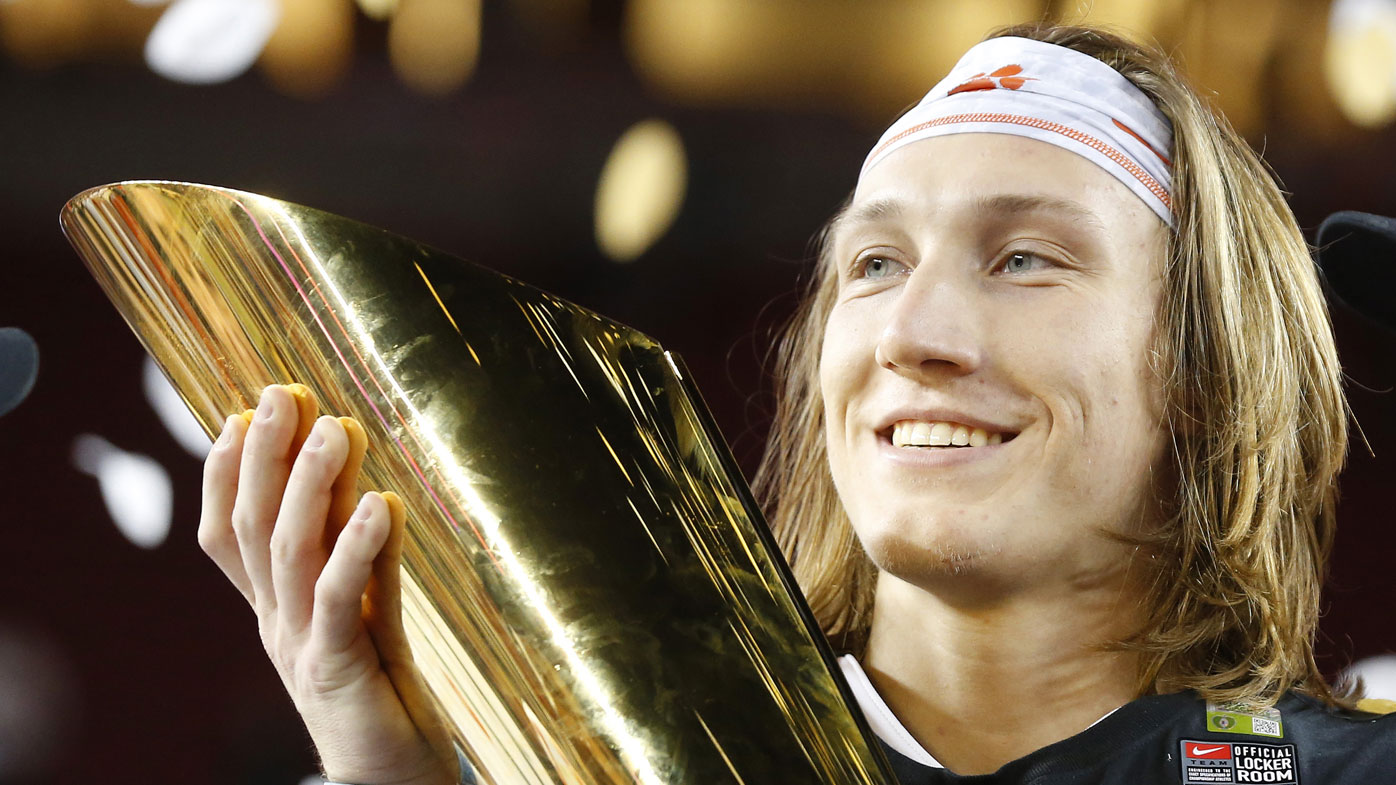 –True freshman quarterback Trevor Lawrence (a.k.a. Sunshine, Fabio, Spicoli, Avatar and Young Roger Waters) validated Dabo's September faith in him (and by acting when he did, Dabo also saved Kelly Bryant a season of eligibility, so good on everyone) and has a chance to be the closest thing to John Elway we've seen since John Elway. Fellow true freshman Justyn Ross (12 catches, 3 TDs, all on home run balls and 301 yards receiving in two playoff games) is miraculous. We're looking at a Heisman and Biletnikoff Award winner, respectively, here.
This fake field goal makes no sense. pic.twitter.com/5VqMtgFwis

— Yahoo Sports College Football (@YahooSportsCFB) January 8, 2019

–That fake field goal!?! Gah! Nick, what were you thinking? Sure, the score was 31-16 in the second half and Bama likely would have lost anyway, but that had no chance. I mean, when Chris Fowler is calling it out before the snap…Take the points (and we know the kicker was iffy, but you gotta try). That or give Tua a shot. About that…
–Before kickoff Todd McShay said that Tua and Lawrence were both future No. 1 overall draft picks. Maybe simply to save face he'd maintain that even today, but would any GM really take Tua number one overall after that wretched performance (including the early pick six where he threw between his two receivers?). Don't think so.
–Is this a "Tide-al" shift game, a la Bama pantsing indomitable Miami in the 1993 Sugar Bowl but in reverse? Is the Saban era beginning to wane? We'll see. The Tide do bring in the nation's No. 1 recruiting class, but ol' Saint Nick (not jolly) will be 68 and he's gone through a slew of coordinators in recent years.
–I have more on ESPN's coverage, etc., but it's in The Bubble Screen in The Athletic. So why not subscribe, read the story, put in a comment like "The only reason I subscribe to this rag is because JW writes for it…occasionally," and make my day? I mean, if you've been reading this drivel here free for six-plus years, maybe good karma (Or guilt? Guilt work just as well for me) will persuade you to part with $3.99 per month in support? And don't say, "I'd rather give that money to you, JW," because we both know you won't. So that's today's screed. Am I buggin' ya? Edge, play the blues…
2. Wall-To-Wall-For-Wall Coverage
The good news? Donald Trump did not declare a "national emergency?" The bad news? Stephen Miller is still a hackneyed writer and he was playing all of his old material.
If you missed President Trump's 9-minute barrage of "We Need a Wall Physical Barrier," which was covered on all three major networks (but thankfully, not TCM), think of it as "Man With Iron Will Wants Steel Wall." We're not going to fact-check it here; you can read  that here.
Is there a reason they didn't give Chuck a pitchfork?

— Charles P. Pierce (@CharlesPPierce) January 9, 2019

As for Chuck and Nancy's Democratic response, we can't beat Charles Pierce's observation.
Before I go to sleep, I just want us all to think that the president tried to defend a border wall by making uber-wealthy people who put walls up around their homes as relatable.

— Medium Happy (@jdubs88) January 9, 2019
Our solution? Let's build a Wonderwall. Maybe (maybe), it's gonna be the one that saves me (saves me).
3. Sears Is No Longer Where America Shops
Literally a sign of the times… pic.twitter.com/z8Zonz4en5

— Medium Happy (@jdubs88) January 9, 2019

When we were kids growing up in Middletown, N.J., the Sears on Highway 35 was THE department store. It's where you'd buy the family TV, or a coat or a lawnmower. My sister reminded me how we'd use the carpet displays like slides.
Anyway, Sears, which opened in 1886, is most likely going out of business very soon. There's a hedge fund and a last-minute bid and some business muckety-muck, but the end is near. Sears was an anchor store at American malls for generations. Its demise is a metaphor for malls in general.
4. Parks and Wreck
Want to be even more depressed about how evil the Trump administration is when it comes to protecting our beautiful natural wonders, our national parks? Here's Outside with a report on how the shutdown is doing serious damage to them (visitors are still flocking to them and POOPING in them as toilets overflow while workers are furloughed) and asking why the parks remain open (because no one in the White House cares about anything besides money and power).
Oh, and already seven people have died in national parks since the shutdown began. Seven. In two weeks! Maybe we ought to build a wall around our national parks?
5. Jimmy Thing
We've always admired Jimmy Stewart as an actor, an American and just an overall decent fellow. Now we're reading Hank & Jim, by Scott Eyman, which profiles his 50-year friendship with Henry Fonda, and we admire him even more.
The Jimmy Stewart you see in The Philadelphia Story and Mr. Smith Goes To Washington is a recent Hollywood arrival, a bachelor, who has a fascination with planes and flying and earns his pilot's license in his spare time. The Stewart you see in It's A Wonderful Life is a seasoned World War II veteran, a B-24 pilot who flew roughly 20 missions into Europe from England.
Moreover, the Army Air Corps had made Stewart an instructor and wanted to keep him as such doing work in Idaho. They understood a dead Jimmy Stewart might be bad for national morale. But Stewart insisted on flying missions and at last Uncle Sam relented.
When you read the sections of Eyman's book that relate to this period of his life, you see a Jimmy Stewart who, well, behaves exactly as you might expect a Jimmy Stewart-like character to behave in a film. His crew loved him and he was both humble and heroic. Once he volunteered for a Christmas eve mission. Another time German strafing fire literally went through his seat and between his legs before exiting the ceiling of the cockpit. Stewart even flew a pre-dawn mission over Normandy on D-Day.
The next time you watch It's A Wonderful Life (1946), take a moment to consider all the things Stewart had just experienced before making that film. And that he was George Bailey, sure, but he was even more his war hero brother.
Music 101
Blister In The Sun
Few bands achieved greater cult status in the Eighties without their fans having no idea what they looked like or who their lead singer was (Gordon Gano) than Violent Femmes. The Milwaukee-based band hit it big in 1983 with their eponymous debut album, released when Gano, the trio's principal songwriter, was just three years out of high school.
Remote Patrol
A Face In The Crowd
11 p.m. TCM
"They're mine! I own 'em! They think like I do, but they're even more stupid than I am, so I gotta think for 'em." Sound familiar? Andy Griffith stars as a megalomaniacal entertainer whose charismatic facade wins him as many converts as fans. Based loosely on Wil Rogers,  whose son would later admit dad's folksy charm was largely a facade, this 1957 Elia Kazan film also unknowingly presaged at least one future American leader.