http://mediumhappy.com/?p=7953
by John Walters
Tweet Me Right
Horror master George A. Romero was born on this day in 1940! Here he is with his cast on the set of NIGHT OF THE LIVING DEAD. pic.twitter.com/frZ9HZrWdd

— Criterion Collection (@Criterion) February 4, 2019
Starting Five
THIS IS THE WORST ITEM OF ALL TIME, UNLESS IT'S THE GREATEST ITEM OF ALL TIME
"I'M WRITING THIS ITEM, AND IT'S ABOUT ME AND IT'S ABOUT SOMETHING THAT I EXPERIENCED, SO OBVIOUSLY IT HAS TO BE THE WORST ITEM YOU'VE EVER READ. UNLESS IT'S THE GREATEST ITEM YOU'VE EVER READ. BUT IT MUST BE ONE OR THE OTHER. BECAUSE I'M IMPORTANT! AND WHAT HAPPENS IN MY EXPERIENCE IS REALLY, REALLY IMPORTANT, AND SO IT'S GOT TO BE NOT JUST GREAT BUT THE GREATEST UNLESS IT'S SO HORRIBLY TERRIBLE THAT IT'S THE WORST.
OF. ALL. TIME!"
Yesterday we woke up to Ian O'Connor on ESPN claiming the New England Patriots (six Super Bowl wins in the past 18 seasons) are the greatest sports dynasty of all time, which must be huge news to the New York Yankees (20 World Series titles in a 27-year stretch from 1936-1962) and John Wooden's UCLA Bruins (10 NCAA championships, oh, and an 88-game win streak, in 11 seasons).
Then we headed to CNN.com, where our friend Jeff Pearlman tried to persuade us that this was the worst Super Bowl of all time (hardly), but it was really an excuse for Jeff to talk about his personal experience with the game growing up (much of Jeff's writing is personal and, like, ketchup, it's all about how much you dap onto the burgers that distinguishes between tasty and putrid…or you could just Eat Like Andy).
Of course, this wasn't one of the great Super Bowls of all time, but it was very, very far from the worst. There was only one turnover, the outcome was in the balance until the final few minutes and (arguably) the greatest coach-QB combo the NFL has ever seen was winning its sixth Super Bowl together. No, this was a long way from Niners-Broncos or Niners-Chargers or Cowboys-Dolphins, to name a few.
But historical perspective doesn't matter when you want to claim that something is THE GREATEST OF ALL TIME…unless it's THE WORST OF ALL TIME. Mostly, it's about you. And wanting your experience to be the most specialist experience anyone's ever had. Isn't this the same thing writers mock Donald Trump for almost daily?
To be fair, Recency Bias (a $3 term for this modern phenomenon in which people rush to the superlative) isn't a recent discovery. A century ago people were hailing the end of The Great War, or as it was also dubbed, "The War To End All Wars." Then, just 20 or so years later an even more catastrophic and deadly war commenced and The Great War was renamed World War I. Kinda like how folks of our generation refer to it as Star Wars while people under 30 call it A New Hope (auuugghhhh!!!!).
There's nothing wrong with something or someone who is contemporary being The GOAT (or The WOAT). Stephen Curry is The GOAT of three-point shooters and it isn't even close. Michael Phelps is The GOAT of swimming. But if you're going to write one of these columns every time something strikes you as sublimely good or heinously bad, you're just forfeiting your credibility. You become The Boy Who Cried GOAT (or WOAT).
2. Maroon Still Outscored The Rams
The annual Super Bowl halftime show is America, or maybe just Twitter, at its Veruca Saltiest. Nothing is good enough for us. We can't sing. We can't play a musical instrument. We definitely should not be walking around topless in public. And on Sunday, as we do most every year, we spent 15 minutes ripping Maroon 5 a new one for…what? For performing Maroon 5 songs?
I'm not a huge fan—I actually like "Payphone" best of their songs, but knew they wouldn't play it just to spare us all from a mountain of Twitter takes about no one needing to use a payphone any more—but it's not as if Adam Levine and the band were awful (it was a big day for the tribe in Atlanta: Adam Levine AND Julian Edelman).
So what's wrong? First, the NFL picks bands that middle-age white guys would pick: Maroon 5 and Coldplay in the last three years? Come on. Second, they've made the pomp and circumstance trite. Fire? Check. Young people with their hands in the air like they just don't care around the stage? Check. Black performer brought in midway through the set as an act of appeasement? Check.
Third, nothing is ever enough for the SB home-gamers. Lady Ga Ga drops from the roof of a stadium? Okay, that's cool. What you got next? Most of you are too young to remember this, but there was an episode of the show Happy Days (1970s sitcom, wildly popular at the time) where the host of a reality show within the show called "You Wanted To See It" asks Potsie what he'd like to see live on TV. And Potsie says, "A human sacrifice."
It's the greatest joke in that show's history (no, wait…OF ALL TIME!) and we never forgot it because even then, in a show from the Seventies about the Fifties, they realized that America's appetite for excess is insatiable. And so, yeah, until a Super Bowl halftime act takes the stage and actually kills one of its members during the performance, Twitter will remain Veruca Salt about it. We're the worst.
The most disappointing aspect of the halftime show? Maroon 5 is the first Super Bowl halftime act to share a name with an NFL franchise (the now defunct Pottsville Maroons) and yet no one from CBS noted that.
3. Andy Cohen & Fatherhood
Our reaction to the LGBT 50 year-old TV host becoming a first-time dad? Bravo! (Saw a headline reading "Andy Cohen To Reveal Sex Of His First Child" and our first thought was, "Gay?" Oh, lighten up.)
4. Vonn, Damn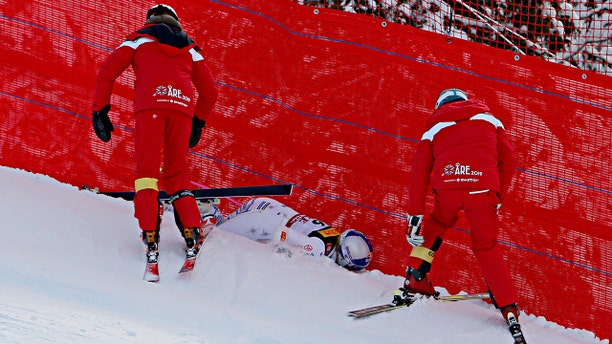 Downhill ace Lindsey Vonn, the most decorated alpine skier in history, men's or women's (Does this make her GOAT-worthy?), crashes in the Super-G at the final event of her career, the World Championships in Are, Sweden. Vonn, 34, had announced that she would retire after this weekend.
The oft-injured Minnesota native hit a gate with one of her skis during the Super-G and tumbled. Fellow American Mikaela Shiffrin won. Vonn was in pain but was able to walk away from the accident with help. Sunday's downhill is slated to be her final race, but it is too early to know if she'll be fit to do it.
5. No Creepy For Old Men
A steady winter's diet of TCM has worked us to a curious Hollywood phenomenon of its Golden Age: the insouciant casting of leading men at least 20 or so years older than their ingenue leading ladies. Was this a thing all across society at the time (our parents were born just five months apart, or at least that's what they told us) or was it just a paragon of the heterosexual relationship, an aspirational ideal for audience members?
This was the era in which Hollywood, winking, gave us a musical number titled "Thank Heaven For Little Girls."
Here's just a few examples, and these aren't throwaway films. Most of what follows are considered classics:
To Have And Have Not (1944): Starring Humphrey Bogart, 44, opposite Lauren Bacall, 20. Bogey was no dope. The two began a romance during filming and were married one year later. Three years after that they made Key Largo (1948).
Singing In The Rain (1952): In which Gene Kelly, 39, woos Debbie Reynolds, 19. To be fair, Kelly at 39 is in better shape and more handsome than 100% of the available actors in Hollywood or not in Hollywood.
The Band Wagon (1953): Fred Astaire is 53; Cyd Charisse is 31.
Rear Window (1954): Starring Jimmy Stewart, 46, and Grace Kelly, 25. Maybe Kelly fled Hollywood because they kept putting her in films where she was supposed to fall in love with daddy figures: To Catch A Thief (1955) where she's 26 playing opposite Cary Grant, 51; High Society (1956) where she's 27 and falling back in love with Bing Crosby, 54; and High Noon (1951), where as a 23 year-old she's betrothed to Gary Cooper, 51.
My Fair Lady (1964): Audrey Hepburn is 34, Rex Harrison is 56.
Ewwwww!
You could delve deeper if you like: Jimmy Stewart and Kim Novak in Vertigo (he's 50; she's 25) or Cary Grant and Eva Marie Saint in North By Northwest (he's 55; she's 35). Both, like Rear Window, are Hitchcock films (he had issues). Again to be fair, Cary Grant was better-looking in his fifties than in his thirties (we'd like to think we can relate!).
One last thing: If you go to the AFI Top 100 list, there are only two films in the Top 30 that we know of where an older woman chases after or seduces a younger man: Sunset Boulevard and The Graduate. In one of those films the women as portrayed as deranged and in the other she's… well, not a very good mom (also, in real life Ann Bancroft was only 6 years older than the young man she seduced, Dustin Hoffman). Older women don't get to dance and sing a happy closing number with their far younger man. Maybe someone needs to write that movie (and don't say Harold and Maude).
Music 101
Devil Inside
We don't know, but we have strong reason to believe, based on common sense, that someone in Hollywood crunched the numbers on Bohemian Rhapsody— a world-wide gross of $833 million thus far versus a production budget of $52 million— and has already green-lighted a Michael Hutchence/INXS biopic.
Makes perfect sense, right? Both Freddie Mercury and Hutchence were extraordinarily charismatic front men of savagely creative rock bands who died tragically young (go back and look at INXS videos "Don't Change" and "This Time" when the feral Hutchence was still in his early 20s; he had IT and he knew he had it). You even have the triumphant Wembley show side-by-side, just six years later.
Curious twist: In the last two years of his life, before committing suicide, Hutchence was in a serious relationship and had a daughter with Paula Yates. She had left her husband to be with Hutchence, that husband being Bob Geldof, who had organized Live Aid, where Queen made their legendary appearance that is the climax of Bohemian Rhapsody.
So what's our title? Do we use the song above? "Suicide Blonde" hits a little too close to home. "Not Enough Time?" "Bitter Tears?"
Remote Patrol
State Of The Union Address
9 p.m. ALLS THE CHANNELS
If you haven't heard, Melania Trump invited a boy named Joshua Trump to the SOTU who "has been bullied in school due to his last name." No farce can keep up with the reality of this presidency. You gotta think Stephen Miller will drop a New England Patriots-inspired "I'm still here" reference into the speech.