http://mediumhappy.com/?p=7992
by John Walters
Tweet Me Right
Massive waves surge over a lighthouse in Valletta, as the worst storm to hit Malta since 1982 triggered dangerous winds and sea turbulence. https://t.co/DMcD7r2vfk pic.twitter.com/U9jDKZtV5y

— ABC News (@ABC) March 5, 2019
Surf's up. Way up!
STARTING FIVE
The James Dean of the Nineties
Yesterday the dude who taught us how to leave cool voice messages on our answering machine ("You know the drill") passed away at the all-too-young age of 52. Luke Perry wasn't the first James Dean to ever make a leather jacket cool, he was just the first James Dean makeover of the Nineties.
We like the line that Rob Sheffield wrote in his Rolling Stone tribute: "Luke Perry walked so Jordan Catalano could run." The actor who played Catalano on My So-Called Life, has gone on to greater stardom than Perry ever knew post-90210, but it's fair to say that Perry was the most charismatic bad boy teen on TV since…The Fonz? At least the way Fonz was originally written.
In the Nineties three shows exploded that made southern California appear irresistibly seductive: Beverly Hills 90210, Melrose Place and Baywatch. All had their moments, or time in the sun, but 90210 was the first. And Perry's Dylan McKay character provided the show with a much needed counterbalance. He was The Outsider that S.E. Hinton would've conjured is she were in the writer's room. Definitely not from the same zip code as Brandon and Brenda Walsh.
2. Asia Is An Ashtray
A report from AirVisual measured global pollution by cities. Of the worst 100 cities in the world in terms of pollution, India claims 33 (and 22 of the top 30). China has a whopping 57 cities on the list. That leaves just 10 other cities for other nations, none of which are in North or South America or Australia. And Europe claims only one, in Bosnia-Herzegovina.
Clean up your act, China and India (which, yes, are also the world's two most-populous nations).
3. My Dinner With Oubre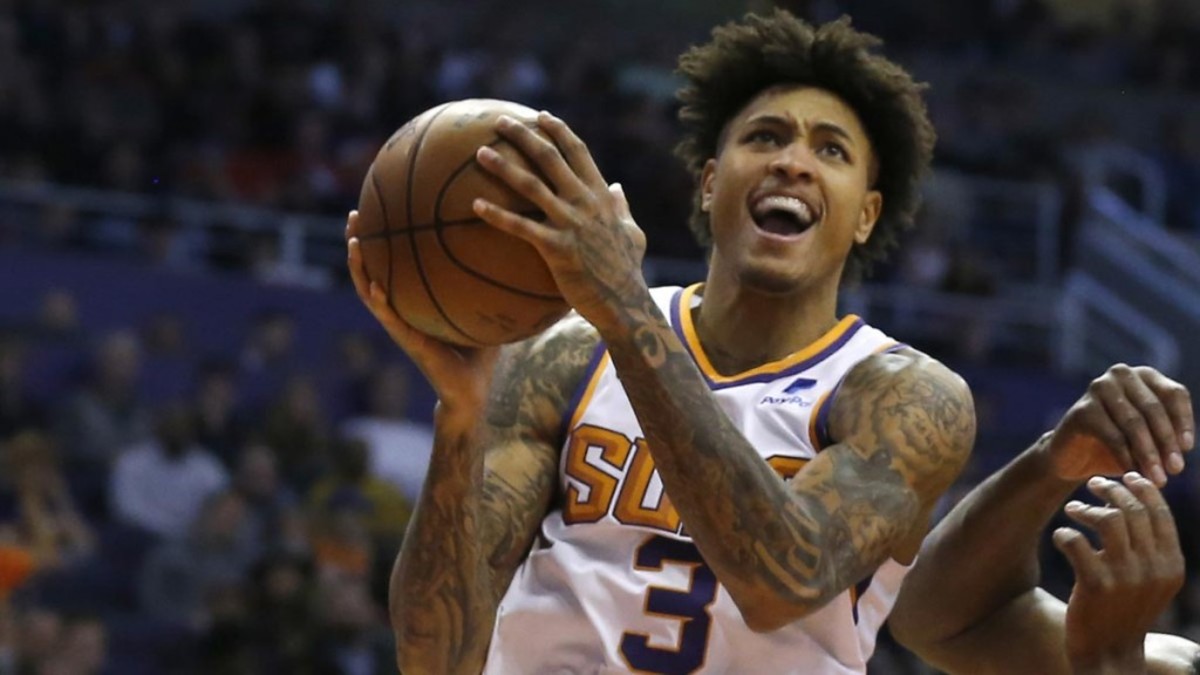 Weird happenings last night in the Wild, Wild Worst where the Phoenix Suns, whose management was (rightly) torn a new one on ESPN.com yesterday and who entered tied for the worst record in the NBA, beat the Milwaukee Bucks, who entered the day with the NBA's best record.
The Suns, who lost 17 straight before the All-Star break and who have been the NBA's worst team much of the season, have now swept the Bucks in their two meetings this season. The Bucks have had the league's best record most of the season.
Also, the LOLakers lost again last night, ignominiously at home to their co-tenants, the Clips. LeBrakers are now 30-34 and probably won't advance to the 8th seed just to get wiped by the Dubs—though that's the matchup most of us wanna see, no?
(The Lakers had a decent young core with Kyle Kuzma and Brandon Ingram. Everyone else is expendable. Adding LeBron to this mix was the worst move for all parties involved. It's like a summer stock troupe adding an aging Richard Burton and then he goes around telling them why they can't act. I'd ditch LeBron for some draft picks. Seriously.) 
As for the Suns, they've won three of four and the Knicks, who now have the NBA's worst record, visit next. It's as if they want no part of Zion Williamson. The best thing about the Suns this past month? Forward Kelly Oubre, who has had a career epiphany in the Valley.  The fourth-year forward, an afterthought in Washington, is averaging 16 points off the bench and scored a game-high 27 last night. Moreover, the 6'7″ forward attacks the basket like a young Scottie Pippen. Truly a gamer. I don't know what he was doing in D.C., but he is a definite keeper for this young team.
4. Fair And Balanced?
Richard Nixon and a future President, photographed at Westin Galleria in Houston, 1989: #HoustonChronicle pic.twitter.com/IymcL8LmuA

— Michael Beschloss (@BeschlossDC) March 4, 2019

Here's an invitation to read Jane Mayer's outstanding article in The New Yorker (Libtards!) about the footsie-footsie relationship between Fox News and President Trump. The big reveal comes late in the piece: In October of 2016 Diana Falzone, a FoxNews.com reporter, obtained proof of the Trump-Stormy Daniels affair-cum-hush money deal, including having personally seen the contract between the two parties.
Falzone filed her story, but editor after editor passed it off until the top editor at FoxNews.com, Ken LaCorte, told her, "Good reporting, kiddo. But Rupert wants Donald Trump to win. So just let it go."
Later Falzone was demoted. She later left Fox and sued and like so many women who have had awful interactions with Donald Trump, she took the money and signed an NDA. Sad!
I've worked at both Fox and at NBC. Their buildings are catty corner to one another across 48th and 6th. For the life of me I don't understand why, upon hearing that from LaCorte, Falzone didn't pack her bags and walk across the intersection (or even take the undeground plaza) to 30 Rock and deliver the greatest bombshell of the election. It might've changed history. It definitely would have catapulted her career and, to a small degree, buried Fox News.
Don't get it.
Mayer's story is meticulously and thoroughly reported. Really worth your time.
5. 3:47.01
The indoor mile record of 3:48.45, set by Hicham El Guerrouj of Morocco in 1997 in Belgium, is no more. Last weekend at Boston University Yomif Kejelcha of Ethiopia, age 21, set a news standard with a 3:47.01. Kejelcha is coached by Alberto Salazar of the Nike Oregon Project who has been under a cloud of suspicion for doping, etc., in the past five years. You'd love to love Kejelcha's record, especially since it is the first at an iconic distance in this sport in 22 years, buuuuuuut….
The outdoor mile record of 3:43.13 remains and El Guerrouj also holds that mark. But Kejelcha will be gunning for it this spring.
Music 101
When My Time Comes
If Mumford Sons and Uncle Tupelo had a love child, that progeny would be Los Angeles-based folk band Dawes. Sage lyric here: "Oh you can judge the whole world on the sparkle that you think that it lacks/Yes, you can stare into the abyss but it's staring right back."
Dawes has a problem attracting fans on Long Island, who when told about them ask, "Isn't Jim Morrison dead?"
Remote Patrol
Ajax vs. Real Madrid
3 p.m. TNT
Champions League. Real Madrid defeated Ajax in Amsterdam in the first leg of their Round of 16 tandem, 2-1. Because Away Goals are a tiebreaker, the Dutch side will need to win at least 2-1 to force overtime or 3-2 or by two goals to flat-out win. The Spanish club no longer has Ronaldo but Gareth Bale and Karim Benzema remain.