http://mediumhappy.com/?p=8006
by John Walters
Tweet Me Right
Survive and advance.@NDmbb takes on Louisville in the second round of the ACC Tournament at 7 p.m. ET on ESPN2.#GoIrishpic.twitter.com/9qoSvx1dcA

— The Fighting Irish (@FightingIrish) March 13, 2019

Love Mike Brey. Man, will heads explode in Bristol when the Irish win the ACC tournament.
Starting Five
From LBJ To OBJ
Angelina dumped Brad (or Brad dumped Angelina). Either way, they knew what they had but one or both of them was tired of the other's sh*t. And that's what it feels like knowing that the New York Giants traded Odell Beckham, Jr., to the Cleveland Browns.
Big Blue knew it had arguably the most dynamic and gifted wide receiver in the NFL. OBJ had a fat new contract and knew that with Saquon Barkley in the backfield not all the pressure would be on him. In fact, it would open things up for him.
But nobody was happy, and that's the theme of pro sports and so much else today. Nobody's happy where they are or with what they have. The FieldTurf is always greener…
And because every Ying deserves a Yang, as the Giants lose OBJ the Jets pick up Le'Veon Bell. So now Met Life Stadium houses two of the five best backs in the NFL.
2. Hail Mary's!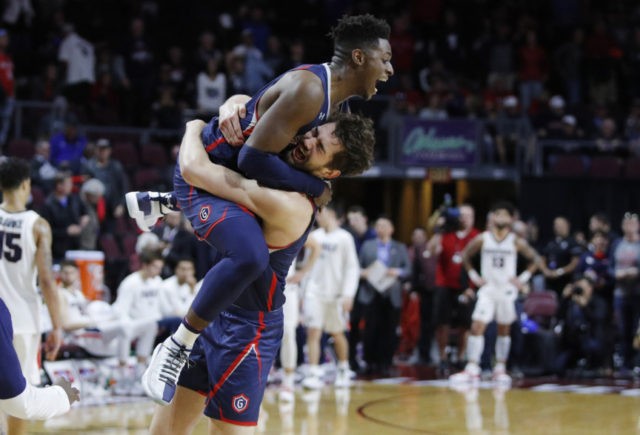 We watched the final 30 minutes (in game time) of the WCC Championship Game between   Gonzaga and St. Mary's and what we saw is one team executing its game plan, for the entire 40 minutes, to perfection, and the other playing in a desultory fashion, kind of willing itself to win based purely on superior talent.
This is what an upset in March looks like.
The Gaels, who only five weeks earlier in Spokane lost to the Zags by 46 points, beat them 60-47 in Las Vegas. Center Jordan Hunter (above) pulled down 15 boards and had 12 points, but this was a complete team effort in defeating the nation's top-ranked team. The Zags, the nation's leader in Scoring Offense (88.8 ppg), were held to more than 41 points below their average.
Saint Mary's (22-11), by winning, eliminates any question as to whether they belong in the Big Dance. Bully for them and for their outstanding coach, Randy Bennett.
3. Shameless
There's so much wrong with the Pay For A Roster Spot scam that we don't know where to begin. The calculus is like, "Girls With Fish Lips Selfies x Lawnmower Parents x $$$$ divided by Corrupt University Coaches and/or Administrators = This Scandal."
Dig, even two dinosaur epochs ago when we were in high school there were kids who made varsity or even started because of the influence (or $$$) their parents wielded. We were at a private high school, where big donations mattered. And we all know that universities give favor to legacies, especially when parents are rich and/or famous. Charlie Hall, the son of Julia Louis-Dreyfus and Brad Hall, is probably a pretty decent Division III player but does he belong on a Big Ten roster (one point and five rebounds in three full seasons)?
But at least JLD did it the old-fashioned way. What's going on here, with famous parents such as Aunt Becky (Lori Loughlin) and even more prestigious schools (Yale, USC, Stanford) is pure old privilege intersecting with an available commodity. All of these humans need to be placed in the galleys to row those oversized Ben-Hur style boats. We need to bring those ships back, if for no other reason than punishment.
To read more about the salacious details, here you go…
4. Sign Of The Times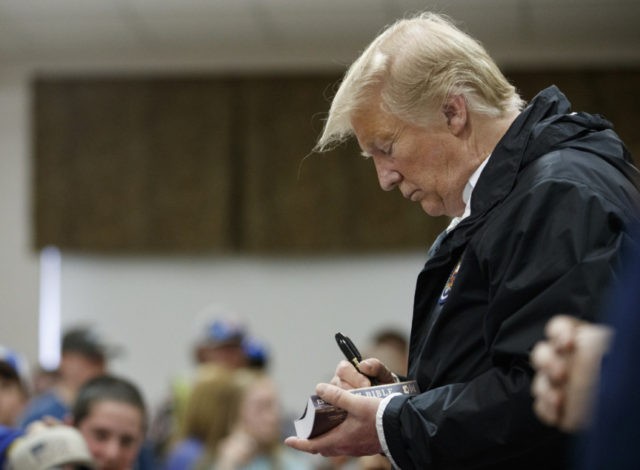 You know who ordinarily signs books? Their authors. You know who doesn't? People whose lives are an affront to everything that the book espouses.
It happened last week, but when President Trump signed copies of the Bible during a brief stop in Alabama to assess tornado damage, it was almost glossed over. But it shouldn't have been. It was like an end-times revelation moment.
You can vote for Trump. You can support him. But only the most dead-fish eyes folks of those among us would ever claim that Trump and the Bible plow common ground. He's a walking refutation to 11 of the 10 Commandments.
There's simply no clearer evidence of the connection between Christian evangelism and white supremacy than the celebration of this moment. And again, not for the 100th time, how would the Right have reacted if President Obama had done this? Eggggggggs-actly.
5. A New Rubric For Rubik's
"If you practice enough, you can do anything": 16-year-old who broke Guinness World Record for fastest time to solve Rubik's Cube using only feet demonstrates how it's done. https://t.co/EiaRYYtnXz pic.twitter.com/A4vUrUmhp4

— ABC News (@ABC) March 13, 2019

The Rubik's Cube was a yuuuuuuge deal back in 1980 or so, and it should be noted that we were awful at it. Horrible. And then to see this teenager solve it with his feet? We're going back to bed now…
Music 101
Lawyers, Guns And Money
Our good friend Sorp suggested this Warren Zevon classic from 1978. We don't think the song, released at the peak of the disco era, even charted, but it's since grown in stature and is a cult classic. It never hurt that Zevon was an unconventional and beloved musician. As he was dying of cancer 16 or so years ago, he appeared on Letterman and dispensed sage advice: "Enjoy every sandwich."
Remote Patrol
Liverpool at Bayern Munich
Champions League 
3 p.m. TNT
Liverpool has just one loss in 30 matches in English Premier League play this season. Bayern, per usual, is atop the Bundesliga table. When they met in their first leg of their Round of 16 tandem, the match ended scoreless. Winner take all this evening in Munich.