http://mediumhappy.com/?p=8009
by John Walters
Allow us this indulgence for an indefinite period of time this month. We're titling this one, "It's Not My Turn To Clean."
Starting Five
1. Horror In Christchurch
Forty-nine dead, and that figure will likely rise.
A white nationalist in his late twenties, an Australian who proudly referred to himself as a fascist in an 74-page manifesto, mows down Muslims during Friday Prayer at two mosques in Christchurch.
New Zealand, a nation of five million people that averages less than 50 homicides per year,   has been touched by the same white supremacist violence that Europe and the USA has endured this decade. This attack reminds us most closely of the terrible attack in Norway back in the summer of 2011 on an island summer camp. The difference here, of course, being that the victims are Muslims.
Both attacks, however, were fueled by fierce anti-immigration and anti-diversity animus.
One absolutely chilling aspect of this attack: while driving between the two mosques, the killer stopped at a cross walk to allow pedestrians to pass in front of his vehicle.
The Port Arthur, Australia, mass murder of 1996 claimed 35 lives and resulted in radical changes in Australian gun laws. Is it possible that this murderer, an Aussie, chose New Zealand because it's such a softer target?
The extremists behind the devastating attack in NZ livestreamed the massacre on social media. Yet hours later, these videos are still viewable with "inappropriate" content warnings. If broadcasting mass murder is not a violation of YouTube's terms of service, then what is? pic.twitter.com/63nN1HzQda

— Tom Watson (@tom_watson) March 15, 2019

Meanwhile, the man in the Oval Office was quoted on Breitbart News just yesterday as saying the following: "I can tell you I have the support of the police, the support of the military, the support of the Bikers for Trump—I have the tough people, but they don't play it tough—until they go to a certain point, and then it would be very bad, very pad."
Pardon us for misconstruing the meaning of that.
2. Zion's Back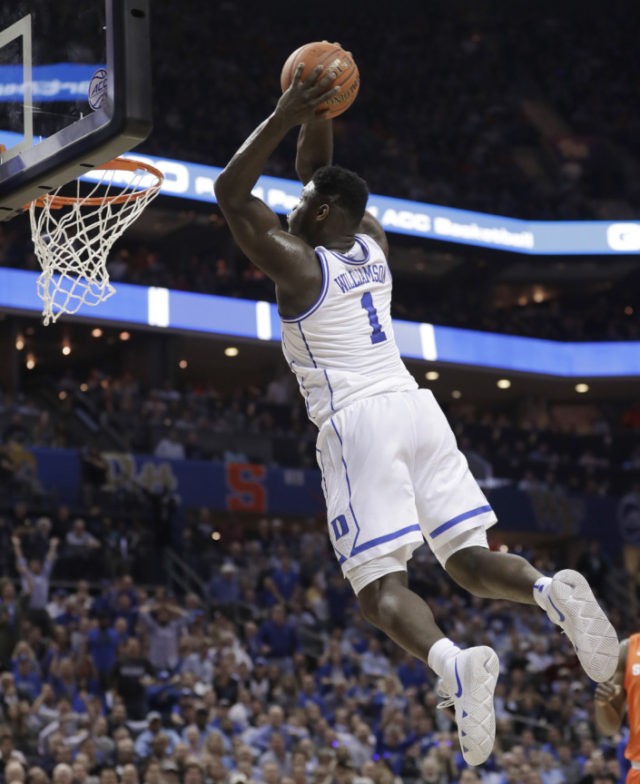 Zion Williamson, remember him? The Duke frosh was 13 of 13 from the floor for 29 points with a splashy array of dunks and power moves, plus 14 rebounds and 5 steals in Duke's comfy 84-72 win against Syracuse in the ACC quarters. This in his first game back after missing five full games and most of a sixth.
When you watch Zion, you just see a human—we think—operating at a different energy level, a different gear than the other players on the court. And that's saying something since two of his teammates, R.J. Barrett and Cam Reddish, will likely be top five picks in June's NBA draft.
We recall back in November (?) when Duke alum Jay Bilas, in Hawaii to cover Duke-Gonzaga, gushed over Williamson's primal force on the court but felt obliged to remark, "And he's not even the best basketball player on his team—R.J. Barrett is."
Nope. Barrett may be the more scintillating scorer off the dribble. But there's little doubt that Zion is the best basketball player, in or out of Durham, in college hoops. One more thing about Zion: his talent and passion is so pure, so unaffected, that he transcends Duke-ism. People who HATE Duke basketball still love Zion. He's outside of its orbit.
3. Veto and Beto (Note: They Don't Rhyme)
In the same 24-hour news cycle, El Paso's finest, Beto O'Rourke, announces that he will run for president while the current president announces that he will veto a resolution that would block him from declaring a national emergency in order to secure funds to build his border wall.
Just this week alone: 1) the Senate (with seven Republicans breaking ranks) joined the House in voting to end funding to Saudi Arabia (as if they need the money or weapons) for its war against Yemen, 2) the House UNANIMOUSLY (420-0) passed a resolution to make the Mueller Report public (Senator Lindsey Graham blocked this from going to a vote on the Senate floor), and 3) 12 Senators broke ranks to vote against Trump's national emergency declaration.
The tide appears to be turning somewhat. "It's about separation of powers," Senator Robert Toomey, a Republican from Pennsylvania, said. "It's about respecting the principles of the Constitution."
As for Beto, we kinda feel as if he's the WhiteObama schoolgirl crush (see our Music 101 featured artist today) candidate of the moment. The thing too many folks on the other side of the aisle don't give Obama credit for? He's actually very smart and very aware of how what he says is digested by both allies and enemies. Beto, at least at this moment, is still a little too "I can't believe we're opening for The Hold Steady." He's a little too light, too wafty.
4. The Big Leave

What do we make of The Big Lead founder Jason McIntyre not even mentioning on his as-active-as-ours Twitter feed that he will no longer be part of TBL? The we'll-report-what-others-reported-first sports site (pot calling kettle aggregated content, we know, but we're a one-man band working for free) was sold yesterday and the new owners are retaining four TBL writers, none of whom are its founder.
Give JM credit. He was first-to-market here back in 2006, sold his site for seven figures and arbitraged it to a migration from the Philly suburbs to Manhattan Beach and a role on Fox Sports. We're not a huge fan of his TV/radio schtick—he's bought all the Clay Travis Self-Promotion 101 videos—nor of his blithe absence of accountability when he makes stupid prediction ("Christian Hackenberg is going to be great!") after stupid prediction ("Baker Mayfield is Bitcoin!") and just moves on to the next one without acknowledging his manifold errors.
But JM did launch a site that has proven successful and we applaud the self-starter in him.
5. H' Ole!
At the Players Championship at TPC Sawgrass, first round, Ryan Moore aces the 17th hole on the fly. Can't do better than that.
Music 101
Easy Come, Easy Go
In the Seventies swoon-worthy teen idols were such gifted vocalists that microphones were not even required during live performances. Here's Bobby Sherman, who was basically a real-life Greg Brady/Johnny Bravo: Sherman grew up in the San Fernando Valley, played high school football and also, reportedly, 16 musical instruments. This 1970 single was one of three top-10 hits he recorded. A few years later, while appearing in a guest spot on Emergency! (remember Johnny Gage and Roy DeSoto?), Sherman was so inspired that he left show business and became an EMT with the Los Angeles Police Dept. He continued doing so for 25 or so years, and he's still alive. Rock on, Bobby Sherman. Rock on!
Remote Patrol
Duke vs. North Carolina
9 p.m. ESPN
Round 3. The Tar Heels won the first two matches this season, but Zion Williamson only played 33 seconds of those 80 minutes of competition. Here the Triangle teams tussle for the third time in the Tar Heel State, in Charlotte, in the ACC semis. The winner here is a No. 1 seed in the tourney. UNC may still be if it loses.
Young Frankenstein
8 p.m. TCM
That's Franken-steeen!