http://mediumhappy.com/?p=8061
by John Walters
Tweet Me Right
What's better than this? Nothing is better than this…
Starting Five
The Thrill of Phil
Two months shy of his 49th birthday, Phil Mickelson shot an opening round 67 to find himself just one shot back of co-leaders and twenty somethings Bryson DeChambeau and Brooks Koepka.
They're millennials. He's a perennial.
We're totally getting ahead of ourselves, but Lefty is gunning for his fourth Masters and also looking to surpass Jack Nicklaus' mark as the oldest Masters champion. The Golden Bear took the green jacket in 1986 at the age of 46.
I guess it's true what they write: the era of the old athlete is over.
Tiger Woods, who is four shots off the lead with an opening round 70, already has four Masters wins (Nicklaus has the record with six).

Liars' Club
I mean, it's too easy at this point. Even fish in a barrel require you aim some. Exhibit A, Stephen Moore, who's currently being recommended for a high-level gig at the Federal Reserve by the Trumpster:
Exhibit B, the Trumpster himself, after WikiLeaks founder and generally creepy looking dude Julian Assange was arrested in London on Thursday:
versus…
Yes. Wow. The President and his cronies are big fat liars. But they're not the first politicians who skirted the truth. It's just that Trump is the first in memory who seems to have absolutely no concern that you've caught him in a bold-faced contradiction. Only the present is real. Whatever he just said is the only truth. Until he says something absolutely opposite tomorrow.
Keeping It In The Pham*
*The judges will grudgingly accept "Phamtastic!"
On Wednesday Tampa Bay Rays left fielder Tommy Pham homered twice as the Rays completed a three-game sweep of the White Sox in Chicago. But you don't care about the Rays or White Sox, nor do we. This is newsworthy because Pham, 31, reached base for a 45th consecutive game.
We thought you might be wondering what the Major League record is and who holds it. And we're here for you: 84 games, Ted Williams. Perhaps you've heard of him.

The White Walkers Are Climate Change
The eighth and final season of Game Of Thrones (a.k.a. "How The Westeros Was Won") begins Sunday night. So here's a quick cheat sheet/semester review for you, and here is a nerdy comprehensive glossary.
What we'd really like to discuss, though, is whether the show's creators (or George R.R. Martin, the creator of this mythic world) envisioned the White Walkers to symbolize climate change. See, just like climate change, the White Walkers are thought to be fake news by the generally dishonest and self-interested types in Westeros. And just like climate change, while half the world denies the existence of the White Walkers while they scheme ways to take over the world, maybe none of their worst-laid plans are going to matter once the Night King marches into town.
The ironic twist, of course, is that the Night King and his White Walkers aim to send the world into an eternal winter. Climate change is doing the exact opposite.
Master Degrees
You've seen those Master Class ads before YouTube videos, but have you ever delved further? We decided to do so last night. Turns out you can pay $180 per year (don't know how many classes you may take) or $90 per class.
The "faculty" consists of about 5 dozen figures, many of them world famous such as Garry Kasparov (teaching chess) or Jane Goodall (teaching conservation). From whom you'd want to take a class, i.e., watch on a video for an hour so, that's entirely subjective. Us, we'd like to listen to Daniel Negreanu teach poker, Helen Mirren acting, Aaron Sorkin screenwriting and Werner Herzog film-making.
Truly, the Master Class series is a wonderful idea. We just wonder about the execution. If you can do, after all, that does not necessarily mean you can teach. Has someone rated the faculty yet? And when will Stephen Miller be asked to teach white nationalism/authoritarianism?

Music 101
Hit Me With Your Best Shot
We all, every damn last one of us, had a crush on Pat Benatar in 1981. Oh, are there other people in the band? I hadn't noticed. Debbie Harry was more glamorous, Chrissie Hynde was riding in the backseat in the bad boys' car, but Pat Benatar, well, she almost seemed within your reach. And besides, every other girl in sophomore bio had her haircut.
Here she is on the late and somewhat lamented Fridays, which was ABC's and L.A.'s answer to SNL. It never quite took off, even though it had future superstars Larry David and Michael Richards in the cast.
One more thought: Not enough drummers take advantage of the mid-song gong blast any more.

Remote Patrol
Dr. Strangelove Or: How I Learned To Stop Worrying And Love The Bomb
8 p.m. TCM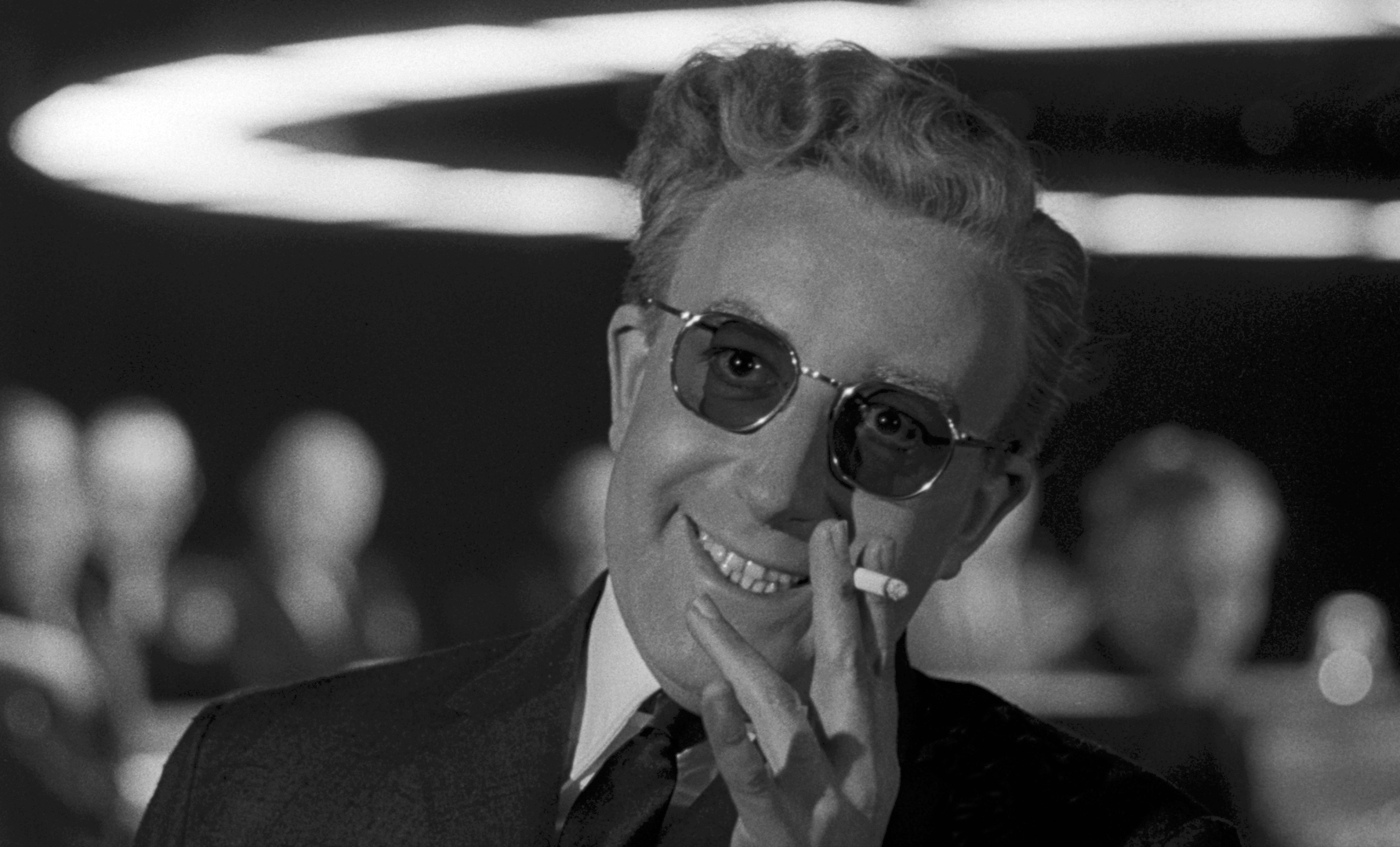 Another classic we've never seen! Psyched. The ultimate black comedy, since the topic is thermonuclear global destruction and no one will be saved. One of Stanley Kubrick's gems, with Peter Sellers in three roles (including the president of the United States). "Gentlemen, you can't fight in here; this is the War Room!"