http://mediumhappy.com/?p=8063
by John Walters
Starting Five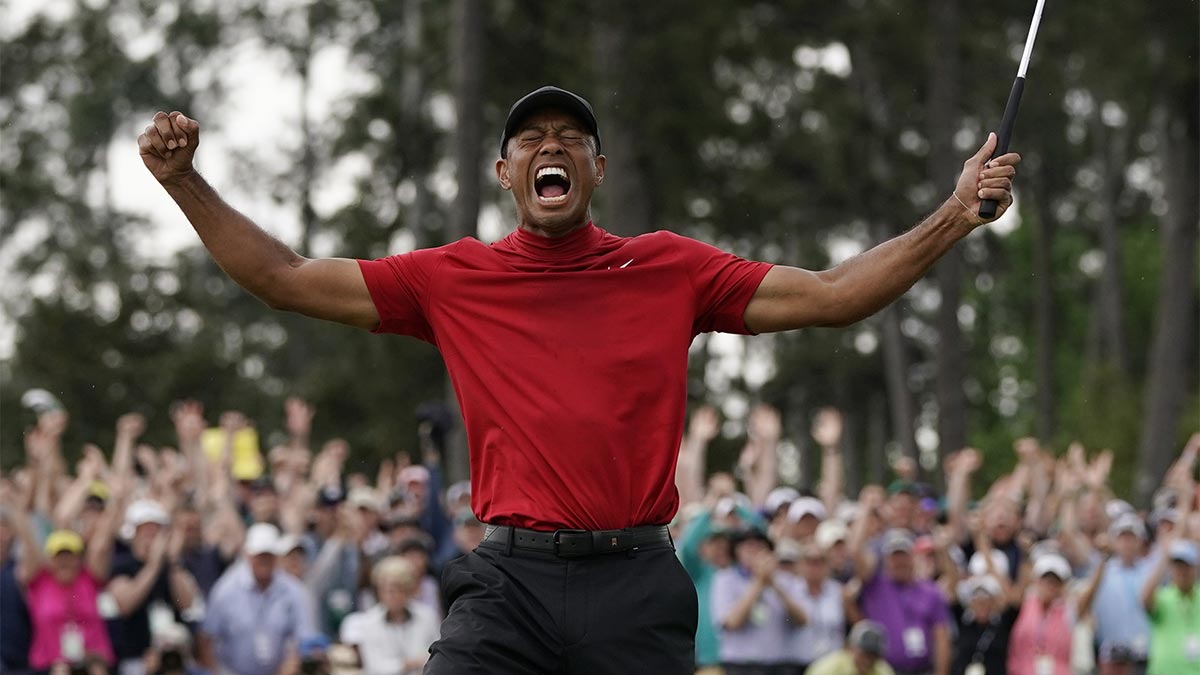 Tiger Beast
For a decade the question loomed: Would Tiger Woods ever overcome his injuries, his scandals, himself, and claim another major? On Sunday at the greatest venue in golf, Augusta National, 43 majors since the last of his 14 previous major championships, Tiger finally answered that question in the affirmative?
It was not an historic comeback in terms of Sunday's final round. Tiger remained close, watched as the other leaders made fatal errors, and then cemented the win with an amazing tee shot on the par-3 16th (with Michael Phelps, one of the two or three athletes of his generation who stands on the same plateau, just a few yards behind him in the gallery) his victory. No, it was an historic comeback over the arc of a career, a story line more than a decade in the making.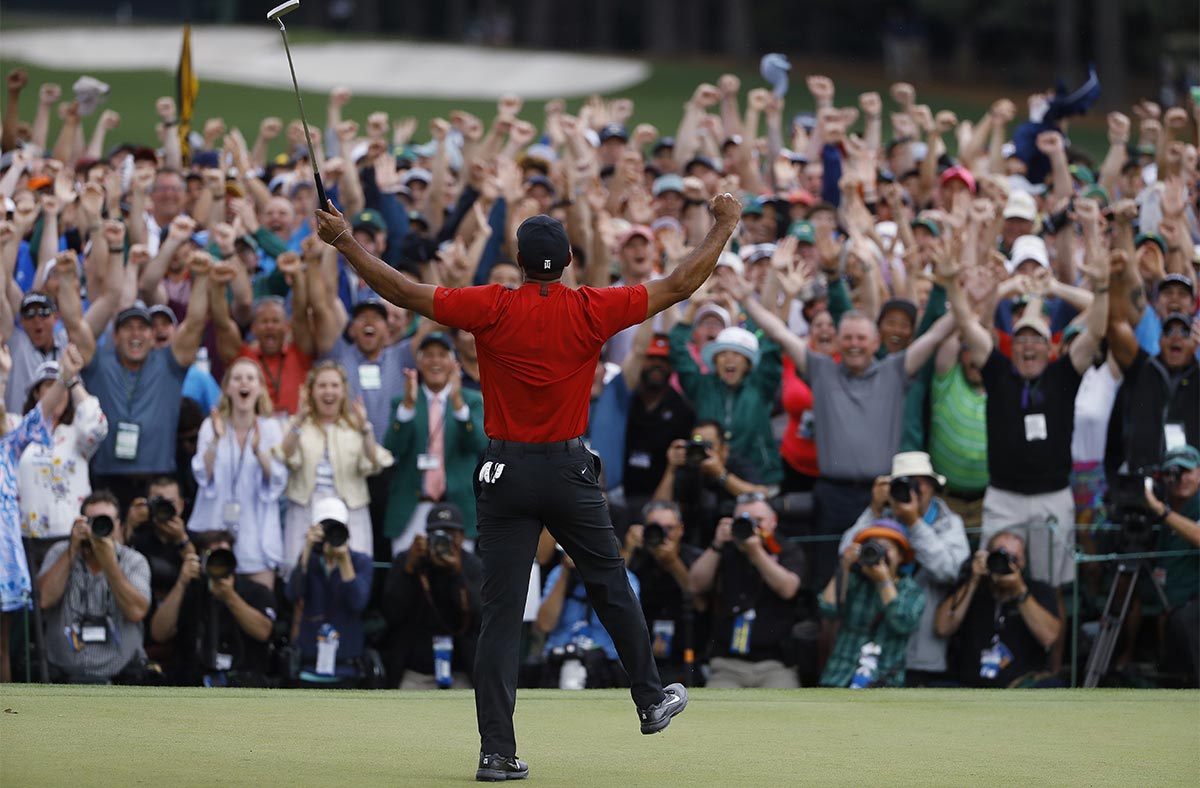 It's fine if you don't forgive Tiger his past transgressions. Fine if you think o him more as a prodigal sonofabitch than a prodigal son.
Everyone calibrates par at their own measure when it comes to what sins are beyond the pale. For us, Tiger is a flawed man but far from an evil one. And to live through all the doubts, both from within and from without, for years on end, and yet to still strive to return to the summit on which he had once stood so firmly, for us, that is admirable. And beyond memorable.
Easily the most inspiring moment at Augusta since Jack Nicklaus became the oldest man to win the Masters in 1986 at age 46. Today, Tiger is the second-oldest champion there, and he just won his fifth to Jack's six, at age 43. That figure of 18 majors held by the Golden Bear no longer looks so insurmountable.
But if Tiger never wins another major, that's okay. He proved something to himself, to his children, to every sports fan today. And he reminded us all of an essential lesson: Never, ever give up.
Reunion At Winterfell
We won't put in any Game Of Thrones spoilers here, but simply a belated request. Wouldn't the Season 8 premiere have been improved if during certain scenes Benioff & Weiss (the brains behind the show) had included a graphic reminding the audience the last time those two (or more) characters had been in a scene together?
Some of the reunion moments—especially the final one—were profound, but we found ourselves, especially after more than 18 months without a fresh episode, trying to remember when certain characters had last met.
A minor script quibble: at different points of the episode one character is described as "the cleverest person I've ever met," another as "the smartest person I've ever known," and a third as "the most arrogant man I've ever met." Three different characters describing three other different characters. Hodor! on the superlatives, please.
Florida Bird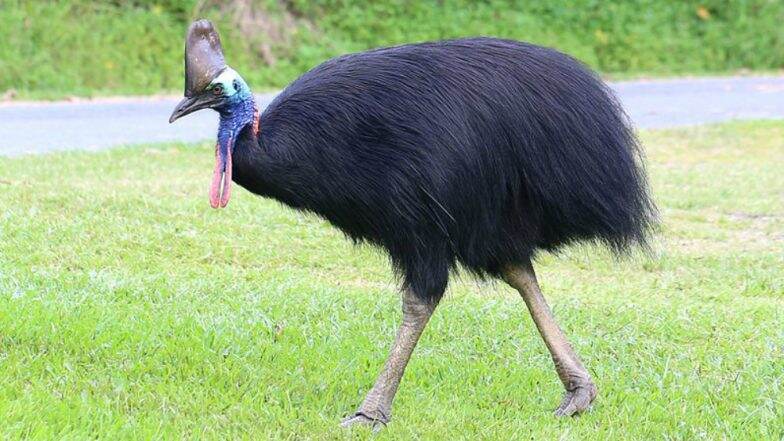 In Alachua County, Florida, a 75 year-old man was fatally attacked by a cassowary, a large flightless bird that looks like Stephen Moore's hairpiece attached to two legs and a short blue neck. The man had two such birds, which are native to Australia and New Guinea, on his property. Some men, particularly in Florida, want to take the claw into their own glands.
Is The Grand Canyon Getting More Dangerous Or Are Tourists Getting More Careless?
Two more people fell to their deaths at the Grand Canyon last week, bringing the number of gravity-related deaths at America's favorite pit this year to at least four. More than five dozen tourists have fallen to their demise at the northern Arizona erosion theme park since it first opened.
Officials have not considered filling in the canyon with dirt—yet.
Wings Across America
B
On Saturday morning in the Mojave Desert, a plane with the largest wingspan ever constructed—385 yards feet—took flight for the first time. From the company Stratolaunch, the plane is designed to carry rockets into the stratosphere, from whence they will be launched.
The aircraft, which when fully loaded will weigh more than a million pounds (it's too early in the day for us to figure out the tonnage, but we'll guess 500?), had a 2 1/2 hour test flight and ascended to half of its future desired altitude of 35,000 feet. It will not be available for short hops betwixt L.A. and Las Vegas, in case you were wondering.
Music 101
Make It Easy On Yourself
Outside of Lennon & McCartney and Brian Wilson & the demons inside his head, the greatest songwriting team of the 1960s was Burt Bacharach and Hal David. They originally wrote this tune for an unknown Dionne Warwick, then reneged and handed it to Jerry Butler, who took it to No. 20 in 1962.
Three years later, in 1965, a Los Angeles trio named The Walker Brothers (none of whom were born with the surname Walker and none of whom were siblings) recorded it and took it even higher, to No. 16. The trio is proof that osmosis is a universal phenomenon, as at the height of the British Invasion they uprooted themselves from L.A. and moved to London, where they were much more of a smash in the U.K.

Remote Patrol
Nets at Sixers
8 p.m. TNT
Clippers at Warriors
10:30 p.m. TNT
As our organist at church reminds us before mass every Sunday, please put away your cellphones.