http://mediumhappy.com/?p=8106
by John Walters
Tweet Me Right
Starting Five
True Norse
It was a rough April for New York Met flamethrower Noah Syndergaard, as he exited it with a 6.35 ERA and a 1-4 record. But the 6'6″ pitcher whom the fans call "Thor" started out May on fire, tossing a complete game shutout and hitting a solo homer for the game's lone run in the Mets' 1-0 matinee win versus Cincinnati.
How rare was Thor's feat? It's the first time anyone has pitched a complete game 1-0 win in which they homered since Bob Welch of the Dodgers did so in 1983. Since 1920 Major League Baseball has seen 21 perfect games and 14 "natural" cycles (players hitting for the cycle in ascending order of single, double, triple, home run) but only SEVEN times has anyone ever done what Syndergaard did Thursday afternoon at Citi Field.
XY Marks The Spot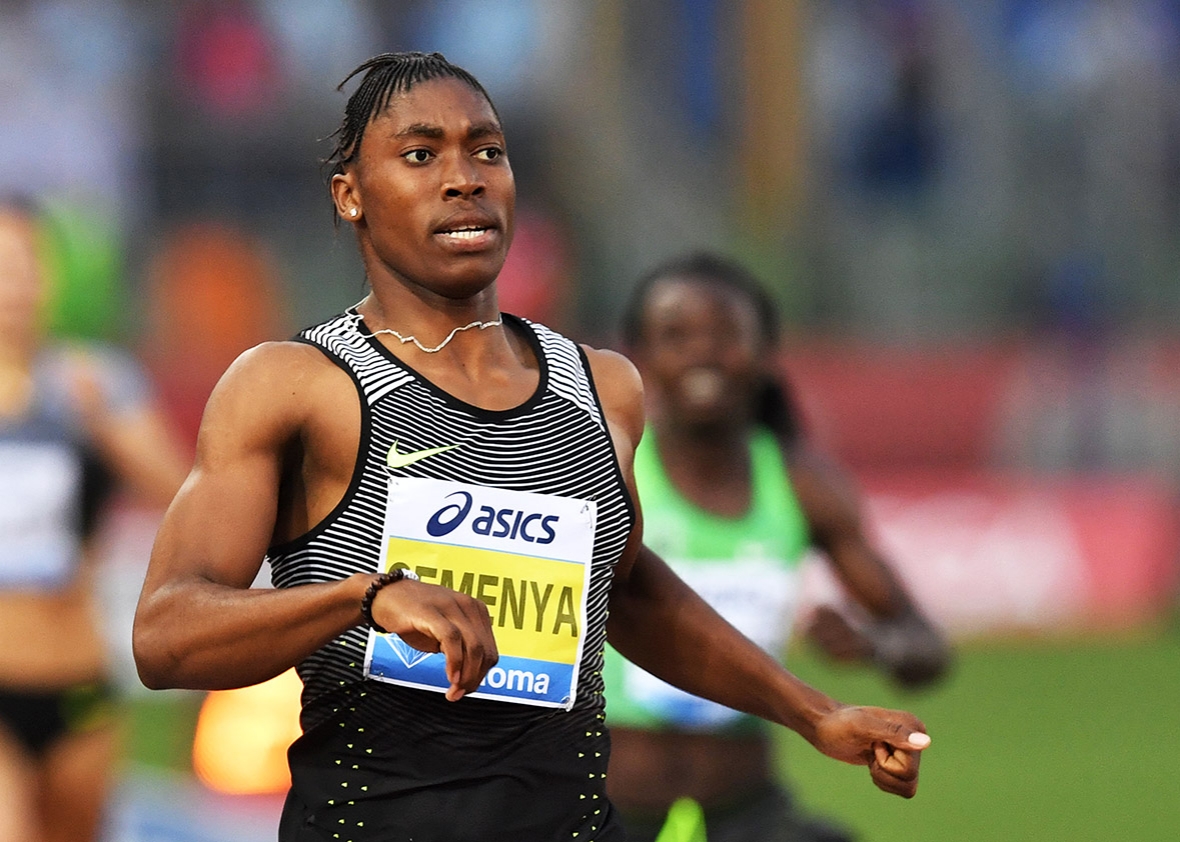 We took the most cursory stab at the Castor Semenya ruling the other day. Our initial thoughts were that as no athlete in this instance is attempting to cheat, what's fair for the great majority is athletes is the right thing to do. So while that ruling appears to penalize Semenya, the greater good is to not penalize all the athletes that must compete against her.
Then Robert Johnson of LetsRun.com wrote an eye-opening piece yesterday. First, Johnson pointed out that almost no one in mainstream media, including highly prestigious papers such as The New York Times and Medium Happy (Ed. Note: We may be fudging on that particular), had bothered to note that Semenya has XY chromosomes.
Kind of a big deal. Or, as Austin Powers once noted, "It's a man, baby!"
Okay, that was a cheap shot. But "intersex," which is what Semenya is categorized as, is someone with XY chromosomes and female genitals or XX chromosomes and male genitals. According to studies Johnson cites, true intersex births occur just .018% of the time, or in less than 2 of every 10,000 births.
And here is the truly compelling fact Johnson drops at the end: In the 2016 Olympics, all three medalists in the women's 800 meters were intersex athletes. All three. Not just Semenya. In the interest of fairness, something had to be done.
No-Bull Market
The most successful IPO of 2019 thus far belongs to Beyond Meat, a Los Angeles-based purveyor of plant-based meat substitutes (and yes, that is Jessica Chastain; the company is a favorite among the Hollywood effete elite).
On Wednesday evening the company priced its initial shares (ticker symbol BYND) at $25 but when the market opened the first trades were for $45. By day's end shares of the stock closed at $65, or a 163% gain in one day for those fortunate enough to have gotten in on the IPO.
Where does the stock go from here? And how long before a Beyond Meat celebrity-themed restaurant named Plant Hollywood? Calm down, Susie B., we're not recommending this the way we did Bitcoin (and by the way, GBTC is up more than 80% since early February, sooooooo……).
There's something more going on here than veggie burgers, of course. Cows (and we love you, cows) eat up a lot of available land in the USA (gotta graze somewhere) while also producing lots and lots of methane gas that warms the atmosphere. From an environmental standpoint, there's a two-pronged reason to reduce the moo moo population. People will always love ribeye, no doubt, but there is a valid argument to be made for making beef more like lobster as opposed to more like, say, corn, in terms of its sheer volume.
Another Anthony Munoz?
Yesterday Bleacher Report published a terrific piece by Adam Kramer about a 5'9″, 160-pound high school quarterback from southern California named Anthony Munoz. The gist of the story was that while Munoz threw for a nation's best 5,010 yards and 67 touchdowns as a senior at Anaheim's Western High School last autumn, the 4.0 student has received no Division I scholarship offers.
Great story, right? We're intrigued. Now, maybe Kramer and his editors simply didn't care to add this aside, but what we found interesting (and what our editors at SI would surely have insisted we add) is that the greatest Hispanic football player ever is not only his namesake (though, we assume, not related) but is also a mountain of a human being: 6'6″, 280-pound Anthony Munoz, who was a consensus All-American offensive tackle at USC and played 13 seasons for the Cincinnati Bengals before being enshrined in the Pro Football Hall of Fame.
Such was Munoz's greatness that there's even a Modelo beer commercial about him.
Remember a few weeks back when we launched into one of our frequent tirades about the state of journalism and noted that for a tribe to be healthy, it needs a mix of young, in-their-prime, and older members? Maybe Kramer and the editors simply felt that this aside was not germane enough to mention, or maybe none of them remembered Munoz, who played college football in the 1970s and for the Bengals in the 1980s and early Nineties.
But imagine doing a story on a Chinese-American high school basketball player who led the nation in scoring this season but didn't land a scholarship offer because he was only, say, 5'7." And then imagine that his name was Yao Ming. Do you think there wouldn't be a single place in the story where that irony was not mentioned?
Hamm or Pidgeon?
We tuned into TCM the other morning—it was a day ending in "y" after all—and spotted a tall, young handsome actor in a film from 1939 titled Stronger Than Desire. How did Don Draper pull off that time traveling trick?, we wondered.
The thespian in question is Walter Pidgeon, who like his modern-day doppelgänger Jon Hamm was 6'2″. Pigeon, who enjoyed a long and steady career both in films and on Broadway, was born and raised in New Brunswick, Canada. He was twice nominated for Best Actor Oscars and his most famous role was as Greer Garson's hubby in her Oscar turn as the title character in the 1942 film Mrs. Miniver (which aired at 11:15 p.m. on TCM last night—sorry).
In case you were wondering, we wondered if anyone else had made this connection. It's the internet age, so of course someone had. We noticed someone else blogged about this last year.
Music 101
Counting Blue Cars
Only too happy (should we rename the blog "TooHappy?" Naww) to find this acoustic version of Dishwalla's lone hit, from 1996. The band got lost in a surfeit of mid-1990s bands that started to sound too much alike (Hello, Incubus and Live and Tonic and Fuel) but it's nice to see they can still get together and perform this song with some earnest musicianship. The band hails from Santa Barbara, so don't feel too badly for them.
Remote Patrol
Jeopardy!
7 p.m. ABC (check your local listings)
If you haven't seen James Holzhauer play yet, tune in before he takes a short sabbatical. The professional gambler who was raised in the Chicago suburbs is dominating on a daily (double) basis and has amassed more than $1.6 million in winnings while winning the second-most games (behind only Ken Jennings) in the show's history. After tonight the show will run its annual teachers tournament, so we assume he'll be gone for at least one week or so.