http://mediumhappy.com/?p=8151
by John Walters
Tweet Me Right
Starting Five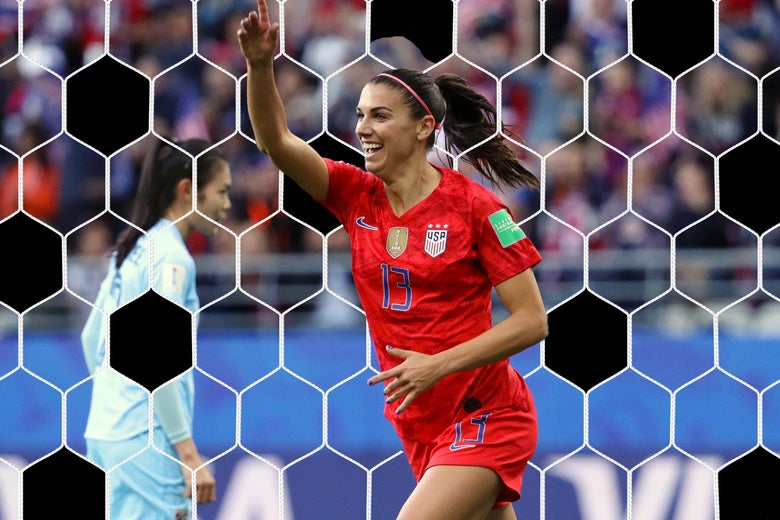 Morgan, Flair Child*
*The judges will also accept "Bad Thai"
The Sports Illustrated cover curse does not, apparently, extend to swimsuit models as Alex Morgan ties (Thais?) a World Cup record, women's or men's, with five goals in Team U.S.A.'s 13-0 defenestration of Thailand.
No team, men or women, had ever scored 13 goals in one match and none had ever scored 10 in one half, as the U.S. ladies did in the second half. No, they have nothing for which and nobody to whom they need to apologize. It was soccer at the very highest level for their gender. If you can't handle that, go watch old episodes of The Honeymooners.
Hard Knocks
Speaking of the magic number 13 and records, two nights ago at Citizens' Bank Park the Diamondbacks and Phillies combined for a Major League-record 13 home runs in one game. The first three D-Back hitters all slugged long balls—and the Phils never even blinked about keeping their starter, Jerad Eickhoff, in.
The Minnesota Twins, who probably have no one in their lineup that will ever end up in Cooperstown, are ahead of the Yankees' record pace from last season for the most home runs hit in one season (267). Last night the Atlanta Braves hit four solo home runs in the second inning off the Pirates' Chris Archer, who also stayed in the game.
Okay, yes, the balls are somewhat juiced. But the batters are stronger, the pitchers throw harder, and the geeks have figured out that it's smarter to play all-or-nothing ball (long ball or whiff) than it is to "make contact," which is what your Little League coach emphasized. But he's coaching Little League and not looking at a max deal in the nine-figure range, yo.
Jon Stews
Some people talk the talk, but former Daily Show host Jon Stewart has spent years advocating on behalf of police, firemen and other first-responders who answered the call on 9/11 and have been forgotten, in terms of health-care issues directly brought on by their work on that day and the months after. Yesterday he was back on Capitol Hill and he took it to Congress the way he once took it to Tucker Carlson and Paul Beglia on Crossfire (there's a reason that show no longer exists).
When you have truth and righteousness on your side, when you have clarity of purpose and are inherently articulate, you don't lose arguments to fools and puppets. Jon Stewart exemplifies this over and over again.
Someone tweeted it and I had to wonder: What if Jon Stewart announced tomorrow that he was running for president? How high up in Democratic polling would he rise? I mean, the guy who IS president probably wouldn't have the job if he hadn't had his own puffed-up reality show, so why not Stewart, who actually knows how to speak and immerses himself in understanding issues about which he cares?
If you want the details about which House Judiciary subcommittee members were no-shows, read this. Just know that "meeting with their constituents" is usually just meeting with big donors and/or lobbyists. Folks like you and I don't get face time with Congress members.
He Said, Xi Said
Nobody ignites a forest fire, then threatens to withhold the water, then shows up with the water just as your home is about to be engulfed in flames, then tries to take a victory lap for saving your home (and you owe it all to him) quite like Donald Trump. Remember two weeks ago when he threatened the 5% tariff against Mexico unless they tightened up on illegal immigration and said he'd raise it 5% each month, and recall how we said this was all a gigantic bluff?
What happened? At the 11th hour Trump announced he and Mexico had made an agreement, the details of which were not revealed, but Trump did hold up a white envelope before the media today (which probably was his third and final notice from Hustler that his subscription was in danger of being canceled) and claimed the details of said agreement were therein.
We don't doubt that Trump's threat may have gotten the Mexicans to awake from their siestas (racially insensitive of us?) and at least pledge to take a harder stance on the issue. We also don't doubt that this was largely kabuki with two goals in mind: 1) appease his Mexicans-hating base and 2) get people to stop talking about Mueller.
Next up is China ("Gyna") and President Xi. Trump has threatened tariffs against the Chinese, too, but they don't scare so easy. The next showdown is June 28-29 at the G20 Summit in Osaka, Japan. Trump has pledged more tariffs on Gyna if Xi does not meet with him face to face. More kabuki. If Xi meets him, even if nothing is resolved, Trump will take a victory lap for making Xi his dog. But if Xi does not meet with him, Trump will just move the line in the sand further back. Or he'll find a way to blame big tech for all of it.
Did You See Nuguse?*
*The judges acknowledge that it's actually pronounced "Na-goose"
Last weekend in Austin Notre Dame sophomore Yared Nuguse ran an unforgettable final 100 meter in the men's 1500 meter final to capture the school's first national championship in that prestigious event (the so-called "metric mile") since 1926 (Charles Judge). You can skip up to the 1:50-mark of the video.
The most satisfying part of this race is that Nuguse finished in a virtual tie with the Michigan State runner (he won by 3/1000s of a second) but Notre Dame gets to claim the national championship. Some things never change.
Eighty-Six Happiness
Took this order yesterday: "I'll have the Greek salad. No feta. No olives. Add chicken. Add avocado. Chopped…and I'll have the dressing on the side. And a Diet Coke. No ice."
Meg Ryan ruined restaurants for the rest of us.
Music 101
Runaway
In the summer of 1969, Jefferson Airplane was one of the headline acts at Woodstock. A decade later, they'd amped up the turbo power to become Jefferson Starship and were playing more radio-friendly California-style hits. This tune was all over FM airwaves in the summer and fall of 1978. It rose to No. 12 on the Billboard charts.
Remote Patrol
Women's World Cup Doubleheader
Germany vs Spain
Noon Fox
France vs Norway
3 p.m. Fox
In the most recent FIFA rankings, these four European sides are ranked 2nd, 13th, 4th and 12th respectively. Plus, that Fox set in front of the Eiffel Tower is hella cool and Rob Stone's probably going to say something to upset Female Twitter, so stay tuned.