http://mediumhappy.com/?p=8154
by John Walters
Tweet Me Right
Starting Five
Ending The Season On A Blue Note
On January 7 the St. Louis Blues had the lowest point total of any team in the NHL. On June 12th the Blues hoisted their first Stanley Cup, despite losing two games at home in the finals to the Bruins by five and four goals, respectively. The Blues were founded in 1967.

Odd. The Bruins and Blues combined to lose Games 5, 6 and at home. St. Louis clinched it last night with an anti-climactic 4-1 win. Boston did not score until there were less than three minutes remaining. And so the city of Boston must sate itself with only two, not three, pro sports championships in the past nine months.
Joke-l Yokel
Beloved Clemson football coach/sweetheart yokel Dabo Swinney made an interesting comment during an appearance on a Sirius XM radio show earlier this offseason (we have been unable to pinpoint the exact time or who the show's hosts were). Referring to how he has gone from being a favorite son in Alabama (where he was a walk-on wide receiver) to a nemesis, Swinney said:
"I think it was all fun and games early on. It was 'Aww, isn't that sweet?' and all that stuff. I don't know about walls, but I am kinda like Osama Bin Dabo," Swinney said with a laugh. "I have to navigate my way through the caves and back channels to make my way through Alabama these days. They aren't as happy to see me."
We get what he's saying, and maybe that's a joke you make while having beers with friends, but when you're the $92 million man/head football coach of a two-time national champion, you've got to be held accountable for that comment. Remember, Dabo also had the lack of self-awareness to say that if they paid player he might as well go coach in the NFL, which is odd since he's earning nearly eight figures per year now (from his school; he's over eight figures per year when you add on the garnishes).
Is Dabo college football's Donald? Should we be taking him "figuratively and not literally?" Will it be awkward for Kirk Herbstreit, who now has two freshman preferred walk-on sons on the Tiger roster, to continue defending Dabo from his Saturdais (we're coining that term)? And wouldn't Brian Kelly be publicly crucified in the A Block of every ESPN SportsCenter for a 24-hour news cycle, at least, had he said that about the 9/11 mastermind?
Barry's "Pine Barrens" Episode
The more we catch of HBO's Barry (we're halfway through Season 2), the more we see it as derivative of Breaking Bad. And that's not really a knock.
The similarities: Our protaganist is leading a double life, one half of it that needs to remain secret since although he (still) sees himself as a good guy, or is at least grappling with it, he commits heinous acts. His activities are not just criminal in nature, but felonious and murderous. He's reached the point where he's killing in order to maintain his charade. And he's deluding himself into thinking that he'll be able to walk away from this if he makes just one (more) big score/hit.
Also, whereas Walter White had Jesse, Barry has Fuches. And while Walter was the mentor and Barry is the protege (i.e., roles reversed), there's still that love/hate symbiotic relationship, partnership, you're-the-only-person-who-really-knows-me aspect to it.
However, whereas Breaking Bad was mostly a drama with comic elements, Barry is exactly the inverse: a comedy with dramatic elements. And there's no walking that back, even if they were to try. Which I don't think they are.
As close as it comes to Breaking Bad, the series takes a Sopranos detour during one episode of Season 2, "Ronny/Lily." In this episode, which is highly reminiscent of "Pine Barrens," most of the cast is never seen. Two of our characters find themselves in an unfamiliar place, up against a formidable and new opponent who seems to be nearly immortal. There is a tension that builds because we never switch to another subplot or story arc. The story stays with these same folks all the way through and, just like "Pine Barrens," it ends somewhat unresolved.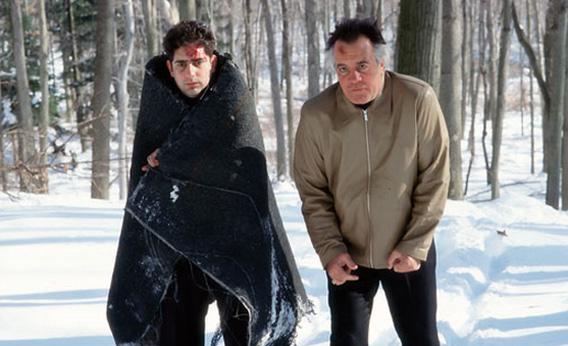 Where is that girl? And is she going to return, or just haunt his dreams for the rest of the series? If you don't know what we're talking about, we suggest you give Barry a watch. It's good.
After typing this, I Googled to see if I was the only one who had this perspective. Of course not. And yes, Bill Hader both wrote and directed this episode. Can you imagine being a schlub in the writers' room and here the series star turns in the best script the show has seen yet?
Ironman Deaths
Not one but two competitors at a half-Ironman in Madison, Wisconsin, died during the swim portion of the event. For the uninitiated, a half-Ironman, or "70.3", encompasses a 1.2-mile swim, a 56-mile bike ride, and a 13.1-mile run. Add up the distances and you get 70.3 miles. Also, and this is worth noting, the swim comes first.
Last weekend in Madison, Todd Mahoney, 38, and Michael McCullouch, 61, both died during the swim portion of the race. We've only done one Olympic-distance triathlon, but we've never quite understood why triathlon officials continue to use the swim as the race's first event. We understand the thinking that the water is most dangerous (see beginning of this paragraph) and that you want entrants at their most rested for it, but the downside with everyone entering water at once (even with a staged start, many enter water at once) is that there's chaos in the water. It's somewhat akin to watching piranhas fight over a lost pig.
This may have had nothing to do with the two triathletes' deaths. But we'd be much in favor of starting a tri with the bike, then move to the swim, then finish with the run.
Also, we thought this was an interesting comment by Madison's mayor, Satya Rhodes-Conway, after the event: "My thoughts are with the families and loved ones of the two athletes who died while competing in the Half Iron Man on Sunday." Like, she had to add that "Half" in there just to throw a little shade.
Who Are Ryu?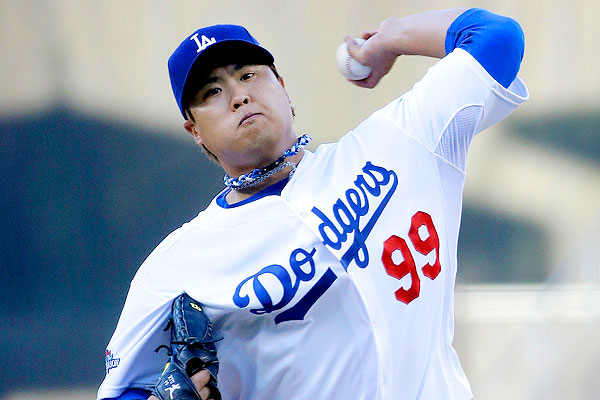 In five of the past eight seasons, the National League ERA leader has been Clayton Kershaw of the Los Angeles Dodgers. In fact, Kershaw is the only starting pitcher still alive whose career ERA is in the top 30 all-time in baseball. The only other pitcher among all still alive also in the top 30 is former Yankee closer Mariano Rivera, who was the first unanimously voted in Hall of Famer (last winter).
Babe Ruth, it should be noted, has a lower career ERA (2.28) than Kershaw's 2.41.
This season finds the Los Angeles lefty somewhat returning to Earth with a 3.00 ERA, but another starter on the Dodger staff, Hyun-Jin Ryu, is on the verge of an historic season. Rye's 1.36 ERA is the lowest in baseball and the South Korean native also has a 9-1 record, but that's somewhat besides the point given LA's talented lineup.
Ryu, 32, who missed all of 2015 and pitched only one game in 2016 due to labrum surgery and shoulder issues, is currently the best pitcher in baseball. Yes, it's only late spring in a regular season that extends outward to early autumn, but you have to go back 101 years, to Walter Johnson's epic 1918 season (CORRECTION: "go back 61 years, to Bob Gibson's epic 1968 season"…and yes, I'm somewhat disturbed realizing I was alive in 1968 and it's closer to 1918 than it is to the present) when he posted a 1.27 ERA (and a 23-13 record) to find a pitcher who finished a season with a lower ERA than the one Ryu has now.
And we cannot help but wonder why Ryu hasn't garnered more attention, other than the fact that most sportswriters/media cannot converse with him without the help of a translator.
Remote Patrol
NBA Finals
Game 6: Raptors at Warriors
9 p.m. ABC
So yesterday I spent a few moments thinking about how I blew the headline two days ago on Kevin Durant's injury, how it should have been "Achilles' Last Stand." Some of you may recognize that as the title of a Led Zeppelin tune that weighed in at 10 1/2 minutes and, despite being a favorite of guitarist Jimmy Page's, is included on arguably the band's worst album, Presence, from 1976.
I mention this because in high school I had a classmate (we spent four years in the same Latin class) who was an editor of our school paper, The Roundup, who got his jollies by slipping in the titles of Led Zeppelin songs into the paper's headlines "No Quarter In The First Quarter" is one I recall, when our football team was taken behind the woodshed early against an opposing team quarterbacked by future Notre Dame utility stud Steve Belles.
Anyway, I lost track of this classmate for years, and then suddenly you know what? He was the EDITOR-IN-CHIEF of Maxim magazine. His name is Keith Blanchard. True story. And while that has nothing to do with tonight's Game 6, the final Warrior contest at Oracle Arena, I thought you might find it interesting.