http://mediumhappy.com/?p=8155
by John Walters
Happy 73rd birthday to our very own Prince of Whales!
Starting Five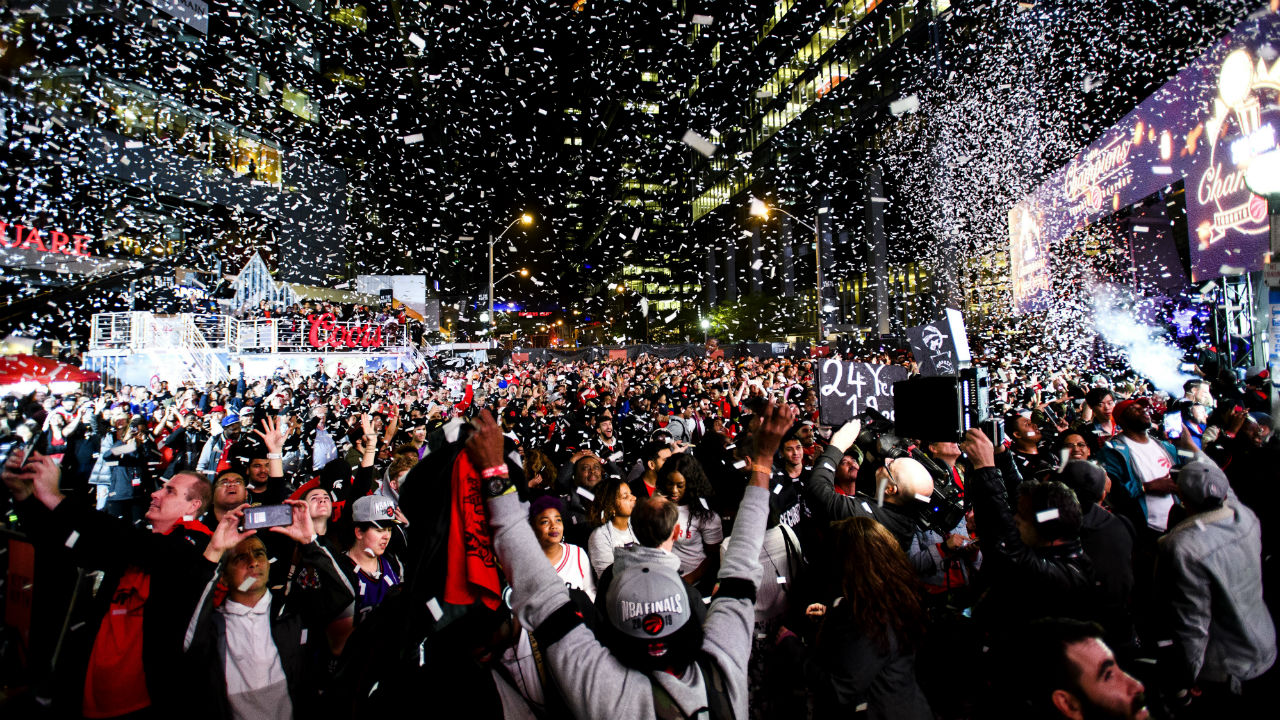 Toronto Rapture
The Raptors were very good, and for Golden State injuries to two of their future Hall of Famers were just too much to overcome. Late in the third quarter of last night's Game 6, it really looked as if the Splash Brothers & Co. would actually force a Father's Day Game 7. Then Klay Thompson took a pass on a fast break, soared for a dunk, and was fouled by Danny Green as he went to the rim.
Not a dirty play, but a dangerous one, and Klay may have seriously hurt his left knee. No one knew quite yet, but there was no way Warrior brass was going to be the fall guy for a second fallen HOFer whom they hope to re-sign this offseason. Dubs fans, you'll always have the first quarter of Game 5 as a glimpse of what might have been.
Thanks to Brian Kearney for alerting us to this.
As for Toronto, the city in which the first NBA game was played in 1946 located in the country that gave us the game's inventor, a landmark moment. And yet Kawhi Leonard, the man who made it possible, may turn out to be a one-year rental. When the native southern Californian said after the game that "they" can build on this, meaning Toronto, that was telling.
Last thing: Echoing Doug Gottlieb, we love Kerr, love Curry, love the Dubs, but we don't quite get that final play for the Dubs. You don't need a three—you're only down one—and you don't need to rush it. That play was ill-fated from the highly difficult inbound pass that nearly sailed out of bounds. The Dubs had time to create. Would've liked to see them try.
Bummer Dude
It's wonderful when sports can surprise you. Flipping back and forth between Game 6 and the Yankees-White Sox last night, and we learn that the Sox have a closer named Aaron Bummer. Literally, "A. Bummer" when he rings you up or shuts you down. Bummer struck out D.J. LeMahieu to end the game and pick up the save as Chicago, which had trailed 4-0, won 5-4.
Bummer grew up in Peoria, Arizona, which is home to the San Diego Padres and Seattle Mariners for spring training.
Sarah Slanders Slips Out
One of President Trump's chief gaslighters, Sarah Huckabee Sanders, is exiting the White House and returning to the Great Smoky Eyes Mountains Arkansas. Sanders will mostly be remembered for all the White House press conferences she did not hold as the White House Press Secretary, but also for being made extraneous by Twitter.
In lieu of an official replacement, Trump asks that you just tune into Sean Hannity's show weeknights at 8 p.m. on Fox News.
Oman, Now You've Done It
*The judges will also accept "Will The Ship Hit The Fan?"
Was the "Iranian attack" of two oil tankers in the Gulf of Oman more Wag The Dog, more Syriana, or a little of both? Secretary of State Mike Pompeo, a man who shrugged off the butchering of Jamal Khashoggi with "hey, these things happen," says that the U.S. has evidence that Iran was behind it.
Meanwhile, Iran says it is not responsible. Meanwhile, the Japanese owner of one of the two tankers reports that the crew of his ship say that it was hit by a flying object, not a mine. "There is zero possibility that they were torpedoes."
Whom do you believe when neither Iran nor this administration has an ounce of credibility? And who gains more by these sabotage attacks? And what if it were simply a rogue actor (Osama bin Dabo?) simply hoping to stir sh*t up? Either way, we don't know why Iran would want to punch the U.S. in the nose unless Russia or China is putting them up to it.
Fortunately, cooler heads in Washington, D.C., will likely prevail. There's no way America would ever be provoked into an unnecessary war in the Middle East in the 21st century. We're so beyond that.
The Wealthy Widows of The Plaza Hotel

You cannot get much more Sunday Times than this: The Plaza Hotel, inarguably the crown jewel of Manhattan lodging (and scene of the final scene of The Way We Were and a pivotal early scene from North By Northwest); a collection of eccentric wealthy dowager tenants; and the hotel's owner and erstwhile resident, Donald J. Trump. A good read, this.
Music 101
You Need To Calm Down
You probably have hangnails older than this Taylor Swift song, which "dropped" last night on the YouTube and likely elsewhere. I think M.I.A., who released "Paper Planes," a decade or so ago, may want to sue for royalties on this one.
Remote Patrol
Fox Father's Day
Women's World Cup: USA vs Chile
Noon Fox
U.S. Open Final Round
2:30 p.m. Fox
Paris to Pebble Beach. Not a bad journey to take without changing the channel. We'll be out slinging drinks and burgers, but if you're a dad and your family loves you, they may just let you park it on Fox all day.