http://mediumhappy.com/?p=8156
by John Walters
Tweet Me Right
Starting Five
Woodland Thrills
Some dude the casual sports fan had never heard of but who has 80% of Tiger Woods' last name, in order, in his, won the U.S. Open. Gary Woodland, former Washburn University hoopster, shot 13-under to become the St. Louis Blue/Toronto Raptors of sports in this unusual week.
(In which our friend Alan Shipnuck enters the Humblebrag Hall Of Fame)
Why Woodland's win will stand out: 1) He did it at Pebble Beach (was it sunny at all there this weekend?) and 2) He ended it with like a 45-foot putt (he had two more strokes to play with and still win at the time) on the 18th.
Coughin' Corner Kicks
ABC touted its' Sunday night special as "30 Uninterrupted Hours with President Trump," and insofar as any American would want to watch this feature on Father's Day, you figure the reason would be for a glimpse of his character. You know, find me the real man behind the blue blazer and red tie and combover.
And there it was, on full display, in what we imagine Trump considered a throwaway moment that would never make it out of the edit bay.
Down Goes Frazier!
Two things happened to New York Yankee outfielder Clint Frazier yesterday: 1) He batted cleanup as the Yanks knocked the Sox around, 10-3, in Chicago and 2) he was later sent down to AAA to make room for Edwin Encarnacion.
Why the Yankees, who already have two 50-homer guys on the roster who will be returning to the lineup within the next 10 days, acquired the leading home-run hitter in the American League on Saturday would initially seem to make no sense. It's like the Saudis trading for sand. What do we call a team that now has five dudes with at least 40-homer potential (Aaron Judge, Giancarlo Stanton, Encarnacion, Luke Voit and Gary Sanchez): Mass Murderers' Row?
All we can say is that like the Lord, Brian Cashman works in mysterious ways. Everyone's guess is that 1) Encarnacion cost the Yankees basically nothing as the Mariners are holding a fire sale, so why not and 2) Cashman is packaging some of his plethora of young talent to acquire what the Yanks really need if they are going to compete with Houston and L.A. in October, a staff ace.
Look for any or all of these names to be packaged for a trade: Frazier, Greg Bird, Mike Tauchmann, Miguel Andujar and Gio Urshela. The Yankees duct-tape spring allowed other scouts to see what some of these youngsters can do in The Show and there's no way the Bombers can keep all of these position players (happy).
Three more thoughts: this is Brett Gardner's final season in the Bronx, but they'll keep him this season as he's the unofficial team captain and 2) If I'm Clint Frazier, I'm wondering why I was sent down as opposed to designating recently acquired Kendrys Morales for assignment, but the guess is that the Yanks plan to move me. We hope not—Frazier has a bright future and Encarnacion is 36—but it all depends on what arm the Yanks can acquire, and 3) most every Yankee at-bat will now end in either a strikeout, walk or home run.
L.A.D.*
*The judges will also accept, "What Can Brow Do For You?"
Meet the new Supervillains, Susie B! (good suggestion, Jacob). Remember when the league's MVP decided to toss off his Central Time Zone team and sign with a talent-rich squad in California? And remember how angry one of our readers became?
Well, Anthony Davis is not quite the league MVP, but he's close and he threw a long enough hissy fit that the Pelicans traded him to be Sweet Pea's newest teammate. Now, what happens if Kawhi joins the Lakers, as well, which could very well happen in the next few weeks? Thoughts, Susie B?
As for New Orleans, they'll land the first and fourth picks in Thursday's draft now as well as Laker Youth such as Lonzo Ball, Josh Hart and Brandon Ingram. We would've held out for Kyle Kuzma if we were the Gulls and taken one fewer, or even two fewer players (Kuzma plus the No. 4 would've been our ask), but the Lakers were able to keep KK.
Of course the Pelicans will select Zion with the No. 1 pick (has he already been made grand marshal of the 2020 Mardi Gras parade?), but whom to select with No. 4, where the talent dropoff begins? We don't know and judging from the lack of consensus on the mock drafts, neither does anyone else.
We're not huge De'Andre Hunter fans; and he's basically the same size as Zion. We love Tyler Herro (6'6″, Kentucky) as a poor man's Klay Thompson (a man we shouted from the rooftops for someone to draft when he came out; the Dubs listened) and we also love the Gonzagans, Brandon Clarke and Rui Hachiamura, as well as UNC's Nassir Little. But what the Pelicans will desperately need is an outside shooter to stretch defenses, which is why we'd go agains the grain some and pick Herro.
The Yogi Berra Travel Guide
According to The New York Times, your favorite European destination (e.g. Barcelona, Amsterdam, Florence) has now become Sardi's: "No one goes there any more, it's too crowded." Or, for you millennials, Coachella.
Anyway, the Times offers up six same-nation alternatives to those three places as well as for Prague, Santorini and Dubrovnik. We'd also like to see the Times do the same for the U.S.A. "Instead of Chicago, why not Milwaukee?" Or, "Forget New York City; there's a new haven and it's called New Haven!"
Paint Misbehavin'
*A new feature in which we learn about paintings! The title, like most art work, remains a work in progress.
Nighthawks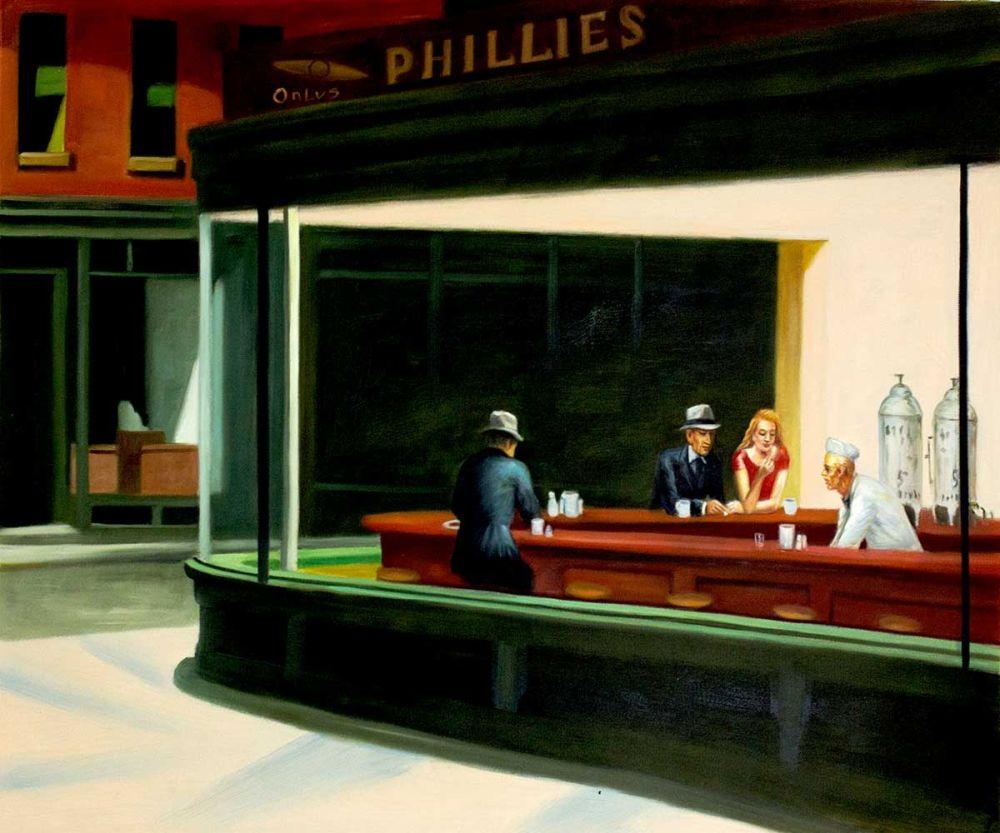 By Edward Hopper, 1942. The American artist put this on display soon after completing it and the Art Institute of Chicago bought it for $3,000 at auction, where it has remained ever since. One of the most famous works of the 20th century bought for next to nothing. If the Art Institute were to put it up for auction today they could probably buy an entire new museum in the Loop with the proceeds.
By the way, no one is having more than coffee. Not even a milkshake. How's that poor counter jockey supposed to feed his family?
Remote Patrol
WWC: Germany vs. Russia
Noon Fox
The president will be pulled in both directions if he tunes in. He's of German descent, but now wholly devoted to the Russkies. The deciding factor will be which squad has the more striking striker, we feel.
It's "RSA," the Republic of South Africa. In our best Emily Litella, "Never mind."